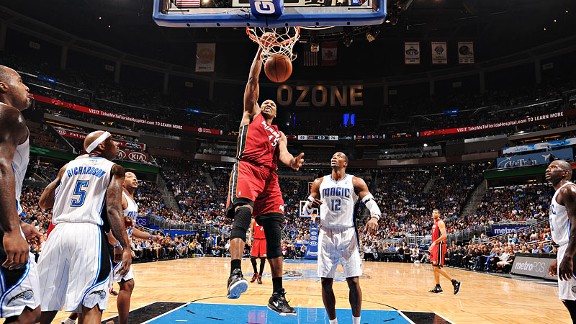 Andrew D. Bernstein/NBAE
Should the Heat be satisfied with Dexter Pittman and Eddy Curry, or should they make a trade?
MIAMI – Of course, Pat Riley didn't ask me.
But if he did, here's a suggestion for the Miami Heat's president of basketball operations if he's really serious about prying a veteran big man out of retirement to bolster his team's depth for the season's stretch run.
Dust off your best motivational speech, take a few steps down the hallway at AmericanAirlines Arena and make one more passionate plea to player-turned-executive Alonzo Mourning. It'll require a more powerful recruiting pitch from Riley than the one he executed to get LeBron James to Miami.
But still.
I'm joking. Sort of. However, I'd bet that Mourning – right now, today, at age 42 – could give the Heat as much, if not more, than some of the names they've been linked to recently in search of spot-duty help down low.
For now, Miami will continue to sort through a few past-their-prime, on-their-last-leg or completely-out-of-the-league options to see if anyone out there can provide about 10 minutes a game to support Chris Bosh, Udonis Haslem and Joel Anthony in the power rotation.
There are some nights when Heat seldom-used project centers Dexter Pittman and Eddy Curry try to remind everyone they could be as serviceable as anyone realistically available among cast-off free agents or those on the trade block.
One of those nights came Tuesday, when Pittman was called upon early after starter Joel Anthony picked up two quick fouls. Pittman responded with a career-high 10 points and six rebounds in 15 minutes. Granted, it was against the woeful New Jersey Nets, who were without Brook Lopez and were forced to play Shelden Williams and Johan Petro in the paint.
So discount Pittman's performance, if you must, considering the competition. But then again, aren't the likes of Williams and Petro the very sort of players the Heat are scouring the big man bargain bin in an effort to find a deal?
The Heat are working simultaneously on two tracks. Erik Spoelstra insists Pittman and Curry are continuing to develop at a deliberate, yet patiently productive pace behind the scenes – even if it doesn't always manifest with playing time during games. Meanwhile, Riley and front-office staffers Andy Elisburg and Nick Arison had privately courted Kenyon Martin and Joel Pryzbilla – both signed elsewhere – and reportedly worked out retired center Rasheed Wallace.
"Pat and Nick and Andy are always doing their due diligence," Spoelstra said. "For me, my plan is with this team and what it takes to get this team to the next level. We feel we have enough. And I think we've proven already that if we play the way we're capable of, we feel confident against anybody in this league. It's more about that, and less about personnel for us."
At times, it's also been about the Heat proving they can get away with gambling. It's been about seeing how long Bosh, Haslem and Anthony can masquerade as centers in small-ball. And when one of them is unavailable, struggling or in foul trouble, then it's about turning to LeBron James as the emergency center. It has worked well against the against the Pacers, Knicks or Trailblazers. But that challenge becomes much greater when facing the Lakers, Thunder or Bulls.
What this past weekend revealed about the Heat is that the absence of Bosh suddenly takes this team from creatively deep up front to depressing thin. It's clearly the Heat's one weakness. But encouraging outbursts like the one Pittman had Tuesday also shows that, if given extended minutes, there could be hope for an in-house solution.
So the question is whether the Heat are better off shopping for another project or sticking with the slow-developing ones they already have in place? Riley's pondering the answer.
"We really don't pay attention to that," Pittman said of the speculation the Heat might be headed to the scrapheap for help. "All we do is come in and get better every day. As long as my teammates have confidence in us, nothing else really matters. I just need to get in shape and make sure these guys have confidence in us."
For Pittman and Curry, this season has been much more about conditioning than contributing. There have been times when Pittman, in his second season out of Texas, has been encouraging one night and flat-out embarrassing the next in his low-post matchups. But the one constant has been a commitment to losing weight in order to reach the Heat's conditioning goals.
Pittman said he has lost about 40 pounds since training camp, and now weighs 278. That's down from the 322 pounds he believes he weighed on draft night two years ago and well below the 395 he reported to the University of Texas carrying as a freshman.
His coordination and timing have been affected by the reshaping of his body, which has factored into the slower-than-expected progress on the court.
"I feel like I'm getting comfortable (but) it took me a while at first," Pittman said. "I thought I could overpower everybody still. But that wasn't a fact. Going up against guys like Dwight Howard, you have to have skills and fundamentals. That's what I'm trying to (add)."
It's not an overnight process. And with the pace of this season's truncated schedule, it's understandable if the Heat don't feel they have all day to wait. The fact that Pittman was quickly benched and the Heat never even turned to Curry to fend off 7-footers Andrew Bynum and Pau Gasol during Sunday's loss to the Lakers could be seen as a sign of where things stand in terms of Spoelstra's confidence.
But James said the only way to change that is for Pittman to make the most of those limited moments.
"Every opportunity he's getting, he's making the best of it," James said. "Spo is getting more confidence in him, starting to trust him more. He's starting to feel better out there. He hasn't played much, so he's kind of like a rookie. But the more minutes, the more games, he's going to feel more comfortable out there and he's going to continue to get better."
Like Pittman, Curry's season has been more defined by the weight he's lost than any role he's gained. And Curry knows all about the Heat's clandestine operations when it comes to private workouts.
It was this time a year ago when Curry and the Heat formalized interest in one another after he was traded from New York to Minnesota and then release by the Timberwolves. At the time, the Heat were sorting through the previous batch of stop-gap options that included Zydrunas Ilgauskas, Erick Dampier and Jamaal Magloire.
"It absolutely is a business," Curry said of the Heat's dilemma. "I just hope they give us a look from time to time. If they do, we'll surprise them. If I could just get some more minutes, man. That's the key for me. I feel like I've done all the right things. I'm just going to keep plugging away."
Now, Curry is on the inside looking out.
And the view is fuzzy right now for the Heat at center.
Should they trade for Denver's Chris Andersen at the expense of, say, Mike Miller? Or do they wait for Pittman to put it together enough to be trusted if needed in the playoffs?
Does Miami roll the dice and hope that 'Sheed will get in shape and won't self-destruct? Or do they count on Curry and see if the minimum investment ultimately produces a reasonable return?
That's the million-dollar, Troy Murphy question.
My answer? Check in one more time with Zo.
Just to see how it goes.