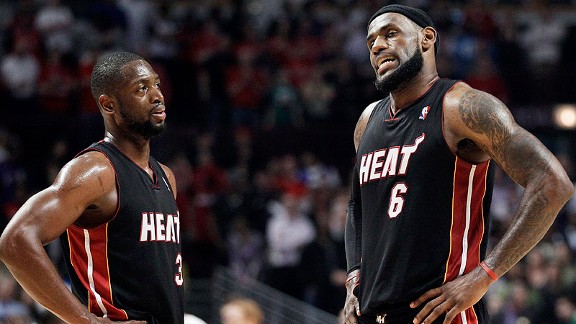 AP Photo/Nam Y. Huh
During the recent skid, Dwyane Wade and LeBron James have had little help from the supporting cast.
PHILADELPHIA -- At this point, the diagnosis is simple by most accounts.
A Miami Heat team that has lost its way a bit the past three weeks just needs to regain its basketball identity. So even as LeBron James, Dwyane Wade and Chris Bosh stumble into Friday's game to finish off a road trip in Philadelphia, none of them will lift a finger to push the panic button.
But they each can point to some familiar signs of collective frustration.
"No, I'm not concerned," Wade said. "I just want us to play better as a group, for everyone to continue with confidence. Confidence is key. I don't want guys to lose confidence in their individual ability. In anything, you're going to lose some games, you're going to go through some tough stretches. That builds a team. We'll deal with it and we'll move on and eventually get it under control."
Since entering the All-Star break late last month with the league's best record, the Heat (31-11) have gone just 4-4 and have lost four straight games on the road. A loss to the 76ers on Friday would make it Miami's longest road skid since the Big Three came together before last season.
Three weeks ago, the Heat were storming through the league while winning nine consecutive games by double-digit margins. Everything was clicking. Everyone was cohesive. All was good. Miami was playing so well - so efficiently at the time - that some were questioning whether the team might be peaking too soon. It was a notion at which the Heat's players and coaches scoffed.
But that was then.
The All-Star break disrupted their rhythm, although Miami opened the second half of the season with a blowout victory in Portland. Since then, the Heat have lost four of seven and are coming off consecutive losses to Orlando and Chicago, teams that pounded Miami inside and further exposed a glaring weakness in the middle.
Miami was outrebounded by double figures in both games and also picked apart by small, quick point guards who penetrated the lane at will late in games.
Although the Heat have been encouraged by the play of point guards Mario Chalmers and Norris Cole overall this season, the team watched Thursday's trade deadline pass without making a move to add help in the frontcourt. Bosh, Udonis Haslem and Joel Anthony, Miami's primary power rotation, had no answers Tuesday in Orlando, where Dwight Howard posted 24 points and 25 rebounds. A night later in Chicago, the Heat were outrebounded 50-34 and outscored 21-7 in second-chance points.
Offensively, Bosh and Haslem have been inconsistent all season and were a combined 4 of 20 from the field with just seven rebounds against the Bulls. The Heat have worked out several low-budget free agents in search of help in the post and will continue to monitor the waiver wire to see if more options might be available in the aftermath of Thursday's league-wide trades.
But for now, Miami's lack of consistent toughness inside is an issue that must be addressed within.
"We've been playing some big teams the second half of the season so far," James said. "We don't have the size. But we've just got to figure it out. We've got to put more bodies on guys and just try to do it as a collective group, a collective effort."
James also said the recent losses to the Bulls, Magic, Lakers and Jazz on the road aren't indicative of the Heat's overall play this season away from home. Miami's 13-9 mark entering Friday's games was tied for the third-best road record in the league.
"I think it's more of a rough patch than a concern," James said. "We know how to win on the road. We've won on the road before. I don't get too caught up in the standings. At the end of the day, in the playoffs, you've got to go win on somebody's floor, you have to win on the road."
There are other issues that have factored into the Heat's recent slippage. The bench has tailed off in recent games and shooters such as Chalmers and Shane Battier have lost their touch from beyond the arc. Mike Miller, second in the league in three-point shooting percentage, is recovering from a sprained left ankle and did not travel for the Heat's three-game trip.
Wade and James have been overextended in some areas, while the supporting cast hasn't provided enough to consistently bridge the gaps since the break.
"We certainly have to own it, no doubt about that," coach Erik Spoelstra said. "And we will. We have a group that doesn't dodge this. We couldn't keep on playing during the All-Star break. We had to break like everybody else. And that's how fragile things are in this league. But the character and makeup of our group … we'll work together to find a way to get back to where we were. We were playing excellent basketball three weeks ago. But that's in the past."