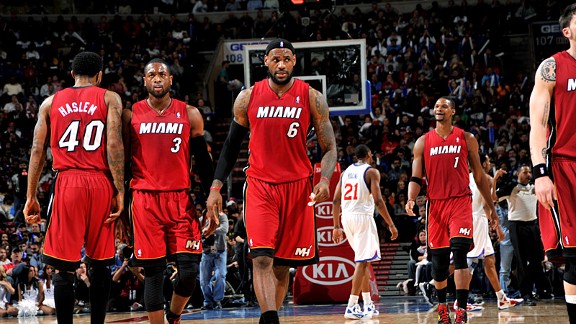 Jesse D. Garrabrant/Getty Images
The Heat stroll into Philadelphia with a 4-4 record since the All-Star break.
In another installment of the Heat Index's 3-on-3 series, our writers give their takes on the storylines before the Heat visit the 76ers (25-18).
1. Fact or Fiction: Heat fans should be bummed about the trade deadline.
Haberstroh: Fiction. My Twitter inbox was filled with panic from Heat fans looking for a backup center, but I have a box of chill pills to dole out. The Heat might not have a legitimate center on the roster that can play 5-10 productive minutes, but the Heat still have the sixth-highest rebound rate in the NBA and the top basket defense in the league (by opposing field goal percentage at the rim).

Wallace: Fiction. Fans who have an ounce of perspective will realize that the Heat lack reasonable assets beyond LeBron James, Chris Bosh and Dwyane Wade. Truth is, you can't really complain much when you've got a roster with those three at the top. On the other hand, the could be options to upgrade the roster in the coming days through free agency via the waiver wire.
Windhorst: Fiction. No player traded was as good as LeBron James, Dwyane Wade or Chris Bosh. They're still doing quite well, it seems.
---
2. Fact or Fiction: Miami will have a new starting C come playoff time.
Haberstroh: Fiction. Joel Anthony might not be the rebounder or the scoring big man that fans want, but he's among the best pick-and-roll defenders in the league. In today's NBA, that's a huge asset even though it doesn't pop up in the box score. As offensively limited as Anthony is, there just isn't much out there.
Wallace: Fiction. Joel Anthony will be the guy. If Miami does add a center, it will be in the form of a backup. As Pat Riley has said all along, this team might be limited in its ability to get bigger, but that doesn't mean those here right now can't play bigger That means far more is needed collectively from Anthony, Bosh and Udonis Haslem.
Windhorst: Fiction. They can dream about Chris Kaman or Jermaine O'Neal (yeah, O'Neal would be an upgrade to their rotation) but the circumstances make it seem doubtful a starter-quality center will shake free. The Heat's best hope may be that Dexter Pittman continues to improve, a process that's been incremental.
---
3. Fact or Fiction: Andre Iguodala is LeBron James' toughest defender.
Haberstroh: Fact. No one can bottle up LeBron on a nightly basis, but Iguodala has the length, athleticism and attention to detail to at least keep up with him on that end. LeBron shot "just" 47 percent against him in the playoffs last season and scored just 19 points against Iggy last time out. Of course, defending LeBron one-on-one is like throwing out plastic road spikes in front of an army tank anyway.
Wallace: Fiction. I don't know what the numbers say. But Metta World Peace strikes me as having all of the tools -- and psychological instability -- to disrupt LeBron as much or more than anyone else in the league. No one can stop LeBron, but there are a select few who can bother him a bit. Iggy would at least make him work on both ends.
Windhorst: Fiction. Iguodala has developed into a world-class perimeter defender over the last several years. But I do not believe LeBron loses much sleep worrying about him. I'm not sure there is one at the moment in his career. He physically just overpowers players at his position.