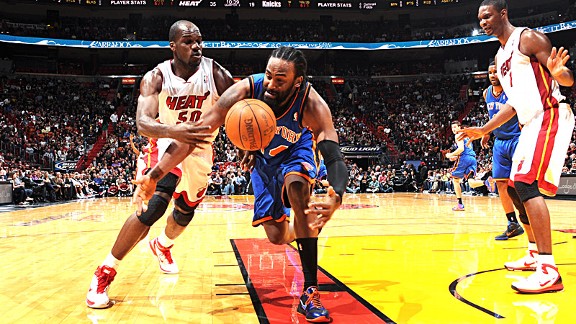 Andrew D. Bernstein/NBAE/Getty Images
If healthy, Ronny Turiaf could be a solid backup behind Joel Anthony.
The Heat are expected to sign Ronny Turiaf, who was let go by the Denver Nuggets this week, for the remainder of the season according to sources.
So what can the Heat expect?
Not much at this stage, but it's probably more than what they're currently getting out of the Dexter Pittman and Eddy Curry combo. The biggest thing to remember that Turiaf's size is deceiving; he is not a good rebounder by any stretch of the imagination. But for some reason, he's been known as a rugged rebounder despite the fact that his rebound rate last season was lower than Mike Miller's. He brings width and effort, but let's just say nobody's confusing him with Kevin Love these days.
Statistically, he's more Joel Anthony than Dexter Pittman on the defensive end. Keep in mind, he's only played four games this season and all of them were for the Washington Wizards. So we'll go back to 2010-11 for his track record. For the Knicks last season, Turiaf tallied 6.5 rebounds and 2.3 blocks every 36 minutes. Guess what Anthony's rates were? 6.5 rebounds and 2.3 blocks every 36 minutes. So in terms of production the defensive end, he will remind you a lot of Anthony. He's not as mobile in the pick-and-roll blitz, but he's not Eddy Curry out there either.
From a skills perspective, he's far more polished than Anthony offensively (granted, that doesn't say much). Turiaf brings a fine passing touch, something that none of the Heat's centers can offer. In fact, Turiaf posted the highest assist rate (assists per possession used) among centers last season and three times higher than the average center. Evidently, the French center's handiwork is far more useful than Anthony, who has tallied a whopping seven assists this season in over 1,000 minutes of playing time. Huge upgrade there.
So why did this guy get dropped by the Denver Nuggets and then no one touched him on the waiver wire? The Nuggets needed to drop someone to make room for Wilson Chandler and there's some worry about Turiaf's hand health. He has been out with a broken hand since Jan. 1 so he's probably not in game shape. But if any team has experience in fast-tracking a big man into game shape, it's the Miami Heat.
If/when Turiaf's hand gets healthy, you can expect some time for him to get his wind back. Ultimately, the Heat made a deal for a backup center who can play 5-to-10 minutes off the bench with little expectations beyond that. He's often injured and they'll have to be careful not to rush him back too soon.
It's a good pickup by the Heat since there's little to no risk. Remember, the Heat had an empty roster spot after not bringing Mickell Gladness back. If the Heat were looking for a backup center, Turiaf is definitely worth a gamble. He's a superior basketball player than Eddy Curry and Dexter Pittman at this point and that's all the Heat can ask for considering the pricetag.