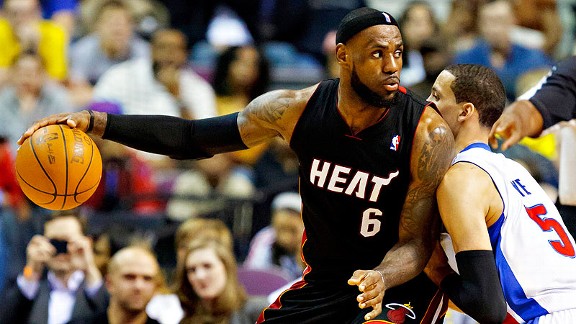 Rick Osentoski/US Presswire
Last time LeBron James played the Pistons, he didn't have Dwyane Wade -- or a battered elbow.
In another installment of the Heat Index's 3-on-3 series, our writers give their takes on the storylines before the Heat visit the Pistons (16-30).
1. Fact or Fiction: LeBron's elbow is more concerning for Heat fans than his head/neck.
Haberstroh: Fact. From a basketball standpoint, the elbow injury probably will have more impact on his game. From a human standpoint, the head injury is more concerning. The arm injury is on his shooting arm. Regardless whether he's ambidextrous or not, it will affect his ability to score buckets. However, LeBron absorbs arm-tackles and hard fouls more than any player outside of Dwight Howard so it won't be easy for him to avoid contact to the head. Both are worrisome for Heat fans, but the arm might be more so in the short-term.

Wallace: Fact. Only because this elbow issue has been sort of a mysterious injury dating back to at least LeBron's final season in Cleveland. No one seems to know what the exact ailment is, only that his arm goes numb when the elbow gets banged. If the team believes the head/neck injury is just a matter of soreness, I'll take their word for it - for now.
Windhorst: Over the long term, fact. Regardless of what Cavs fans felt about James' elbow in 2010, it was something that bothered him off and on for weeks. Perhaps this was just a hard fall and he'll be over it soon. But it's worth watching. As for tonight, though, the neck injury is more important. I'm sure the Heat have followed procedure. Maybe LeBron saying he's still "groggy" is more gamesmanship than reality. But if there's any lingering head/neck issues, it's foolish to play him tonight. If you think that sounds strange then go to Google and start reading about the concussions issues across sports. You don't have to get hit in the head to have a head injury and we're learning more and more how these things must be treated.
---
2. Fact or Fiction: Ronny Turiaf will earn a starting gig this season.
Haberstroh: Fiction. In time, he'll be a solid upgrade over Dexter Pittman and Eddy Curry, but let's not get ahead of ourselves and start projecting a starting gig. All three of these backups have barely played any NBA-level basketball in the past year, so at the very least Joel Anthony has the uppder-hand in the experience and conditioning department. Unless Anthony gets hurt, Turiaf will be a welcomed presence off the bench throughout the season.
Wallace: Fiction. Unless Joel Anthony gets hurt, he's got a grip on the starting center job - even as he struggles at times to hold onto much else on the court. Anthony has earned the coaching staff's trust defensively, and that goes a long way. If Turiaf proves to be in shape, he'll get playing time.
Windhorst: Fiction. Turiaf has the potential to be a helpful addition because he has the ability to play center and also is reasonably athletic for his size, which should help him fit in with how the Heat defend. However, it's not realistic to assume he's going to be a difference-maker. He's played four games in the last 10 months. He's not a great rebounder and he averages five points a game for his career. I do believe he's an upgrade from Dexter Pittman as a backup center and when he gets in shape he could provide the 10 or so competent minutes the team could really use from that role.
---
3. Fact or Fiction: Miami will spend more than 20 mins reviewing Jan. 25 game film.
Haberstroh: Fiction. That game had fluke written all over it. Austin Daye scored 28 points, more than he's scored in about two months combined. Oh, and Dwyane Wade didn't even play either. Do a little cramming on Brandon Knight and Greg Monroe, sure, but otherwise the Heat should focus on their own game.
Wallace: Fiction. I'd say 20 minutes are about enough. The Pistons certainly have an interesting roster and can create matchup problems on a good night. But this is more about the Heat getting to their game and regaining a rhythm on the road.
Windhorst: Fiction. Erik Spoelstra and his coaches will review it thoroughly I'm sure but the teams are quite different. Dwyane Wade will be playing for starters. Austin Daye, who had one of the best games of his career for the Pistons that night, hasn't played in over two weeks. Also Ben Gordon and Tayshaun Prince didn't play that night. If the Heat watch anything, it ought to be clips of center Greg Monroe. He lit them up for 20 and 10 that night and is in the midst of a breakout season. This kid might be an All-Star in the near future and he's probably the biggest thing standing between the Heat and victory tonight.