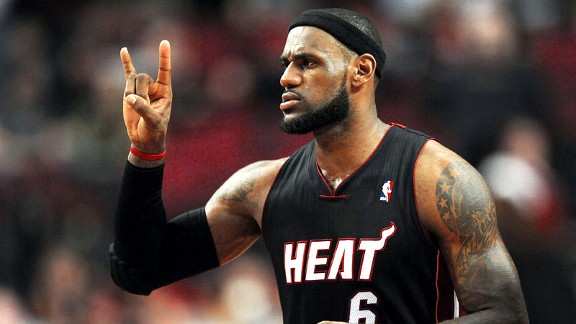 Steve Dykes/US Presswire
Will LeBron James' second chance at a title with Miami come against the Thunder?
Editor's note: The growing consensus is that Sunday's showdown between the Oklahoma City Thunder and the Miami Heat (ESPN, 8 p.m. ET) is a likely preview of what's to come in the Finals. If that's the case, who would win it all? Royce Young of TrueHoop Network's Daily Thunder states his case for Kevin Durant and Co. while Tom Haberstroh of the Heat Index lays out five reasons why the Heat will triumph in June.
1. The Heat boast the two most efficient players in the game
That's right, two. There's no question anymore whether LeBron James is the best player in the league. To see why, here's a timely demonstration. LeBron scores just as much as Kevin Durant, drops more dimes than Russell Westbrook and grabs more rebounds than Serge Ibaka. Sure, it's amazing that Durant has shot about 50 percent this season, but here's what's more amazing: Durant could make 75 of his next 75 shots and he still wouldn't be able to catch LeBron in field goal percentage. Let that marinate for a minute.
And then there's Dwyane Wade. Erik Spoelstra has kept Wade's minutes down to a career-low 32.9 per game thanks to a torrid stretch where the Heat were blowing out everybody and Wade forgot what it was like to play in the fourth quarter. On a per-36 minutes basis, Wade and LeBron are set to become the first teammates to average 25 points-5 rebounds-5 assists in the history of the league. Put it all together and you begin to see why LeBron and Wade look down on everyone else in the PER rankings . Then throw in the fact that they play all-world defense, which is the blind spot of PER. Sorry, Durant and Westbrook, you're just not on their level yet.
2. Shane Battier is the antidote to LeBron's Finals ills
Still grasping for reasons why LeBron sputtered in the Finals against Dallas? It's time we mentioned the elephant in the room: LeBron was exhausted. He'll never admit it publicly because that's not the macho thing to do (Can you imagine the vitriol if LeBron complained that he was tired?), but Spoelstra was playing him about 45 minutes a night and then asking him, "Hey, can you go and lock down Derrick Rose, the quickest point guard in the game, in crunch time for me? Thanks."
Spoelstra had no other choice. The alternatives were playing James Jones, who had a broken toe, or Mike Miller, who didn't have working thumbs. Enter Shane Battier. The Heat loaded up on wing players in the offseason because they needed to keep Wade and (especially) LeBron's minutes down in the home stretch. Armed with a defensive specialist like Battier, Spoelstra can finally give LeBron a breather on that end – which is far more taxing than on offense -- and not skip a beat. The truth is that the Heat didn't win it all last season because LeBron wasn't, well, LeBron in the Finals. Adding Battier ensures that this time around, LeBron will have enough left in the tank.
3. Mike Bibby doesn't play for them anymore
Mike Bibby should be forever in debt to LeBron for his Finals struggles. Why? Because people forget how badly Bibby played in the playoffs last season. In a perilous fit of cognitive dissonance, the Heat kept throwing Bibby out there despite the fact that he was in the midst of the least productive postseason in NBA history. And he certainly wasn't making up for it defensively or outside the box score.
The Heat finally came to their senses this season and gave the keys to the starting gig to Mario Chalmers. Not only that, they drafted a sparkplug in Norris Cole so that they could never let off the gas. The Heat are actually getting production from their point guard slot this season rather than asking Carlos Arroyo and Bibby to pass the ball and get out of the way. The Heat often devolved into 3-versus-5 in the playoffs and it's safe to say they've recognized that's not the best strategy going forward.
4. Champions dominate on both ends
As a graduate of Pat Riley's school of coaching, Spoelstra understands that a team can't be a championship contender if it doesn't play defense, and that's where he spends most of his time in practice. The Thunder may clamp down defensively in crunch time (fifth-best team in defensive efficiency in clutch situations, according to NBA.com), but Thunder coach Scotty Brooks has yet to figure out how to get the Thunder to do that all game (the Thunder rank 12th overall on defense). That's something that Spoelstra already has his team doing.
Even though the Heat don't possess a traditional center, they still boast the third-best defense in the league. And in crunch time? They rank fourth-best in the league, which is slightly better than the Thunder. Yes, the Thunder might get stingy when it matters most, but what do they do in those other 43 minutes of the game? Elsewhere, the Heat stomp on their opponents' necks from start to finish.
5. The "Who takes the last shot!?" debate isn't interesting anymore
The Heat became such a compelling team last season because they consistently failed on the biggest stage. Not only did they lose the Finals, but during the regular season, they famously couldn't hit the game-winning shot when it mattered most. In the regular season, Wade shot 1-for-4 in shots to tie or take the lead with less than 24 seconds left. LeBron? He was worse, 1-for-8. Collectively, the Heat shot an abysmal 3-for-20 (15 percent) in those critical situations.
There were endless questions going into last season about who was going to take the last shot and there's no doubt that their failures added truckloads of fuel to the fire. LeBron and Wade have admitted recently that they didn't fully trust each other and their teammates in those situations last season. This season is a different story. The Heat are now shooting 5-for-12 in those same dire situations and each of the Big Three have come through with a bucket on life support. The sample size is tiny enough that it's not a reliable predictor of what will happen. But more than anything, the self-conscious doubt that plagued them last season just isn't as heavy anymore. For the Heat, the lingering question now is not "Who takes the last shot?" but rather, "Who cares?"