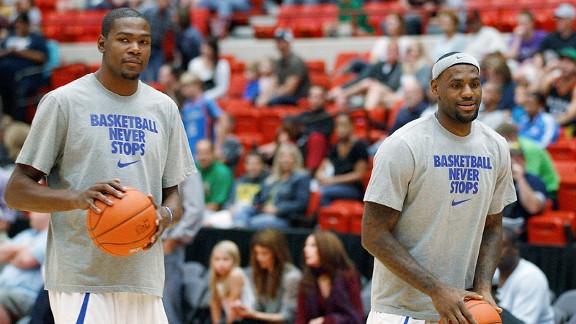 AP Photo/Sue Ogrocki
Kevin Durant and LeBron James may not be best friends, but they came together to lift their games.
OKLAHOMA CITY – They called it hell week.
At the end of the summer with the NBA still in its lockout phase, LeBron James invited Kevin Durant to stay with him at his home in Akron, Ohio, for a series of workouts. The two stars had known each other for years but became closer when both went part of a series of charity games held across the country. They wanted to extend that to preparation for the season.
Durant ended up staying two weeks, which is noteworthy, because getting through the first seven days was a challenge. It one of the most intense series of workouts either had ever been through with two-a-day sessions with James' trainers and workout coaches that the two All-Stars ending up branding "hell week."
Durant later came back to Ohio for more workouts in November when they also staged a flag football game with teams they had formed.
"We pushed each other, not to show up any one, but we competed every single day in our training," James said Saturday after practice at Chesapeake Energy Arena, where James' Heat will face off with Durant's Thunder for the first time this season Sunday at 8 p.m. on ESPN.
"Those workouts helped us, arguably we're having the best seasons we've both had in our careers."
There may be something to do that. James, despite a recent shooting slump over the last three games, is averaging a career-best 8.4 rebounds a game and shooting a career-best 54 percent shooting while being third in the league in scoring. Durant is also averaging career-highs in rebounds (8.1) and shooting (50 percent) and is second in the league in scoring.
The Heat and Thunder, not ironically, are in a virtual tie for the second-best record in the league, adding some extra drama to the team's first meeting of the season. They meet again next month in Miami and those games could end up determining homecourt advantage in a potential Finals matchup.
Getting past the statistics, though, James said those workouts set the stage for both to come into the late-starting season in the best shape they've been in their careers. With others in the league having to play their way into shape as a result of the lockout, James said he and Durant were ahead of many of their peers and it has continued to pay off during this season.
"It was like we didn't miss a beat," James said. "I'm not saying we were in game shape because you have to play in games to get there. But we were above the curve to start the season and it had a lot to do with offseason training."
The workouts were spread out across facilities all across James' hometown. They did work with weights and other strength training at the University of Akron. Then they used the school's indoor football field to do sprinting work. They also did several workouts in a pool near James' home and had court workouts and ball-handling drills at James' high school. Then, in the evenings, they would play in pickup games that he organized.
James released several videos featuring their workouts on his website.
"You never want to waste the opportunity to get better over the summer," James said. "It was really just the two of us wanting to get better."
James and Durant aren't the closest of friends, their time together was more about that work than anything else. They will probably be spending more time together this summer as members of Team USA plus there's a re-match of the flag football game scheduled after James' team pulled out a narrow win last year.
Whether or not their workout sessions become an annual tradition is yet to be seen. If they do indeed end up facing each other in the Finals they may end up sick of seeing each other. But they did both seem to benefit from their lockout sessions.
"He's a guy who has improved every year he's been in the NBA and we've all seen it," James said. "I'm always up for a good workout and trying to improve in the offseasons. It was a great way for us to come together."