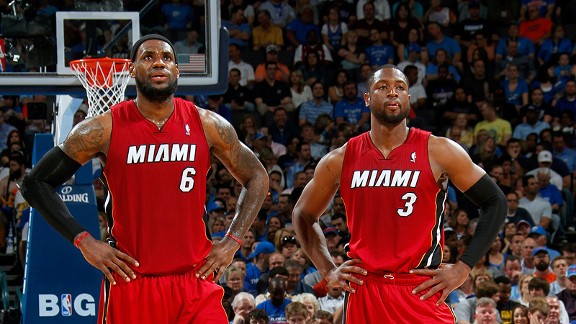 Layne Murdoch/NBAE/Getty Images
Should Miami be concerned about LeBron's slump or Wade's disappearance in Sunday's 4th quarter?
In another installment of the Heat Index's 3-on-3 series, our writers give their takes on the storylines before the Heat visit the Pacers (28-19).
1. Fact or Fiction: Dwyane Wade's shotless 4Q on Sunday is a concern.
Haberstroh: Fiction. That Wade didn't shoot from the floor or the charity stripe is probably not much more than a statistical oddity. But that little eye-brow raise will at least cause Erik Spoelstra and the Heat to prescribe a better late-game strategy than what we saw in Sunday's loss to Oklahoma City.

Wallace: Fiction. I know Dwyane didn't want to really address it after the loss to OKC, but he is not a player who is ever 'game-planned' out of the offense. I've seen him take over too many times in the fourth quarter with - or without - a directive from the Heat's bench or teammates. Give some credit to the Thunder. Let's get real. Wade has more control/influence over the offense than anyone in the Heat organization when the ball is in play.
Windhorst: Fiction. It was, as the stats guys like to say, an outlier. It's quite odd for Wade not to get involved. Perhaps even some of the fault is on Wade for not taking charge like he is known to do. Generally, the Heat have shared the ball. The Thunder completely took the Heat out of their game and this was another example.
---
2. Fact or Fiction: Miami's PG woes are more significant than Miller's injury.
Haberstroh: Fact. Didn't it look like the Heat were just standing around and waiting for something to happen down the stretch? Shane Battier's task on offense might be to wait in the corner and drill a 3-pointer, but they could use someone who could penetrate and be more dynamic after a pass. Mike Miller from a few years ago might have been able to fulfill that role, but at this point in Miller's career, that's a job better-suited for Norris Cole and Mario Chalmers. The Heat need Cole and Chalmers to provide some quick Pepcid "CC" relief.
Wallace: Fiction. I didn't attend Hollinger University or Haberstroh State, but I think the super stats experts would tell you that this is an extreme case of Mario Chalmers' shooting regressing to the mean, considering how scorching hot he was before the All-Star break. Norris Cole is a rookie playing like, well, a rookie. Miller's injury woes are no longer a concern. They're an epidemic.
Windhorst: Fact. Chalmers hasn't been able to hit a shot since the 3-point contest. His shooting numbers this month are alarming. Meanwhile, once the league's scouts got a look at Norris Cole and figured out how to play him -- back off and defend the drive -- he's really struggled. It has killed his confidence. It's OK, it happens to rookies. But coinciding with Chalmers' slump, it's a bigger issue.
---
3. Fact or Fiction: LeBron's recent struggles are nothing more than a slump.
Haberstroh: Fiction. I can understand playing through an elbow injury in the postseason, but LeBron should save the macho stuff for the playoffs when there's an offseason to recover. Between that and the concussion-like symptoms, it's looking more and more like resting LeBron after Phoenix was the smarter choice. Of course, hindsight is 20/20 and all that.
Wallace: Fiction. Obviously, there's an issue with LeBron's right elbow. He aggravated it again when he collided with Derek Fisher late in Sunday's game. But his relative slump actually started a game or two before he took that hard foul last week against Phoenix. So I'd say it's equal parts slump, slippage in his rhythm and mid-to-late season fatigue.
Windhorst: Fact, probably. I don't want to fit into a narrative here but it does feel like the elbow situation in Cleveland. His shot looks off. He sometimes grabs and grimaces at the elbow during the game. But he denies that it's an issue and isn't getting extra treatment for it. We all saw him land on it. It's his worst scoring stretch in about five years. LeBron says it's a slump, I guess it's a slump.