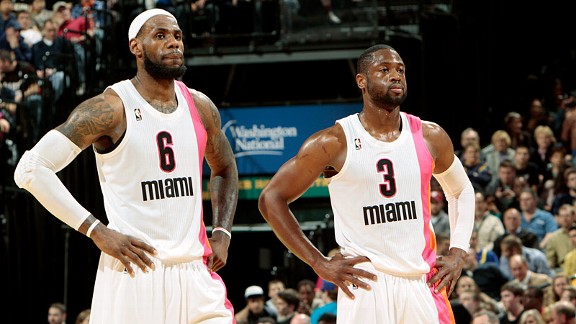 Ron Hoskins/NBAE/Getty Images
LeBron James and Dwyane Wade aren't happy with what they've seen over their last two games.
Since storming into the All-Star break last month with the league's best record, the Heat have gone just 8-6 and have split their past eight games. With 18 remaining, there's still plenty of time for Miami to catch Chicago for the top seed in the East, re-establish the rhythm the Heat played with last month, and enter the postseason in beast mode.
But LeBron James, Dwyane Wade and crew must first blast some bad habits, and their teammates need to buck some disturbing trends to get back on their feet. Without further ado, let's break down '10 Burning Issues' facing the Heat.
1. Quack Attack Gone Whack
Perhaps it's time for Erik Spoelstra to again reach out to Oregon football coach Chip Kelly. That "pace and space" offense the Heat entered the season committed to playing is now more like "stand and stare." They haven't cracked the 100-point mark in a victory since March 6. Meanwhile, opponents have caught up in recent weeks. Miami has surrendered 100 points five times the past 16 games compared with just twice in the previous 20. The Heat committed 55 turnovers the past three games and haven't shot 50 percent from the field since a March 6 win against the New Jersey Nets. It's a team in desperate need of a jumpstart.
2. LeBron's Familiar Woes, Elbows and Lows
Granted, LeBron is making a lot of the so-called "right" basketball plays. He just needs to stop trying to make so many of them to Joel Anthony on the receiving end. For several games now, LeBron has gone out of his way to pass the ball in the fourth quarter. I'm not faulting his overall decision-making or facilitating. And his recent elbow soreness stemming from those hard falls against Phoenix last week is affecting his approach, at least in part. But in Miami's last five losses, LeBron has shot just 33 percent from the field in the fourth quarter. That's the same percentage he also shot in the final period of the Heat's last five victories. That comes in the midst of a season in which he's shooting a career-best 53.4 percent overall. In six of those 10 games, he's attempted three or fewer shots in the fourth. If he's hurting, he needs to sit a few games and get healthy for the moments when these games really count.
3. Time To Panic at Point Guard?
It truly is ironic how just when the Heat make a move to address issues up front, the point guard play springs a leak. Someone needs to check Mario Chalmers' ID. This isn't the Chalmers who tried to play his way into the discussion for the league's Most Improved Player award. The same Chalmers who torched the NBA before he got that invite to the 3-point contest at All-Star weekend is now shooting just 34.3 percent from the field in March. His defense has also reverted to being as inconsistent as his shooting stroke. Rookie backup Norris Cole needs Boston to hurry up and come back around on the schedule. He spoiled everyone with that 20-point game in the home opener against the Celtics, and we haven't seen that kind of breakout play since December. Cole has had his moments this season. But as the team's pace has slowed down, so has his impact on that second unit.
4. Overdue For a Bosh Breakthrough
Off the court, it's a beautiful time for Bosh and his new bride as they await the arrival of their newborn. But on the court, it seems as if Bosh has been on paternity leave. In just the past two games, the defensive lapses and blown coverages have been abysmal. He can search all he wants for ways to be a bigger part of the offense. But until Bosh finds a bit more toughness in the post on defense, this is a problem that will only get worse as the games become more meaningful into the playoffs. Even with the starpower of LeBron and Wade, the Heat aren't a championship team unless Bosh plays to his potential. There's no other way to put it. Bosh's rebounding has been sporadic all season, but it was downgraded to atrocious in losses to the Thunder and Pacers. He had seven boards in 72 minutes against the kind of length he's certain to face in the playoffs. And that's without getting into his nine turnovers in those same two games.
5. Wade Waging Silent Protest?
Something – or someone – is ticking off Dwyane Wade these days. His body language is speaking volumes. He tried to channel that frustration back at Kendrick Perkins, but Perkins didn't return Wade's stare in Oklahoma City after that foot-to-the-face incident. And this recent 3-point barrage Wade is on represents so-called "hero ball" at its most extreme. Wade only attempted 32 threes in his first 37 games this season. He's jacked up 12 the past two – and that's including a fourth quarter in OKC when he didn't attempt any shots and declined to talk about the offense afterward. There very well could be a slight disconnect right now between Wade and LeBron or Wade and Spoelstra – or Wade and both. Those things happen over the course of a season. But how long will this linger?
6. No Sympathy From Schedule
The schedule won't offer the Heat much relief down the stretch. Seven of their next nine games are against teams with winning records, all gunning for playoff spots. It starts with Thursday's home game against Dallas in a rematch of last year's NBA Finals, and includes a visit to Boston and games against teams with the league's two best records: Oklahoma City and Chicago. If there's a silver lining amid that slate, it's that Miami plays seven of its next 10 at home, where the Heat are riding a league-best and franchise-record-threatening 14-game winning streak.
7. Will Spoelstra Adjust?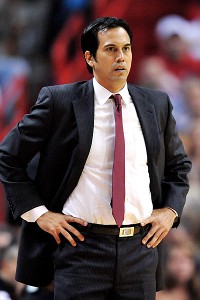 Steve Mitchell-US PRESSWIRE
Spoelstra's gameplan hasn't worked recently.
Should Spoelstra push his team harder through this current malaise, or pull back and preach patience and bigger-picture perspective? One thing's for certain: Spoelstra is as competitive and active on the bench as his players are out on the court. He gets caught up in the moment, and when his frustrations with defensive lapses overtake him, he storms onto the court and motions for timeouts much like a kid launching into a temper tantrum. Credit Spoelstra for keeping the Heat largely together and focused through distractions – even some that have been self-inflicted – that could have derailed many other squads through these two seasons. But now, his responsibility is to make some hard decisions with his rotation, prove he can adjust with in-game decisions and steer this team back towards the identity it established just before the All-Star break.
8. Still Waiting on Miller/Haslem
The hope was that this season would be the one when the Heat could flex their roster muscle with full contributions from Mike Miller and Udonis Haslem, who both missed majority of last season with injuries. Instead, Miller again has missed a chunk of games due to a hernia surgery that kept him out at the start of the year and a recent ankle sprain that has sidelined him since March 10. Haslem has been a shell of himself this season on offense. His lift and touch have largely failed him, although his rebounding and defense have been on par. Perhaps the combination of the surgeries and battling bigger players night in and night out are starting to take a toll. Both Miller and Haslem have three seasons remaining on their contracts, and unless these trends turn around, Pat Riley will be forced to reconsider their roles on this team moving forward.
9. Maximize Turiaf's Impact
Regardless of how the team might characterize it, the fact that journeyman Ronny Turiaf could come off the waiver wire - having played just four games this season due to injury – and roll right into a primary rotation spot is an indictment on Dexter Pittman and Eddy Curry. Pittman at least got an opportunity in games to show where he stands. Curry, for whatever reason, has remained a mystery. In either case, those projects have either garnered a 'F' grade for failing or a 'W' mark for being completely withdrawn from the Heat's course of action in the post. Turiaf's aggressive defense, hustle and ability to catch and finish on limited opportunities near the basket have been a boost. As a result, Spoelstra shouldn't hesitate to tweak his late-game rotations if Bosh or Haslem struggle for stretches moving forward.
10. Far Too Charitable
No team in the league strikes as much fear in opponents for the ability to turn defense into offense as quickly as the Heat. When LeBron and Wade are focused, with, Haslem, Shane Battier and Joel Anthony providing backup, the Heat can swarm foes into submission. In football, you counter that speed and over-pursuit with misdirection action. In basketball, you use the skip pass and work back-door angles to get the ball inside. The better teams in the league (Bulls, Lakers, Thunder, etc.) have exposed this weakness in the Heat. And it's come to light in a major way the past eight games, when Miami has been outrebounded by a total of 46 boards and has allowed teams to shoot 42.2 percent from 3-point range. It's been a disturbing case of too many open looks for opponents from deep, as well as far too many second-chance opportunities. Even the most lethal knockout brawlers are susceptible to a disciplined counter-puncher.