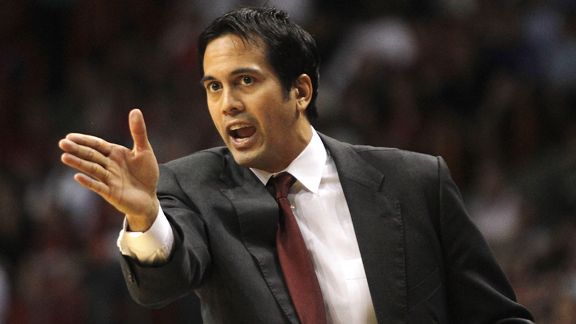 Marc Serota/Getty Images Sports
In a parallel universe, Erik Spoelstra and the Heat are running the "Seven Seconds Or Less" offense.
Miami Heat coach Erik Spoelstra must have gotten a good chuckle watching Nike's "What should I do?" commercial starring LeBron James. Spoelstra might have enjoyed seeing a lighter side to his newest superstar. But Spoelstra's laugh also might have been rooted in irony: He probably asked himself the same question this past summer.
What should I do?
When LeBron announced he would join Dwyane Wade & Co. in Miami, the fireworks must have exploded in Spoelstra's brain. He has not one but two of the game's most electrifying ball handlers, in their prime, on the same team. They can run, they can shoot and they can outathleticisize (a term I use very sparingly, like fats and oils) any opponent they please. They can get to the line, they can pass and they can jump out of the gym. Their speed and versatility know no bounds.
So the thought might have crossed his mind this past summer:
Should I run the "Seven Seconds Or Less" offense?
Well, judging by the look on his face after the Seven Seconds Or Less (SSOL) offense was suggested as a hypothetical system for the 2010-11 Heat -- no, the thought never crossed his mind.
"Our team?," the wide-eyed Spoelstra asked.
He looked away for a moment before continuing with a giddy grin.
"Yeah, they'd be pretty spectacular offensively," Spoelstra said. "But I wouldn't even know how to coach them. But I'm sure our guys could get up and down in at least seven seconds or less."
If you look at the Heat roster, it's not exactly born to run quite like the classic Phoenix Suns under former coach Mike D'Antoni. The Heat have some athletes, no doubt about it. But SSOL is a top-to-bottom personnel system, and the Heat feature some slow-footed players, especially at the center position. It would be the end of Zydrunas Ilgauskas, Jamaal Magloire and Juwan Howard in Heat uniforms, that's for sure.
James Jones, a proud member of the SSOL program from 2005 to '07, has a soft spot for the system and says he gets nostalgic about his Phoenix days. But even if the Heat were to employ it, Jones doesn't believe it would be a good fit for the current squad's starpower.
"This [Miami team] is a totally different animal," Jones said. "That team we had [in Phoenix], Steve [Nash] was our only ball handler -- and Boris Diaw for a little -- and so the rest of the supporting cast were the shooters. Steve was the point guard handling the ball, and we didn't need him to be scoring 30 points. Sixteen would be enough.
"But this team we have and the guys who are handling the ball for the majority of the time, we need them to score. So it's a fine line with these guys facilitating to make us better. But how they really make us better is by being aggressive and making teams put two on them."
Jones hits on a key point -- the Heat aren't stocked with 3-point shooters. But more importantly, the two ball-dominant scorers, LeBron and Wade, destroy opponents through attacking the basket, not distributing the ball to the perimeter. If LeBron and Wade were to suddenly stop driving to the rim, they'd see their efficiencies plummet from not toeing the free throw line every other trip down the court. Teams would rejoice.
When it comes to shooting specialists, Eddie House and Jones are about as specialized as any in the league, but the rest of the team lives inside the arc. Carlos Arroyo, Chris Bosh and Udonis Haslem have solid midrange games, but none belongs beyond the 3-point line. Mario Chalmers could rediscover his shooting stroke when he gets healthy, but no one's holding his breath. Joel Anthony? He's 1-for-20 from 16 to 23 feet for his career with, thankfully, zero 3-point attempts. Roster architect Pat Riley evidently wasn't trying to instill D'Antoni's system this past summer.
But when sharpshooter Mike Miller gets his thumb healthy, it's conceivable the Heat could run out a five-man unit of Wade, Jones, Miller, James and Bosh. But even then, that's only two knockdown 3-point threats. The Suns always had at least four and sometimes the full five.
But for a moment, let's imagine a Heat SSOL offense with that five. One of Nash's favorite tactics in the fast break was a "drag" screen with Amare Stoudemire that takes advantage of defenses' sprinting to the basket area and packing the paint. The Heat version probably would be run with Wade taking Nash's spot and LeBron taking Stoudemire's, while Miller and Jones would fan out to the corners.
It's actually a secondary break where the primary option -- typically a big man who dives to the rim, in this case Bosh -- doesn't get an adequate look. The second big (LeBron) trails Wade as he pushes the ball down the court. Once Bosh clears out after not getting the initial feed, LeBron sets a high screen for Wade and forces the retreated basket defenders to come out and meet LeBron just before he dives hard to the basket. If they don't meet LeBron and don't show on the screen, Wade gets an easy 15-footer. If they do, it becomes a chaotic pick-and-roll game at 100 miles per hour.
One of the keys to running an SSOL offense is getting down the floor before the defense does, that way the offense has numbers and creates havoc for the defense in decision-making. When a defense gets outnumbered, it gets potentially exposed when a defender commits to a man and leaves another open. In a two-on-one scenario, should the one defensive man back shade toward Miller in the corner or stay home to defend the penetration from LeBron or Wade? Does he leave Jones open on the wing or collapse on the penetrator? These defensive dilemmas occur in the half-court set as well, but they're magnified by the urgency of the fast break and the potential for being a man down.
But the crucial difference between Phoenix's SSOL and any other emulated SSOL is the person running it: Nash, who's one of the greatest, if not the greatest, shooters of this generation. Defenders have to play him tight to discourage his shot but can't play too tight, or else he'll blow by. Wade and James have the ballhandling skills and quickness to match but simply aren't of the same shooting caliber as Nash. No one is.
Aside from not having the shooters, NBA players have to outrun their opponent, not for stretches but the entire game. That's not a high selling point for players, but the system runs on exploiting opponent fatigue.
"These looks that I get now, they come in the half court," Jones said. "But in Phoenix, most of our looks came in transition. In the fourth quarter, teams were just too tired to get back, so we'd run them to death. With three or four minutes left in the game, guys didn't have any energy to rotate to you anymore or get out to you in transition. So the high-octane pace created a lot of our open looks because guys didn't have any energy."
The Heat could be a more up-tempo team than they are now, especially after Miller returns. More possessions, more opportunities to take advantage of their edge in talent. There's a good reason outmatched teams try to slow down the game to a standstill. But good luck trying to persuade a veteran player who's thrived in a slow-paced system for his entire career to switch to a run-and-gun-styled offense. Wade, in particular, wasn't having it.
"No, no, no," Wade laughed. "I don't want to run that much. I don't want no part of that. I don't even want to think about personnel. I don't want to play that way."
Hey Dwyane, tell us how you really feel about running Seven Seconds Or Less.