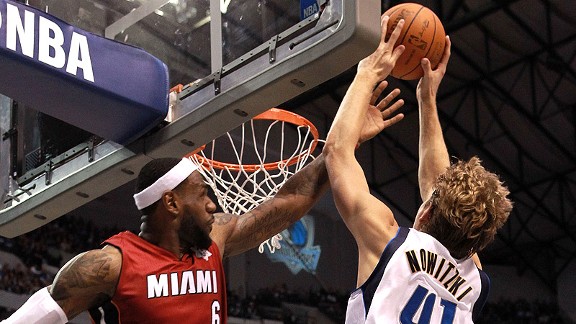 Ronald Martinez/Getty Images
Two questions: Should LeBron play? Secondly, if so, should he be the one to guard Dirk?
In another installment of the Heat Index's 3-on-3 series, our writers give their takes on the storylines before the Heat host the Mavericks (29-22).
1. Fact or Fiction: LeBron James should play Thursday vs. Mavericks.
Tom Haberstroh: Fiction. We know LeBron is tough. He just played through a dislocated finger on Monday and played pretty well in fact. He has absorbed a blow to his dome against Phoenix that would probably knock me out for months and that was after re-aggravating his right elbow injury. He's playing through it all, but for what? The Heat have a 4.5 game cushion on the Magic for the second seed. This seems incredibly short-sighted to me.

Michael Wallace: Fact. Although I'd rest LeBron the next two games - at Toronto and Boston - over the weekend. If I'm going to give him a few games off to rest/recover from nagging bumps and bruises, I'd do it on the road, if possible, instead of shorting the home fans.
Brian Windhorst: Fact. How bad LeBron is hurt depends on who you ask. Was the finger dislocated or not? Is he wearing a splint or not? He and Erik Spoelstra don't seem to be on the same page. He's a little banged up right now but not to the point where he shouldn't be playing. He agrees with this, too.
---
2. Fact or Fiction: The Heat should sign a veteran point guard.
Haberstroh: Fiction. As bad as Mario Chalmers and Norris Cole has been recently (and they've been really bad), it's still better than what they'd get out of Anthony Carter. If they want Carter's leadership, fine; bring him on as a coach.
Wallace: Fiction. The Heat should give Mario Chalmers a chance to work his way out of the doldrums. He certainly built up enough stock over the first half of the season to earn a bit more patience. Besides, LeBron and Dwyane do enough ball-handling down the stretch to bridge any gaps at the position.
Windhorst: Fiction. What veteran point guard? With all due respect to the likes of Anthony Carter, it's not like there's a Jason Kidd-type player sitting around waiting for the phone to ring. It is not a bad idea for any team to have a third point guard as an insurance policy. But that is all such a player would be for the Heat right now. Chalmers is mired in a slump and Cole is scraping along rock bottom and that's an issue. But the Heat's best chance is for those guys to pick up their game. They've done it before, it is within them. In the NBA, there is always time. These two have the time to recover.
---
3. Fact or Fiction: Joel Anthony should be Dirk's primary defender.
Haberstroh: Fiction. As much as I enjoy watching Joel Anthony's spider-like defense on Dirk, I still think that Chris Bosh should be the guy to guard him one-on-one. But to steal a Spo-ism, guarding Dirk is never a one-on-one affair. Keeping Anthony as a help defender maximizes the Heat's tools
Wallace: Fiction. It's a known fact that no one actually stops Dirk when he's on his game. But Udonis Haslem has defended him as tough as anyone over the years. Bosh should also step up defensively. I don't favor putting Joel on him because it takes Miami's top shot-blocker away from the paint.
Windhorst: Fiction. The Heat will change up the look they give to Dirk throughout the game, this is something that is standard in the game plan against a star. In the past, both Udonis Haslem and LeBron have guarded him and done a decent job. Anthony, because of his long arms, makes sense but he's also most effective as a help defender who protects the rim. You can't be much of a help defender when you're on Dirk. The guy is a Hall of Famer and he's a 7-footer to can make fade away jumpers from 18-20 feet. There's no foolproof way to handle him.