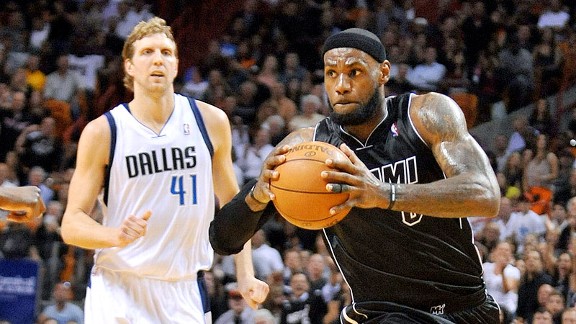 Steve Mitchell-US PRESSWIRE
LeBron James may still be banged up, but for the first time in a long time, he looked like himself.
MIAMI -- Only LeBron James knows how much his elbow has been hurting, how the non-concussion hit he suffered last week bothered him or just what is wrong with his finger that may or may not have been dislocated depending on whom you ask.
What had been obvious was that James was in a slump, a five-game drop in production that coincided with the Heat's overall standard of play sinking. The numbers were evidence enough but the eye test said plenty, James wasn't looking like himself or playing like himself.
It was easily the most prolonged regular-season slump -- last year's Finals are in a category of their own -- he'd had in a Heat uniform. Depending on your opinion, it was perhaps is biggest lull in the regular-season play since a few dry spells in the midst of the 2006-07 season.
In short, James has been in need of a breakout. The fact that Thursday's chance was against the team that had crushed him in those Finals last year was almost irrelevant.
"I definitely put a lot of emphasis on this game," James said. "I wanted to be well-balanced."
His performance in the Heat's 106-85 victory over the Mavericks was not dominant; actually, by his standards it was probably less than average. His 19 points, nine rebounds and five assists don't even qualify as one of his best two dozen games this year.
But it was the first time in two weeks that James looked like the Most Valuable Player candidate he is. He was able to create offense for himself and others, make some key individual defensive plays that led to fast-break chances and get out and run to create the easy baskets that had disappeared from the Heat's offense of late.
"He made so many winning plays out there," Heat coach Erik Spoelstra said. "I don't think the box score tells the story of the impact he had on the game. He made winning plays when the game was in the balance, it could've gone either way."
It is not normal that Spoelstra would have to qualify praise of James by saying he was "better than the box score," because usually James' numbers speak for themselves. But this performance did pass that hard-to-quantify eye test. He made a handful of plays in the second half -- two steals that led to dunks and two perfect assists that led to layups -- that came at times when the Heat needed them.
James also made half of his 16 shots, the first time in six games he'd done that.
"I didn't get caught up in [being in a slump] too much; I'd missed a lot of shots I knew I should be making," James said. "I was able to get three straight buckets to start the game and that got me going the right direction."
James said he didn't spend extra time looking at film or accept over-the-top encouragement from teammates and friends, the standard slump cures. It has been hard to assess just how much of what was happening was attributable to fatigue or those nagging injuries or just the fickle turn of luck.
For a much as James is known to embellish a hard landing or wayward elbow by slowly getting up during games, he's often quite vague about how injuries affect him. He's been that way over the past two weeks, not giving straight answers when given the chance to blame his downturn in play on the various things he's dealing with. It seemed that not even his coach was on the same page with him this week regarding his finger.
He only begrudgingly admitted he was in a slump when the data became overwhelming. Is he out now? He's not really into talking about that one, either.
"There's not one person who is 100 percent this season," James said. "I've got ailments and things like that, but when I put that jersey on my back I have to go out and help my team win."