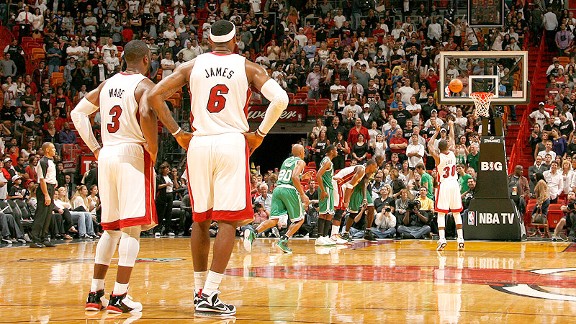 Issac Baldizon/NBAE via Getty Images
Are the Celtics a tougher foe in the playoffs than the Magic? We debate
In another installment of the Heat Index's 3-on-3 series, our writers give their takes on the storylines before the Heat visit the Celtics (29-22).
1. Fact or Fiction: The Heat would rather face Boston than Orlando in the playoffs.
Tom Haberstroh: Fact. The torched has been passed. The Heat probably aren't that threatened anymore by the Celtics because LeBron and Wade finally beat them last season, the C's are banged up and they're a year older. The Heat haven't seen the Magic in the playoffs in 15 years. I don't think they're anxious to see them now.

Michael Wallace: Fiction. If healthy, Boston is more capable of pushing Miami in a playoff series than Orlando strictly based on defense and mental toughness. But with the Celtics, the health part is always a big "if." Boston's Big 3 are still productive enough to be a major threat, and Rajon Rondo is a player that drives the Heat nuts.
Brian Windhorst: Fiction. At the end of the day, they Heat likely have more respect and what coaches refer to as "appropriate fear" of the Celtics. The Magic in theory are more of a threat. But you cannot discount the playoff experience and wizardry on Boston's roster. There was a reason it was such a big deal for the Heat to win that series last year.
---
2. Fact or Fiction: The Celtics have taken a step back since last season.
Haberstroh: Fact. This team feels like the opposite of that 2009-10 Finals team that stumbled their way to the regular season finish line. I'm always hesitant to make a call on the Celtics because they seem fluctuate more than the Dow. But if they've taken a step back, it's only because of injuries, which is a shame because it'd make for some added theater in the playoffs.
Wallace: Fact. This is no longer a team that prides itself on regular-season results. In fact, they hardly engaged themselves with the first two months of the season. Age and injuries have taken a toll on the Celtics, but they are hitting a nice stride right now. They have the NBA's second-best record since the All-Star break. For now, they still look like a team that knows when to turn it on.
Windhorst: Fact. I'm not so sure it's age more than just bad luck/injuries. They've had three different big men they've lost for the year. Even the invincible Ray Allen is banged up. They just don't have the personnel they did last year. Yet there they are at the top of their division. They're still fighting.
---
3. Fact or Fiction: The Heat will spend > 15 mins watching Dec. 27 game tape.
Haberstroh: Fiction. The Celtics didn't have Paul Pierce, Greg Stiemsma or Ryan Hollins in that game. The C's backcourt right now -- Avery Bradley and Rajon Rondo -- didn't even play a minute together then. The Heat have enough intel on this team from all the battles over the years that they probably could go into this game cold and still be on top of things.
Wallace: Fiction. But I'm sure Norris Cole will have it on a loop, considering the rookie torched the Celtics for 14 of his 20 points in the fourth quarter of that game. Boston's rotation is a bit different since that home opener in Miami in what seems like ages ago. Heat coach Erik Spoeltra might spend more time showing his team what needs to be cleaned up from Friday's win in Toronto.
Windhorst: Fiction. I don't remember anything about that game other that Paul Pierce didn't play. Any game that's three months ago has limited value in any year. That might as well have been considered a preseason exhibition.