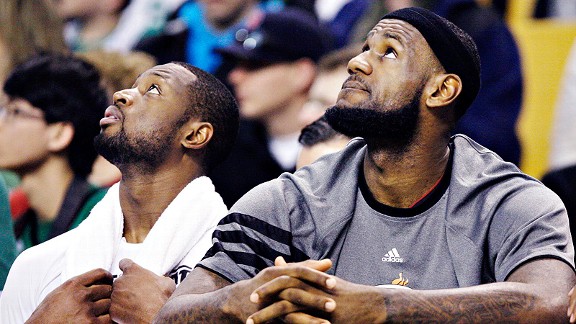 AP Photo/Elise Amendola
Things aren't looking up for Dwyane Wade and LeBron James recently and we'll show you why.
After the Heat lost another big game on the road in front of a national audience, it's time to bust out the stethoscope and diagnose what's wrong with the Heat. Here are five charts that tell the story. (Geek note: lines are presented as trailing 10-game averages.)
1. LeBron James isn't relentlessly attacking the basket
Remember when LeBron was punishing the basket earlier in the season? Not anymore.
Powered by Tableau
2. Norris Cole and Mario Chalmers' shooting has fallen off a cliff
Can't stress enough: Miami's point guard production has plummeted from All-NBA to the NBA's basement.
Powered by Tableau
3. Dwyane Wade's tendency to settle in losses
Noticed Wade has suddenly fallen in love with his jump shot? It's a symptom of stagnant offense.
Powered by Tableau
4. The Heat's dramatic drop-off in tempo
Tired or not, Miami has abandoned the high-paced attack as the condensed season has rolled along.
Powered by Tableau
5. Chris Bosh's rebounding pales compared to his peers
Once one of the top rebounders at his position, Bosh now trails the competition on the boards.
Powered by Tableau
Statistical support for this story from NBA.com.