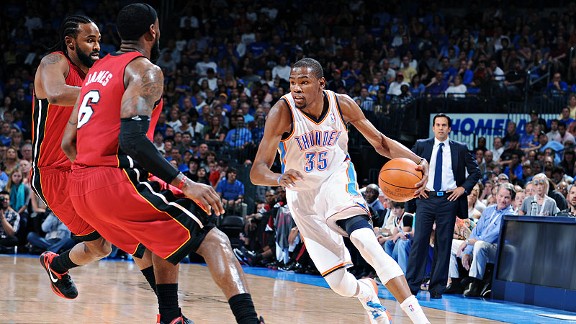 Garrett W. Ellwood/NBAE/Getty Images
Has Kevin Durant driven past LeBron James in the MVP race? We debate.
In another installment of the Heat Index's 3-on-3 series, our writers give their takes on the storylines before the Heat host the Thunder (40-13).
1. Fact or Fiction: The Heat have upgraded the starting lineup with Turiaf.
Tom Haberstroh: Fact. Honestly, when Turiaf got signed off the scrap heap, I had no idea that Turiaf was able to play at this level this quickly. The notoriously pungent veteran (just ask Amare Stoudemire) has been a breath of fresh air on offense. It might be best to put the guys in a platoon according to the opposing defense. Against a team like Boston and Chicago, playing the offensively-skilled Turiaf makes more sense. But against teams like Oklahoma City, Anthony's defense will be valuable.

Michael Wallace: Fact. To a degree. Turiaf is not as big a threat to block or alter shots as Joel Anthony. But he's a more consistent rebounder and is leaps and bounds ahead of Joel at passing, catching and finishing around the rim. Bottom line is this: Opponents have to at least account for Turiaf on both ends.
Brian Windhorst: Fact. It sort of sums up the Heat's situation at center by saying a guy that another playoff team jettisoned as an unwanted spare part a couple weeks ago is an upgrade. Joel Anthony plays hard and does what the Heat pay him to do, he rebounds and challenges shots. But when he's out there, it's 4-on-5 offensively and that limits the entire team. Turiaf is no Kareem but you can actually run a pick-and-roll with him and know that he'll catch the ball. Also, if the defense leaves him alone he can make a basket.
---
2. Fact or Fiction: You'd be surprised if this isn't the Finals matchup.
Haberstroh: Fiction. The Bulls and the Spurs may not be favorites to win their respective conferences, but they've been good enough to use light pencil for a OKC-Miami prediction. Do I think it's the most likely matchup? Yes. Do I think it has a better than 50-50 chance of happening? No. History tells me that quirky things happen in the playoffs.
Wallace: Fact. Although I wouldn't suggest that either team is a flat-out lock. I do believe the Thunder could potentially have a far more difficult path to the Finals in the West, with the L.A. squads, the Spurs, Mavericks and even Memphis capable of doing damage. In the East, it appears to be a two-team race between the Heat and Bulls - the favorite being the one that avoids Rajon Rondo and the Celtics, who could be dangerous if relatively healthy.
Windhorst: Fiction. Nothing would surprise me in these playoffs. The season is bizarre and so the seeds don't matter as much. I think there's really four teams -- OKC, Dallas, Lakers and Spurs -- that could win the West. I do believe the Heat, despite their blase last five weeks, are still the favorite in the East. But I wouldn't lay down hard-earned cash that these teams would play again this year.
---
3. Fact or Fiction: The MVP is LeBron's to lose.
Haberstroh: Fact. LeBron has been the best and most valuable player this season on both ends of the floor. Enough with the narrative construction; this isn't a popularity contest.
Wallace: Fact. But I do think the combination of LeBron's recent slump, by his lofty standards, and OKC's recent impressive run has put Kevin Durant well within striking distance. Voters might also be swayed by how some elite players have come out to stump for Durant in recent days, including reigning MVP Derrick Rose. Still, I think LeBron has had the better overall season so far.
Windhorst: Fiction. I know what the stats say but you have to consider the voters and history here. The MVP has a political layer to it. The voters want the best story and they consider outside influences. Unless LeBron just has a massive April and the Thunder falter, Durant is going to win this thing. When you are deciding on the most valuable guy in the league, it is impossible not to consider the last two playoffs. I know it's supposed to be a 2011-12 award but that isn't real. Voters have to seriously consider if they want to make James a 3-time MVP when they're not sure he belongs in that category. Durant, in addition to having a great year, doesn't have such baggage.