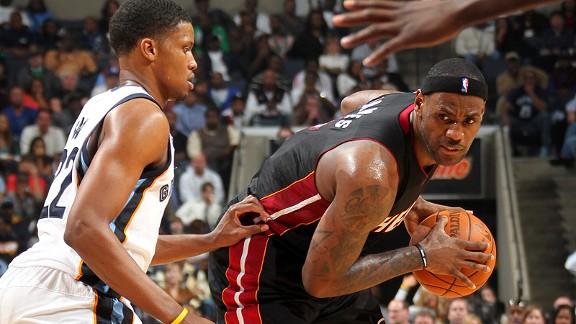 Joe Murphy/NBAE via Getty Images
LeBron James is set to go against Rudy Gay and the Grizzlies for the first time since Nov. 2010.
In another installment of the Heat Index's 3-on-3 series, our writers give their takes on the storylines before the Heat host the Grizzlies (30-23).
1. Fact or Fiction: The Heat should have signed Gilbert Arenas instead.
Tom Haberstroh: Fiction. Norris Cole has been a mess for months now, but if the Heat want to push the ball and change the tempo when they go to the bench, Arenas is not the answer. Come to think of it, Arenas is probably not the answer for any NBA team at this stage. Come playoff time, the Heat may not even need a backup point guard anyway; that role could be absorbed by Dwyane Wade and LeBron James.

Michael Wallace: Fiction. Ronny Turiaf was the better and more necessary choice for the Heat, considering the team's lack of productive depth on the front line. In the end, you have to think Turiaf will help this team more than Arenas would.
Brian Windhorst: Fiction. The Heat's biggest need was a big man and they tried for several months to get one before getting Turiaf. And just to illustrate how bad the need was, Turiaf is in the starting lineup within a couple weeks. Forgetting about the various Arenas issues, it makes sense that the Heat wanted to commit to a young player like Norris Cole. Even if Cole is having a very rough time.
---
2. Fact or Fiction: The Heat should gun for the No. 1 seed at expense of rest.
Haberstroh: Fiction. If they want to flip the switch for the playoffs and get back to "pace and space," they need a power generator. That could come in the form of a week off. The Chicago Bulls have a two-thirds chance at landing the No. 1 seed so it's going to be an uphill climb for the Heat to catch them. Playing fast and up-tempo gives the Heat their best chance at winning it all. That's more important than a home-court advantage they may never get to use.
Wallace: Fiction. Although I think this rest issue is well overblown (is the Heat's predicament different than any other top team this season with regard to being tired?), the injury concerns are a different issue. There's no need for guys to push through nagging injuries at this stage. Plus, the Heat are confident they can steal a win on the road from anyone in the East.
Windhorst: Fiction. And double fiction. The Heat have been battling dead legs for the last week or so. It is showing up everywhere. The prudent thing to do would be to get to the playoffs with everyone in the best shape possible and then deal with one opponent at a time. This season seeding might only have limited value when compared to how much gas is in the tank.
---
3. Fact or Fiction: The Heat should have R. Turiaf guard Z. Randolph.
Haberstroh: Fact. To put it lightly, Chris Bosh has been lumbering up and down the court these days. Considering his tired state, going against the physical Zach Randolph might not be the best idea. Sure, it won't help shed the "soft" label, but it probably gives the Heat better chances if Bosh's not Z-Bo's primary defender. Not that Marc Gasol is a cakewalk or anything.
Wallace: Fiction. So then who would defend Memphis' All-Star big in Marc Gasol? Fortunately for Chris Bosh, Zach is still playing his way into shape and hasn't regained his beastly form yet at power forward. But chances are, Udonis Haslem will likely spend most of his night doing the dirty work against Randolph.
Windhorst: Fact. But I'm sure Bosh and Udonis Haslem will be on him as well at various times. Zach has been around for a long time and Bosh has played against him a great deal as has Haslem. He is an excellent pick-and-pop player and so dealing with those coverages plus getting around his well-known backside for rebounds will be a team-wide effort.