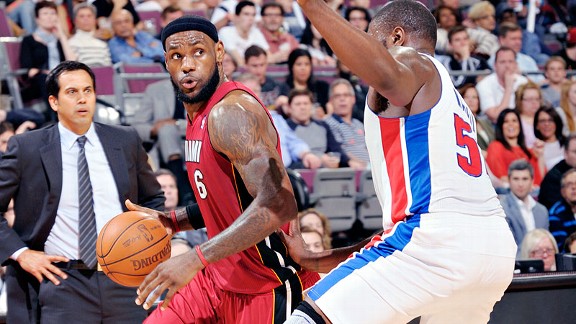 J. Dennis/NBAE/Getty Images
Before tip-off vs. DET, what's more of an issue for LeBron and the Heat: health, boredom or fatigue?
In another installment of the Heat Index's 3-on-3 series, our writers give their takes on the storylines before the Heat host the Pistons (21-34).
1. Fact or Fiction: Detroit's recent hot steak is more fluke than for real.
Tom Haberstroh: Fact. Not to take anything away from their strong play as of late -- actually, nevermind. That's what I'm about to do. They're 5-2 in their last seven games but here's who they beat: the Wizards twice, the Bobcats in overtime, the Erie Cavaliers and the bizarro Orlando Magic. A win is a win, but I'm not sold that they're suddenly better than they were a month ago.

Michael Wallace: Fiction. The Pistons should be a .500 team fighting for a final playoff spot in the East. Emphasis on should. They do have a combination of talented pieces and proven veterans on the roster, so this team has drastically underachieved in recent years. This current relative upswing is too little, too late.
Brian Windhorst: Fiction. After a morbid 4-20 start, the Pistons are 10-10 since the All-Star break (the Heat are 12-8) and showing all the signs of a team that is turning the corner. Rodney Stuckey is probably playing the best basketball of his career, Greg Monroe is a most improved candidate and looks like a franchise center and rookie Brandon Knight is promising. This does look like a team on the rise.
---
2. Fact or Fiction: Mike Miller's addition means more than Turiaf's.
Haberstroh: Fact. Only Sacramento has shot worse from downtown than the Heat (28.4 percent!) over their last 10 games. For a team that flaunted not one, but two shooters at the 3-point contest, they seem quite desperate for some floor-spacers -- and more importantly, shot-makers.
Wallace: Fact. In theory, this is a no-brainer. The Heat's record when Miller plays is far and above better than when he doesn't. But that can also be a bit misleading considering this is one of the least productive seasons in Miller's career. Turiaf's size, rebounding ability and toughness up front fill a huge void. But Miller's versatility fits more with the Heat's preferred style and pace.
Windhorst: Fact. Turiaf plays a position where the Heat are thin, Miller plays a position where the Heat are deep and that is why it could be a discussion. But the Heat have played their best -- last year in the playoffs and this year during in the middle of the season -- when Miller has been healthy and contributing. He's not be the player the Heat thought they were signing but his ability to hit the 3-pointer plus his hustle and defensive flexibility really seem to have positive impacts beyond his basic stats.
---
3. Fact or Fiction: Miami's biggest concerns are (in order) health, boredom and fatigue.
Haberstroh: Fiction. I'll say health is the most pressing issue because this team's fate will be decided by LeBron James' play down the stretch. And from all indications, he's still not over the dislocated finger and the lingering side effects from the collision with Grant Hill. (Yes, I think the Hill collision was more serious than they're letting on). Whether it's complacency or fatigue or more likely, a combination of both, this team needs to cut down on its moronic turnovers. I'll say it's a tie.
Wallace: Fiction. Health could be a legit concern, with LeBron pushing through a few nagging issues and Miller having missed a month with an ankle sprain. But boredom and fatigue are simply byproducts of this season - not viable excuses. So when the Heat win it's due to fantastic play. But when they lose, it's because of fatigue? Come on, man!
Windhorst: Fiction. Other than health -- and that is every team's top worry going to playoffs -- I think consistency is the biggest challenge for them. Perhaps it has grown out of boredom and is contributed to by fatigue, but they do not have the same level on mental focus and energy from night-to-night. That is a real danger to their playoff chances if they don't solve it.