The memory is 5 years old this week, but it isn't hard to figure out that Chris Bosh is still a bit raw about it.
Back on Oct. 16, 2005, Bosh was on a Raptors team that embarrassingly lost to Maccabi Tel Aviv in a preseason game at Air Canada Centre. It was the first time in 27 years that an NBA team had fallen to a European squad, and it wasn't well-received.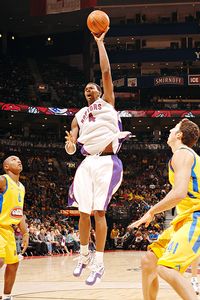 Ron Turenne/NBAE/Getty Images
Bosh logged 45 minutes in a 2005 preseason game, but the Raps still fell to Maccabi.
NBA commissioner David Stern was on hand and stomped silently off the court. Meanwhile, Maccabi celebrated the win as though it was another Euroleague title, which they were winning regularly then. Coming on the heels of the 2004 U.S. Olympic team's bronze medal, it wasn't exactly a great commentary on the state of our game.
And don't write it off saying it was just a preseason affair. The Raptors absolutely did not play it that way. Toronto coach Sam Mitchell obviously was trying awfully hard not to lose, as the Raptors' starters logged playing time more commonly found in a regular-season box score. Bosh played 45 minutes -- 45 minutes! -- and had 27 points and 12 rebounds. Jalen Rose played 41 minutes.
The game certainly made an impression on the Raptors. Anthony Parker, who was the Euroleague MVP at the time, nailed a hanging jumper with 0.8 seconds left for the last of his 24 points to win it. The Raptors signed him to a three-year contract the next summer.
So don't expect Bosh to just show up with the intention of punching his time card when his Miami Heat host CSKA Moscow on Tuesday night.
"You gotta win the game," Bosh said. "Just to be honest, nobody wants to lose to a team from Europe … especially at home. No offense to any of the European teams. I've lost to a team from Europe, and it wasn't too good … the day after."
But don't expect a classic.
CSKA became a powerhouse during the past decade through the heavy spending of their former owner, a guy you may have heard of named Mikhail Prokhorov. But they will not be bringing their best team stateside for three games against NBA competition this week.
The team's best American player, J.R. Holden, did not make the trip as he deals with a career-threatening heart issue. Former Trail Blazer and Bull Viktor Khryapa won't play with an injury. And two of CSKA's potential NBA players, big men Andrey Vorontsevich and Sasha Kaun, are coming off injuries and may not play Tuesday.
Vorontsevich might end up getting drafted in the future, and Kaun, who played at Kansas, is a 2008 draft pick of the Cavs. He's expected to come to the NBA after his contract with CSKA ends next year.
The Heat, who may play Bosh and LeBron James only in the first half, don't expect much trouble. But it sounds as though Bosh will issue a teamwide warning just in case.
"We don't want that feeling," Bosh said.