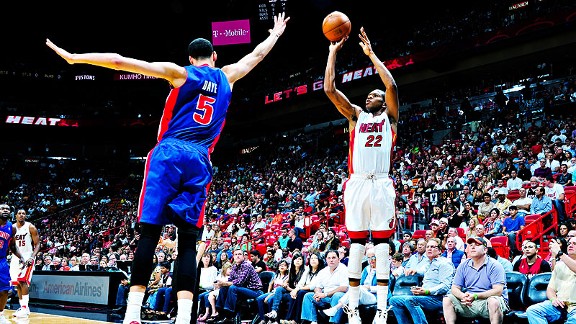 Scott Cunningham/NBAE/Getty Images
James Jones made six three-pointers on Sunday, but his insertion into the rotation is long overdue.
MIAMI – With less than a dozen games remaining before the playoffs, Erik Spoelstra hasn't exactly posted a 'Help Wanted' sign as he looks to shore up his team's postseason rotation.
But it appears the Miami Heat coach is currently poring through resumes.
And if that's the case, it might be time for Spoelstra to amend his view of at least one applicant. James Jones shouldn't be seen as a luxury as the Heat look for reliable shooters who can space the floor around LeBron James and Dwyane Wade.
It's time to make Jones a necessity in the rotation.
Of course, it's easy to endorse Jones' application after his latest job performance, one that included matching his career high with six 3-pointers for 18 points off the bench in Sunday's blowout win against Detroit. But this isn't a spur-of-the-moment argument.
Jones has done this kind of thing before, this thing that allows him to respond to being pushed to the back of the bench by splashing threes out of nowhere the moment he enters the game. A nine-year veteran in his fourth season in Miami, Jones is like one of those characters from a pop-up book.
The only way to keep him down is to close off any chance for him to see action. But the moment there's an opening, boom. He turns in the kind of performance that makes you take notice, makes you question why he hasn't been a part of the rotation all along.
Makes you wonder why Spoelstra just won't let him do his thing.
Jones has had promising moments this season when he showed he could be a reliable and fearless shooter to complement the attacking styles of James and Wade. But Sunday's game was Jones' most playing time since January. With Wade sitting out to rest an ankle injury, Jones went 6 of 8 from 3-point range and also had four steals in 23 minutes. It was an oasis of an opportunity amid limited stints and DNP-Coach's Decision distinctions.
"I didn't know that Dwyane wasn't playing until 20 minutes before the game," Jones said. "Coach didn't tell me anything. He just expects all of us to be ready."
Staying in a state of perpetual readiness is the only place Jones knows where to reside. It's been that way since he arrived as a free agent in 2008 to be a Mike Miller-type shooter for this team well before Miller actually was signed.
Miller was brought in as the team's fourth-highest paid player in 2010 when the roster was reloaded around James, Wade and Bosh. Then last offseason, Shane Battier arrived to add even more depth on the perimeter. Indirectly, Jones helped to facilitate the makeovers by taking a buyout in 2010 to create salary cap space for the Heat. He then re-signed with Miami each of the past two offseasons.
"I made the adjustment last year where, mentally, I convince myself that I get paid and I'm here to be ready to play, not (necessarily) to play," Jones said. "So I spend all my time and preparation just knowing that when I do get a chance to play, they expect me to perform. I prepare as if I'm a rotation guy even though I'm not playing. So when nights come up like (Sunday), I can help my team."
Jones has shot 43.4 percent from 3-point range this season and has appeared in 41 games. But he's been the victim of a numbers crunch. He's not as versatile as Miller, but he's proven to be far more durable. And Jones is not nearly as effective a defender as Battier, but he's a far more consistent shooter.
The Heat also has used rookies Terrel Harris and Norris Cole ahead of Jones for stretches this season. Jones has taken it all in stride without losing any confidence in his stroke.
"It was extremely difficult early," Jones said of adjusting to sporadic opportunities to play. "I'm starting to get a feel for it. I know that it's not an indictment of my skill level. It's just that some great players are in front of me. We're loaded. Coming into this season, I understood that. All of the guys knew we'd have to make a sacrifice. Unfortunately for me, it's been playing time."
But that might soon change if Spoelstra truly is open to tweaking his playoff rotation, even in the slightest way.
It's safe to assume that five players are locked into extensive roles in what's likely to be an eight-man rotation: James, Wade, Bosh, Battier and Udonis Haslem. From there, expect Chalmers and Ronny Turiaf to maintain starting jobs at point guard and center – although it doesn't guarantee they will finish games.
That accounts for seven players already, which basically means one more spot – possibly two – would be up for grabs in a traditional playoff rotation.
Despite still being in striking distance of the Chicago Bulls, San Antonio Spurs and Oklahoma City Thunder for the league's best record and homecourt advantage through the playoffs, the Heat remain very much a team trying to see which pieces fit best around James, Wade and Bosh.
Ideally, Miller would have a key role. But he just returned Sunday after missing a month with an ankle injury, the latest setback in a line of injuries he's dealt with over two seasons.
"(Spoelstra's) got to get a rotation set so we can get ready for the playoffs," Miller said. "I think he's going to be juggling for the next few games to see how it works out. We'll see what happens."
Spoelstra considers this a good problem to have.
"A lot of guys are making compelling cases to play, but there will ultimately have to be a sacrifice for the team," Spoelstra said. "I hope I have to make tough decisions as we go forward. Everybody has the right mindset in that locker room. When their number is called, they're ready to step up for the team."
And those who don't get many chances to step up have remained professional enough to sit down without being much of a distraction.
Jones has excelled at both.
He's even taken on the role of the always popular backup quarterback when it comes to fan support. Jones said he's heard the chants for him to play at games and has listened to sports talk radio shows, which sometimes have been flooded with callers disappointed in his limited role.
"Every guy is on edge pretty much, trying to play to their utmost capabilities," Jones said. "What you see now is a sense of urgency with the coaches as far as the rotation, a sense of urgency as far as all the players, knowing we don't have (much) more time to figure it out. We have (11) games. After that, you win or go home."
Miami is home for Jones.
The challenge now is whether Spoelstra can find a resting spot for the sharpshooter in his rotation.