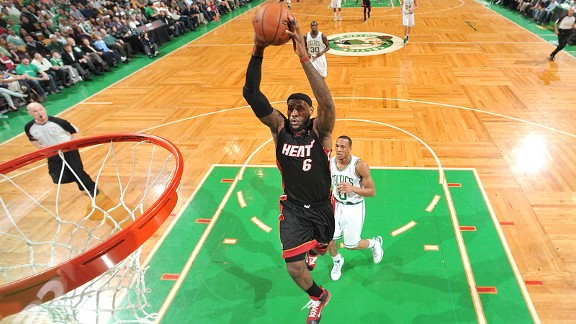 Brian Babineau/NBAE via Getty Images
If LeBron and the Heat don't rise up against the Celtics this time around, should they start to worry?
In another installment of the Heat Index's 3-on-3 series, our writers give their takes on the storylines before the Heat host the Celtics (32-24).
1. Fact or Fiction: The Heat should worry if they struggle vs. BOS again.
Tom Haberstroh: Fiction. Until Erik Spoelstra assigns Dwyane Wade and LeBron James to guard Rondo, we can't read into the regular season results just yet. The Heat will shorten their rotation and play Rondo more aggressively if they were to play come playoff time. That should change things. Lest we forget, the Heat were 1-3 against the Celtics last regular season.

Michael Wallace: Fiction. I wouldn't go as far as to say the Heat should worry if they struggle. Boston makes it almost impossible for anyone to look good playing them. Secondly, both teams know where they stand. Miami doesn't match up well with Rajon Rondo and Kevin Garnett. The Celtics can't keep up if the Heat get a chance to run. There might be a bit of a pride factor for the Heat after being blown out in Boston last week. But it's all about the postseason with these teams.
Brian Windhorst: Fiction. The opponent hasn't seemed to matter as much over the last six weeks, it has been more about the Heat's energy and intensity level. They have proven that they can be the best team in the league when they are able to play to their preferred style. The Celtics, because of their defense, make it harder to get there. But the fact that they scored 43 fewer points the second time they played the Celtics than the first says more about the Heat than Boston.
---
2. Fact or Fiction: The Heat should give Rajon Rondo his space.
Haberstroh: Fiction. This is a pick your poison situation and I'd rather cut off his airspace. I could talk all day about this but just go read this summary from TrueHoop.
Wallace: Fact. Yes, the scouting report says to back off Rondo and play under the screen on the pick-and-rolls to make him a shooter. But the reality is that he still finds a way to beat you. The Heat might actually be better off overplaying and forcing Rondo to be a scorer and finisher at the rim. At least that limits his ability to get teammates involved. But when Boston has it going, Rondo is just one of multiple headaches.
Windhorst: Fiction. This is a classic argument that has been going on with Rondo for years. Do you give him space and dare him to shoot but allow him to get a head of steam and make it impossible to keep him out of the lane? Or do you play up on him and attempt to limit his vision and passing ability and risk the chance of a blow by that will cause the defense to collapse? There is no perfect method. Most coaches believe that you should change the looks and change the defenders he sees so that he cannot get a rhythm.
---
3. Fact or Fiction: The Celtics are now legit title contenders.
Haberstroh: Fact. Opponents are shooting 39 percent and averaging 83.4 points per game over their last 10 games against the C's. If they continue to asphyxiate opposing teams like this, their ceiling is higher than the top floor of the John Hancock Tower.
Wallace: Fact. If they're relatively healthy, the Celtics are as dangerous as anyone. Their combination of experience, great point guard play, stingy defense and unflappable closers make them a team you simply don't want to face in the playoffs. Is Boston playing on the same consistent level as Chicago and Miami? Obviously not. But are they still capable of winning a first-round series and upsetting someone in the second? Yes.
Windhorst: Fact. They are back to playing championship level defense. When they can do that their depth issues and offensive inconsistency become much easier to manage. The Celtics are now the best defensive team in the lead by most metrics and that is how they reached those two Finals. They are an underdog, yes, but playing that strongly at the defensive end they would have a chance against any team.