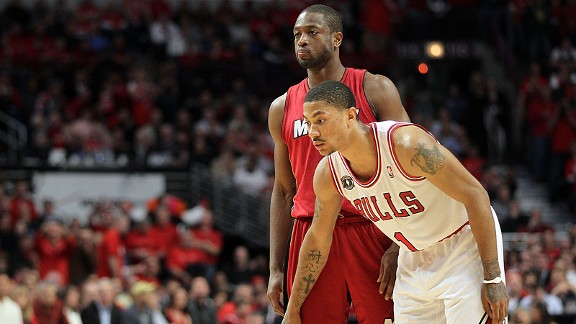 Mike Ehrmann/Getty Images
D-Rose and D-Wade have fought injuries, but which team would fare better without their star?
In another installment of the Heat Index's 3-on-3 series, our writers give their takes on the storylines before the Heat visit the Bulls (44-14).
1. Fact or Fiction: The Heat are still the favorites to rep the East in Finals.
Tom Haberstroh: Fact. As impressive as they've been without Derrick Rose, I'm not sold that the Bulls are in any better position to triumph over the Heat than they were a year ago -- especially with Rose dealing with an assortment of nagging injuries.

Michael Wallace: Fact. What's really changed since the beginning of the season, when many felt the Heat were the favorites to come out of the East and get back to the Finals? Miami is the defending conference champs, and Chicago must still prove it can win a seven-game series against this team. Regardless of the outcome of tonight's game, that won't change.
Brian Windhorst: Fact. I know that this absolutely drives the Bulls fans crazy because they correctly point out how well they've played even without the league MVP. Trying to be objective on this and when considering how a playoff game usually unfolds, I still think the Heat having both LeBron and Wade plus the ability to assign LeBron to guard Rose in late-game situations gives them the advantage in a playoff setting. I freely admit that it's a loose assumption and possibly based on old analysis but that is the way I see it now.
---
2. Fact or Fiction: CHI #WithoutRose are better than MIA #WithoutWade.
Haberstroh: Fiction. Forget the 10-1 record for a moment and remember that LeBron James took this roster to the NBA Finals. Both teams would make the playoffs in the East, but simply put, the Bulls would lose an MVP while the Heat would maintain their MVP.
Wallace: Faction. I don't like to go there, but I have to on this one. The Heat's 10-1 record without Wade reveals a far better winning percentage overall than the Bulls record without Rose. But on the other hand, the Bulls, without Rose, beat the Heat the last time the teams met. So what does this mean in the grand scheme? That I'm firmly on the fence.
Windhorst: Fiction. Not based on the winning percentages and probably not with the eye test, either. The Bulls win because they have a system that is perfectly designed to grind out victories. They are very disciplined and focused on a style. And because of that, they have been able to, more or less, play the exact same way whether Rose is in or out. The Heat without Wade change their style and it frees up James and Bosh to play more the way they prefer, with James able to have the ball in his hands on every possession and for Bosh to get a high volume of touches. Maybe I wouldn't select them to win the conference without Wade but with James and Bosh the Heat would still be favorites in the majority of single game situations.
---
3. Fact or Fiction: Hollinger is right, Tyson Chandler deserves DPOY over LeBron.
Haberstroh: Fact. You could vote for James and I wouldn't fault you for it; they're that close. I appreciate LeBron's versatility but I'm always troubled by this question: How do you quantify "LeBron guards positions 1-through-5"? It's certainly valuable, but is it more valuable than having an anchor like Chandler routinely busting pick-and-roll attacks and protecting the rim? To be honest, I don't have an answer for that. But I'm immensely impressed by the Knicks' rise in the defensive ranks before-and-after the signing of Chandler.
Wallace: Fiction. Hollinger certainly makes a compelling argument - just as he did last season when he felt Dwight Howard was a stronger MVP candidate than Derrick Rose. What Chandler has meant to the Knicks' defense overall can't be denied. That said, no player in the league is asked to do more on both ends than LeBron, who defends at an elite level while still carrying the bulk of Miami's offensive load.
Windhorst: Fiction. You have to be careful getting into an argument with Hollinger because he'll have a case that he can back up with data before he offers such insight. But when you consider the roles LeBron is asked to play defensively -- just in the last game, for example, he defended Rajon Rondo, Paul Pierce, Kevin Garnett and Brandon Bass -- you cannot compare the two. LeBron's ability to effectively defend so many different players is a game-changer. We've only see a few players in league history with this sort of ability.