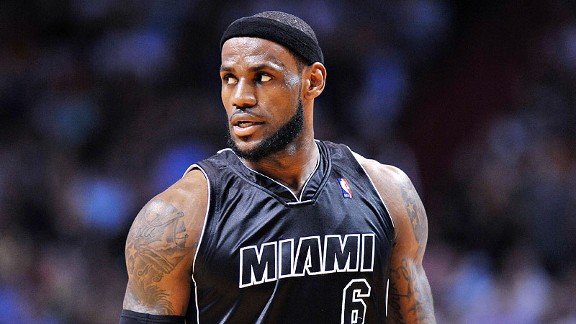 Steve Mitchell/US Presswire
With Dwyane Wade often out of the picture, LeBron James' dominance has kept the Heat afloat.
On Monday night, LeBron James delivered a vintage performance through a furious late-game comeback in New Jersey. He looked like the James of old, attacking the basket with reckless abandon and blasting through multiple defenders en route to the rim.
James outscored the Nets 17-9 over the final five minutes of the game. New Jersey knew what was coming but still could not stop it. In the midst of the barrage, there was Dwyane Wade, cheering James on from the sideline, fist-pumping after every James basket with such enthusiasm that it looked like he was pulling a lawnmower cord in rewind.
This scene has been a familiar one over the past several months. Throughout this condensed season, it has become clear that James has been at his best while Wade gets his rest.
Whether it's due to injury or Heat coach Erik Spoelstra's so-called "maintenance program," Wade has sat on the bench more than ever this season. The 30-year-old has averaged a career-low 33.8 minutes per game and has been a spectator in street clothes for a total of 13 games, with the Heat going 12-1 in those games. In fact, the Heat have played almost half (46 percent) of the season's total minutes with Wade on the bench. But nonetheless, thanks to James' play, the Heat have been able to chase the league's top record even with Wade missing so much time.
It's no coincidence that we're seeing James perform like he did in Cleveland while Wade has been sidelined. Should James win the MVP award this season, it'll primarily be because he has lifted his game to towering heights in the absence of Wade. When Wade exits the game, it's James' opportunity to get back to his old self, something he vowed to do before the season. The numbers are impossible to ignore.
LeBron James per 36 minutes with/without Dwyane Wade
Is it a surprise that James watches his numbers surge when a ball-dominant wing player leaves his side? No, that's expected. But the sheer magnitude is staggering. With Wade off the floor, James averages 30.3 points, 7.2 rebounds and 6.1 assists every 36 minutes while putting up a monstrous player efficiency rating (PER) of 35.6. However, when Wade joins him on the floor, James' scoring numbers fall off a cliff, down to "just" 22.7 points per 36 minutes, while his PER slides to a more terrestrial 27.4 figure.
To see why, just look at the usage rate (USG%) column, which tells us the percentage of the Heat's possessions that James uses while on the floor. Like we witnessed on Monday night, James attacks more aggressively when Wade sits on the bench, using 37.9 percent of the Heat's possessions while averaging more field goal and free throw attempts in his playing time. When Wade takes the floor, James sees about a third of his shots disappear.
This is the sacrifice that James made. Gone are the days when he could shoot 30 times a game without having to share the ball with Wade or Chris Bosh. James knowingly traded individual numbers for the potential glory of winning a championship. Last season, James' numbers dipped, "The Decision" backlash hadn't thawed and the Heat disappointed in dramatic fashion. As a result, James finished third in the MVP vote. As everyone knows, the tradeoff didn't pay out and James ended the season empty-handed, without an MVP trophy or a championship ring.
But this season, he could gain at least one of those pieces of cherished hardware -- the Maurice Podoloff trophy -- because his on-court surroundings have looked reminiscent of his Cleveland days when he won two straight MVPs. Not only has James lifted his game with Wade sitting out, but he's having more opportunities to shine. Last season, James shared the court with Wade for 73.2 percent of his minutes. This season? Time with Wade has dropped to 58.2 percent. In the end, James has raised his PER back to where it was before he left Cleveland (30.6 this season versus 31.1 in 2009-10).
James has made the most of the focused spotlight this season, Monday night's 37-point performance being just the latest example. Though James teamed up with Wade to win a title, playing without Wade has reaffirmed James' individual value.
With off-the-charts production this season, James has left no doubt that he remains the most talented player in the game. Perhaps all it took was some alone time for the world to appreciate it.
Statistical support for this story from NBA.com.