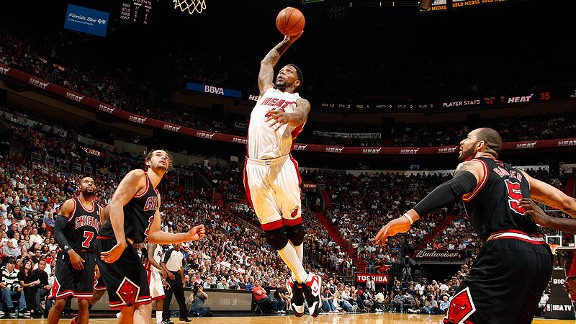 Issac Baldizon/NBAE via Getty Images
As the Heat eye the No. 1 seed, Udonis Haslem and the supporting cast have risen to the occasion.
MIAMI – When it comes to the recent play of the Miami Heat's much-maligned supporting cast, doubt is gradually being replaced by definition.
That's the simplest way Heat forward Shane Battier can explain the recent consistency and upswing in production some key members of the rotation have provided Miami in support of LeBron James, Dwyane Wade and Chris Bosh as Miami gears up for the playoffs.
For the most part, the Heat know what to expect from the Big Three. But for much of the second half of the season, they just haven't been sure what they'd get from the Next Four. That's starting to change as Battier, Udonis Haslem, Mario Chalmers and Mike Miller are showing more signs that they've regained some rhythm and confidence over the past two weeks.
That group continues to redefine themselves.
Collectively, Battier, Haslem, Miller and Chalmers have accounted for 25 points, 13.2 rebounds, 8.1 assists and three steals a game during the Heat's five-game winning streak. Individually, they are starting to resemble the players they were expected to be when the season started. Beyond those four, the Heat also rely on center Joel Anthony to be a defensive spark off the bench and turn to James Jones in spot moments to space the floor with 3-point shooting.
"It's exciting to know our best basketball is ahead (and) not behind us," Battier said as the Heat look to extend their winning streak to six games Saturday against the Wizards. "That can be a good thing going into the playoffs. Obviously, you'd love to say, 'OK, this is who we are going forward.' (But) we don't know who we are (yet). I say that as a positive thing for us, because what we were the last few weeks wasn't going to cut it."
Their recent play just might be enough to get the Heat over the hump. Just from an offensive standpoint, add the 25 points the Heat's Next Four have provided with the combined 67.7 points that James, Wade and Bosh are averaging this season and it equates just under 93 points. When Miami scores at least 93, it is 38-7 this season.
With four games left in the regular season, Miami is working toward two goals while having already secured at least the No. 2 seed in the East. The first mission is to continue to rest Wade, Bosh and – eventually – James as much as possible for the postseason. The second priority, which is a byproduct of the first, is to get their once-reeling role players back into a reliable rhythm.
With Wade or Bosh sitting out four of the past five games – Bosh missed Thursday's win against the Bulls that moved the Heat within 1 ½ games of the No. 1 seed – Miami is executing its plan on that front. And as a result of the extra available playing time, some key rotation players have been able to get their games on track.
"That process has already been happening," coach Erik Spoelstra said. "Guys are feeling much more comfortable with the rotation. (It's) fairly similar to what we're used to. Guys are understanding their roles and getting confident in how we're playing and totally understanding what makes us successful."
That understanding has manifested itself in numerous ways.
Battier, having one of his least productive offensive seasons of his career overall, has shot 50 percent from the field and 42.9 percent from 3-point range over the past five games. His defense, however, has been solid most of the season as he continues to guard the opponent's best offensive player for extended stretches.
Haslem has struggled with his shot all season, but his consistent rebounding recently caused Spoelstra to insert him into the starting lineup to address one of the team's problem areas. Miami is 5-1 since Haslem took over as the starter alongside Bosh and James in the frontcourt.
Haslem said he expects to remain a starter even when Ronny Turiaf returns from a hamstring injury that's kept him out the past six games. Meanwhile, Miami has outrebounded four of its past five opponents, including a 45-40 edge against Chicago on Thursday night.
"Bottom line is when you get into playoffs and you go against teams like the Chicagos and Bostons - teams that are really going to dig deep into the film and try to take you out of what you do - guys like me, Mike and Shane are going to be put in position where we need to make plays," Haslem said. "None of us has had our best offensive year this year. But that doesn't matter. You move on to the next game. We understand you have to have a short memory and get ready for the next one. We just have to build on that these last few games and be ready for when it does really matter."
The Heat's bench has ranked near the bottom of the league in overall production the past two seasons. The role players have grown accustomed to criticism from national analysts who have suggested that James, Wade and Bosh don't have enough support when compared with star players on other title-contending teams.
But Wade likes what he's been seeing from the bench in recent games.
"I love to see that confidence come out," Wade said. "Even Mike Miller just comes out shooting the ball. They make us a deeper team, a better team. We want to show them we need them if we're going to reach our ultimate goal. It just can't be heavily on three guys or four. It has to be a collective group."
The process hasn't been easy, especially with the lineup combinations and rotation changing from game to game lately. Balancing rest for star players while developing a rhythm for the support cast has created a difficult juggling act at times.
"We're still learning about ourselves," Battier said, despite being 62 games into a 66-game schedule. "It's been tough with Dwyane missing games and now Chris missing some games. I think we feel better about ourselves and we feel better about the direction we're going in. But it would be nice to have a few games with everyone in the rotation. We're getting there."
The Heat don't have much more time to figure it out. But players are hoping to make the most of these final tuneup games to continue to build for the postseason.
"Guys are really stepping up in that regard," Spoelstra said. "Stats don't tell the whole story."