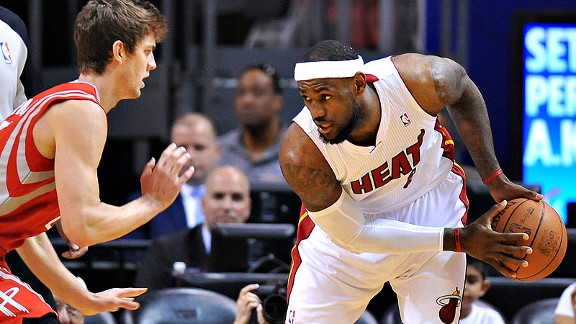 Steve Mitchell-US PRESSWIRE
If this was LeBron James' final regular-season game, it was a strong case to bolster his MVP case.
MIAMI -- LeBron James sure had a compelling way of showing his gratitude for that league most valuable player endorsement Houston Rockets coach Kevin McHale extended before Sunday's game against the Miami Heat.
James essentially said "thank you" by sending the Rockets home for the season in a 97-88 Heat victory that eliminated the Rockets from playoff contention in Miami's final home game of the regular season.
With the Heat basically locked into the No. 2 playoff seed in the East and firmly committed to resting their star players for the playoffs, there didn't appear to be much of a reason for James to even bother to suit up for Sunday's game. Dwyane Wade was sitting out to recover from a dislocated index finger. Chris Bosh took his fourth consecutive game off to recover from what the team on Sunday termed as "muscle fatigue" in his legs.
James had finally, albeit somewhat reluctantly, submitted to coach Erik Spoelstra's "maintenance program" and sat out of Saturday's loss to the Washington Wizards.
So with the Rockets needing a victory to stay alive for the No. 8 seed in the West, it would have been understandable had McHale and his team entered AmericanAirlines Arena feeling good about their chances against a Big 3-less Heat.
McHale was asked about James from a historical perspective, the possibility of soon joining Michael Jordan, Magic Johnson, Larry Bird and a handful of other legends to win MVP honors at least three times. McHale, who won titles in Boston alongside Bird and played against Johnson and Jordan on their respective runs to championships, acknowledged that James is the league's premier player.
But he also suggested that James won't be seen on the same level as other three-time MVPs until he adds another type of hardware to his collection: a championship trophy.
"He has been a great player for a long time," McHale said. "I think [James] has been the best player in the league for years. All that is kind of solidified by winning a championship, and until he does that, he will not be in that category with [Bird, Magic, Jordan], and that is the way it is. LeBron is a phenomenal player. I enjoy watching him play. He is just a phenomenal blend of speed, size, strength, vision and shooting. He is just a pretty amazing guy."
If McHale enjoyed watching James play Sunday, it had to register among the more painful pleasures of his career. In one fourth-quarter flurry, James displayed all of the characteristics McHale mentioned to turn a rather meaningless game for the Heat into 12 minutes of complete torture for the Rockets. James shot 4-of-6 from the field in the fourth, when he scored 11 of his game-high 32 points. He added three of his five assists and two of his eight rebounds in the period as Miami outscored Houston 31-19.
James could just as easily have sat out a second straight night, and he definitely could have remained on the bench for the duration of the fourth quarter. With two MVPs already in tow, his true value is no longer determined in the regular season. He could have rested. Instead, he relished the chance to rally the Heat, which finished 28-5 at home for their second-best winning percentage in franchise history.
"I was definitely excited to get back out there with my teammates after losing a heartbreaker [Saturday night]," James said. "It was nothing really about Houston. We just wanted to continue to get better. Every night I go out, I try to be the MVP for our team and just try to help win."
James then downplayed his candidacy and said he was simply honored to be in the race with players such as Kevin Durant, who is considered his stiffest competition for the award determined by voting among select media members. While James was on the court Sunday in Miami, Durant was in the midst of putting up almost identical numbers in a double-overtime loss on the road against the Lakers.
One league scout suggested Sunday that James has separated himself from Durant this season with the way he has carried Miami in games when Wade has been out as well as ones during which Bosh has struggled. The Heat improved Sunday to 13-1 this season in games James has played without Wade. The scout's theory is also that Durant's supporting cast has been more productive and consistently reliable than Miami's team around James.
In essence, the Thunder have the superior team. The Heat have the supreme player -- based on the regular season.
His ability to play beyond even the loftiest expectations and most intense scrutiny in the league is what sets James apart.
"You're asking somebody who's very biased, but also somebody who's very objective about it," Spoelstra said. "I think LeBron is having a historic season. And he's doing it on so many different levels. The responsibility he has to shoulder really is unlike any player that's played. For us to be successful -- yes, it goes without saying -- he has to have an MVP-caliber season. He has to utilize every bit of his versatility, to play all of those different positions and to do it all in the same game. He's having a spectacular year."
For all intents and purposes, that year – at least the regular-season portion of it – might have ended after Sunday's game for James. He likely put the final touches on his MVP campaign by shutting down Houston's season. With perhaps one final push during an intense game against the desperate Rockets, the Heat were declared playoff ready.
The Heat close out the regular season with a two-game trip to play Boston on Tuesday and Washington on Thursday before the playoffs begin next weekend. When asked about his intentions to play in either of those final tuneup games this week, James sounded as though he's now ready to fully embrace Miami's maintenance program.
"I could use the rest," James said.
Now that his regular-season work appears done, James can enjoy that option to get some much-needed rest. Sunday's performance from what could be his final on-court MVP stump speech now ensures the Rockets will get plenty.