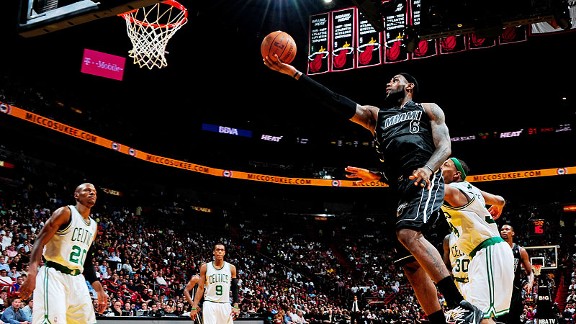 Scott Cunningham/NBAE/Getty Images
This might be the last time we've seen LeBron James play the Boston Celtics this season.
In another installment of the Heat Index's 3-on-3 series, our writers give their takes on the storylines before the Heat visit the Celtics (37-27).
1. Fact or Fiction: Miami would rather face Indiana than Boston in the playoffs.
Tom Haberstroh: Fact. Our world's underestimation of the Pacers continues. The Pacers have been hotter than a Miami cortadito in July lately, but they feel a lot like the Atlanta Hawks of recent years to me. Good, but do they have the superstar to push them to the next step? We've seen Boston do it before. We might be sleeping on the Pacers, but I doubt the Heat will take them lightly.

Michael Wallace: Fact. Although no team in the East has played better lately than the Pacers. Still, the threat of a healthy, experienced and defensively rugged Celtics team would be a bigger concern for the Heat. Despite the athletes and depth on its roster, Indiana hasn't put up much resistance against Miami in the regular season. Of course, the playoffs are completely different. But when it comes to Boston, the Heat just haven't had an answer for Rajon Rondo and Kevin Garnett.
Brian Windhorst: Fact. I don't think this is necessarily an insult to Indiana, which has been excellent down the stretch. In fact with their size the Pacers actually could give the Heat some problems. But overall, the experience level of Boston makes them a more dangerous opponent. Plus Indy is no where near as tough a place to place as Boston.
---
2. Fact or Fiction: D-Wade will lose all 24 MVP points from last season.
Haberstroh: Fact, and he can thank his teammate LeBron James for that. Wade's per-game numbers, which matter to voters a great deal, have taken a tumble since last season, not to mention the 13-1 record sends a powerful message. Though I suppose there's a chance someone will randomly through Wade in there at the end for kicks and giggles, he's missed a ton of time this season.
Wallace: Fiction. I'm sure there's going to be one or two voters who go against the grain and submit a curious ballot. It always happens every year. But there's no denying that Wade, despite his efficient shooting this season, has had an overall dip in production. He's basically battled injuries all season, and the Heat have gone 13-1 in games when LeBron has played and Wade hasn't. So in that sense, Wade has done more to boost LeBron's candidacy than his own.
Windhorst: Fiction. He'll lose most of them but he'll probably show up at the bottom of a ballot or two. At the end of the day Wade's second half hasn't been strong and he's missed a number of games. Same story for Derrick Rose, who'll lose his votes too.
---
3. Fact or Fiction: Your guess is LeBron will rest the final two games.
Haberstroh: Fact. It would be the right call. But I can see the headlines now ... "Will LeBron be too rusty for playoffs?" Next question.
Wallace: Fact. LeBron didn't come right out and admit it, but it seems as if his plan always has been to play through anything and everything and then take the final week of the regular season off. That, in part, explains his sudden willingness to get some rest after the Heat's victory Sunday against Houston in the home finale. LeBron will get some extensive workouts in to keep his body fresh the next few days. But there's no reason to take any chances against Boston and Washington.
Windhorst: Fact. LeBron wants to rest. It's smart to rest him. It's a no brainer.