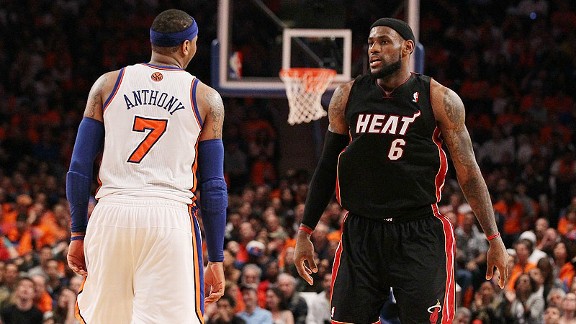 Jim McIsaac/Getty Images
Carmelo and LeBron have faced each other 15 times in the NBA, but never in the playoffs. Until now.
WASHINGTON – Carmelo Anthony and LeBron James have been playing against each other for more than a decade now, dating all the way back to facing off during a camp in 2001 in Colorado when they sized each other up for the first time.
Since arriving in the NBA in the same year in 2003, most of their head-to-head matchups have been featured on national television. But it's always been a mostly friendly "rivalry" absent of edge and real stakes. That, however, is about to change with Anthony's Knicks about to face James' Heat in the first round of the playoffs.
James said he's been thinking about the matchup possibility for weeks now. He knows it may present one of the toughest individual challenges of a playoff series in his career to this point.
"I absolutely thrive on going against the best and I've had my fair share of battles in the postseason with some of the best," James said. "I'm looking forward to this, it's going to be great."
James compared the matchup with Anthony to past playoff battles against Paul Pierce. James and Pierce have gone against each other in three playoff series. In 2008, they staged a historic duel in Game 7 when James scored 45 points and Pierce scored 41 as the Celtics escaped.
Like with Pierce, James and Anthony will likely spend significant time guarding each other during the series. The Heat will likely use Shane Battier on Anthony for stretches with the plan of saving James some energy for the fourth quarter. The Knicks may also rotate defenders on James with Iman Shumpert, Landry Fields and even Jared Jeffries.
With James and Anthony expected to lead their respective teams in minutes played, it is inevitable they will be facing off routinely. Both when playing the small forward position and at power forward, a wrinkle both teams will likely employ.
In the Heat's victory over the Knicks on April 15, Anthony scored 41 points, the most allowed by the Heat to an opponent this year. But a defining feature of the game was James taking over the 1-on-1 defense of Anthony in the game's last six minutes. Anthony finished just 1-of-5 shooting and with his scoring off, the Heat pushed out to an eight-point win.
It could come down to similar situations a few times in the series and how that plays out could alter the direction of things. James said he's been getting ready for the challenge.
"We're been preparing for the Knicks," James said. "I've been studying."