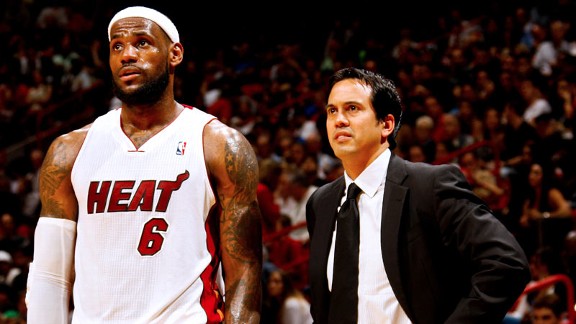 Issac Baldizon/NBAE via Getty Images
If you think players and coaches don't treat regular season and the playoffs differently, listen up.
Every year at this time it's common for basic primers about the playoffs: they're different. This is true but it begs the questions: how are they different, why are they different?
With the playoffs set to start this weekend here are five things to keep in mind about what history has taught us about the postseason. None of them are ironclad, that would make it too easy. But call these the five tenets of playoff basketball:
1. A playoff series exposes weaknesses.
Pick a cliché, "water finds it own level," "pressure breaks pipes" or whatever you prefer. Playing a string of consecutive games against the same team with high stakes has a reductive quality. It becomes much harder to cover up weak spots in rosters, vulnerabilities in schemes and even player injuries.
A team doesn't have good reserve wing defenders? It'll show up. The coach doesn't have go-to plays coming out of timeouts? It'll show up. A player doesn't have confidence at the foul line? Trust it will come to light. Cracks during the regular season often turn into gullies in the postseason.
The depth of scouting and review between games before and during a series is exhaustive. It's all hands on deck, literally dozens of people analyzing and preparing for games. It's an exposition. On an academic level, it's like a doctoral candidate defending a thesis. There's a small army of people at the top of their profession from players to coaches to scouts who are going to try to destroy the opponent. It takes a toll.
2. Series aren't short, they're long.
Often you'll hear someone say "anything can happen in a short series" when describing events in the playoffs. That sounds reasonable but here is the thing: all NBA series are long. It may not feel that way when your team blows a game it should have won and loses homecourt advantage but it is true. In a playoff series there is always time until there isn't.
This becomes more prevalent beyond the first round when the talent and experience level between the teams tightens. Often the best adjustments by coaches will come two or three games into a series. Sometimes the favorite only plays like a favorite when it's under pressure of elimination. The statistics say that teams that get ahead 1-0, 2-1 or 3-2 usually win. That's accurate but it's never a lock.
As Hall of Fame coach Tex Winter said, everything turns on a trifle. Momentum in basketball is fragile and so are players, even top stars. Look no further than last year's Finals when the Heat outplayed the Mavericks thoroughly during the first three games and it took a historic comeback just for Dallas to be within 2-1. Then Dallas stormed to three straight wins.
Things change fast and over seven games, seven long games, there's plenty of room.
3. Coaches play eight, trust seven.
And sometimes, gulp, six. This is not to say nine or 10 players from a team might not step on the floor during a game. But the annuals tell us benches get shorter in the playoffs. Generally, there's only room for three bench players to get significant minutes and often the eighth man is but a bit player.
This is not difficult to explain. When the stakes are so high, coaches want their best players on the floor. In most cases there's a reason the eighth man is the eighth man. In the regular season a coach concerned about fatigue for his starters and development of his role players will stick with deeper rotations. In the postseason these altruistic methods get shoved out the window.
So let a coach talk about getting frontline players certain rest and trying to rely on the bench. It just doesn't happen. You go with who you can trust the most and that list is always shorter than coaches prefer.
4. Role players are cloud bursts.
Generally playoff series are determined by star players, that's why they're so valuable. But virtually every series will have a scene or two stolen by a role player. It usually happens without warning and without repeat, just brilliant flashes of light.
It is commonplace for a role player to step up and excel with so much attention on their star teammates. This often manifests itself in a hot shooting streak. More often, role players will have breakout performances on their home floors where the emotions are more positive and they're more comfortable.
There are numerous cases of role players going on unexpected hot streaks for a few weeks. But history tells us not to count on it happening. Role players' statistics, especially minutes, typically will decrease overall in the postseason. A well-timed moment in the sun, though, can change the course of a game.
5. Never underestimate the power of the off day.
One of the things players talk most about when comparing the regular season to the postseason is the days off between games. Mostly this is a benefit because players can get rest and treatment they aren't able to during stretches of playing four games in five days during the winter. But it matters in the playoffs for a different reasons: teams can practice.
The coaches really earn their money during these playoff practices and meetings. This is where problems get fixed and they're way more important than pre-game or halftime speeches. It can be easy to jump to a conclusion that a team cannot stop a certain player or can't execute a certain play. Sometimes this is true, no one could stop Michael Jordan for years.
More often, though, coaches find solutions to problems and deploy them between games. That's how often teams can look totally different from game-to-game and why few games play out the same way. With guaranteed time between games, fewer things to focus on and growing familiarity with an opponent, battles can often be won during the downtime between games. Teams that look dead can roar back to life. Teams that look unstoppable can go to pieces. The root of it is often what happens in the unseen hours between the high-profile games.