After witnessing a beatdown like Game 1, it's hard to imagine that the Heat-Knicks series will be anything but lopsided going forward. But if you've paid attention to playoff basketball over the years, you know that things can change quickly. Playoff teams must have a short memory; game plans are scrapped and teams treat each game like its own animal.
What adjustments will be made? It's impossible to predict how the coaches will react to Game 1, but here are three reasons Game 2 might not look anything like Game 1.
Guarding Carmelo Anthony: To front or not to front?
No one saw it coming. Or at least the Knicks didn't. Erik Spoelstra treated the April 15 regular-season matchup against the Knicks like it was a postseason game, making a key adjustment that we'd normally see reserved for the middle of a playoff series. The big wrinkle?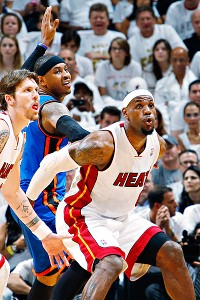 Issac Baldizon/NBAE/Getty Images
We might not see this strategy from LeBron James in Game 2.
They fronted Carmelo Anthony in the post, shielding every entry pass and mapping a detour away from his favorite spots. Everyone knows that the Knicks play predictable one-on-one basketball (iso-ball for short) with Anthony on the elbow and Spoelstra made sure they were never comfortable even getting into that set. Anthony shot 3-for-15 for the game and the Knicks turned the ball over a whopping 27 times.
But don't expect the Heat to stay set in their ways. LeBron James, who served as Anthony's primary defender, told reporters after the game that they're not done throwing curveballs.
"Now that he knows that we fronted him, we might have something different from Game 2," James teased to reporters.
Shane Battier, who was also assigned to fronting duty, echoed James' sentiment that fronting isn't a permanent program.
"They're going to make adjustments in Game 2," Battier said. "We're not going to have as easy of a time in Game 2 playing the same defense. That's what playoffs are about. At least we gave him a different look and we'll try to come up with a counter to their counter. That is the chess match that is the playoffs."
How might the Knicks counter? There's a reason teams don't front post players all the time. It leaves the weak side vulnerable to swing passes. Every time the Heat fronted Anthony in the post, it required a big man to leave his assignment and help defend the lob pass over the top of the shield. If Anthony catches the ball and immediately whips the ball to the newly open man, the Heat's strategy will suffer.
Additionally, the Knicks could run screens to free up Anthony at his favorite spots rather than have him battle for position. A third counter: have Anthony play point forward, which would avoid the front and forced entry passes all together. The Knicks' coaching staff will install an array of counters to decongest the offense. As lopsided as Game 1 was, the Heat are far from declaring "checkmate."
Life without Iman Shumpert
Though it didn't rock the basketball world quite like Derrick Rose's knee injury, Iman Shumpert's torn ACL gave a sizable blow to the Knicks' chances and morale in the series. Shumpert may be a rookie, but he doesn't play like one on the defensive end. He ranks as the Knicks' top perimeter defender. He cuts off all airspace when guarding the ball and rarely gives an inch for the player to move.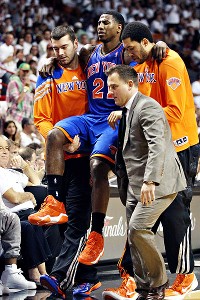 Marc Serota/Getty Images
Iman Shumpert's knee injury will have a significant impact on the series.
Now that Shumpert is sidelined, don't be surprised if Dwyane Wade has a much better outing in Game 2. Though Landry Fields isn't a poor defender, he'll let Wade get far more comfortable out on the perimeter.
"Each defender is different," Wade said in the locker room. "Shumpert is more of a pressure guy, trying to make sure you're not comfortable especially when you have a ball on a live dribble, he'll try to get up in your space. Landry Fields uses his length and size to his advantage."
Wade might be looking forward to going against Fields, but the numbers tell us that he pretty much had his way against the rookie this season. According to NBA.com's stats tool, Wade scored 29.3 points every 36 minutes with Shumpert on the floor, but that scoring output dropped to "just" 22.6 points per 36 minutes with Shumpert sitting on the bench.
But Wade isn't the only player who might be relieved that he won't have to face the pesky Shumpert. When Anthony needed a lift on James, Shumpert occasionally came to the rescue. That backup is no longer there, forcing J.R. Smith to serve as Anthony's lone insurance plan on James.
How does losing Shumpert affect the Knicks' offense? Compared to Fields, Shumpert is like Steve Kerr as a 3-point shooter (or Steve Novak for that matter). Fields has been a miserable shooter from downtown this season, shooting just 25 percent from there in the regular season, which will allow the Heat to be a little more aggressive with their defensive rotations. They won't have to worry too much about Fields as a deep threat.
Tyson Chandler on the mend
As badly as Carmelo Anthony played in Game 1, no one looked and played worse than Tyson Chandler, a likely recipient of the Defensive Player of the Year award. How bad was his outing? Chandler became the first player in more than 25 years to record zero points and seven turnovers in a playoff game.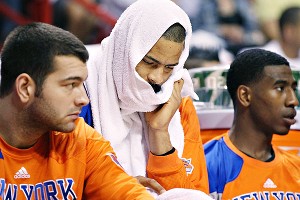 Marc Serota/Getty Images
Tyson Chandler can only go up from here.
Somehow after all these years, Michael Jordan's "flu game" keeps looking even more impressive. Chandler gave it a go after being a game-time decision with the flu, but if he knew it was going to be one of the Knicks' worst playoff defeats in franchise history, he might have stayed in his hotel. Of course, Chandler had a big part in the outcome, getting whistled for charges while literally and figuratively dropping the ball on numerous occasions.
But the old playoff mantra of "it's only one game" rings especially true for Chandler. He was physically weak and mentally unfocused, which is a rare sight from him. The sharp rotations and heady basketball plays that we have normally come to expect from Chandler were swallowed up by the flu.
That fog won't linger long. It should only get better for Chandler and the Knicks as he recovers from the flu in the coming days. He might not be 100 percent for Monday's game, but it'll certainly be an improvement over the 10 percent he was feeling in Game 1.
If the Heat are expecting to get to the rim at will and draw that many whistles in Game 2, they are mistaken. Chandler is too good to let that happen again.