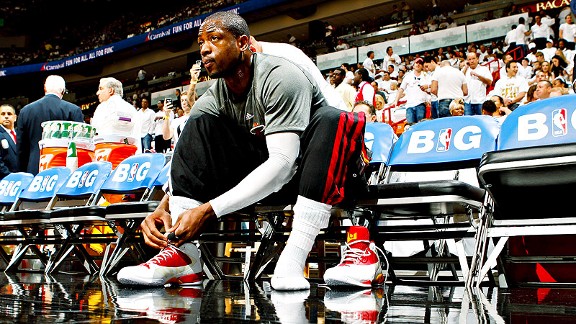 Issac Baldizon/NBAE via Getty Images
With New York's top wing defender out, Dwyane Wade is itching to lace up vs. the Knicks' backups.
MIAMI – Dwyane Wade was running alongside Iman Shumpert during the third quarter Saturday afternoon when the New York Knicks guard pulled up lame. The scream of pain reached Wade's ears before the ball, which Shumpert had fumbled away.
After Wade made a basket with a foul a moment later there was no celebration. He turned and looked back to his fallen competitor. Wade has experienced a freak season-ending injury himself in the past. Shumpert's postseason is over; he'd torn his ACL.
"To see one of the top rookies go down, as a player you never want to see another player go down," Wade said. "He's a guy who had been playing very well for them, he brought a lot of confidence for them on the defensive end. He plays with a lot of energy; he's an engine that just keeps going. It's very unfortunate."
Unfortunate indeed for Shumpert and the Knicks, who lose their top perimeter defender and the player primarily assigned to handle Wade during this first-round playoff series. But simply put, the injury may benefit Wade.
Now that the Knicks have lost Shumpert, Wade may have the green light to attack the Knicks for the rest of the series.
LeBron James was the offensive star in Game 1, making 10 of 14 shots and leading a parade to the foul line. The Knicks are sure to attempt to make adjustments to keep James away from the basket. With the active and aggressive Shumpert not there to deal with Wade, things could open up for the Heat's other superstar.
After missing most of the last three weeks to rest and nurse minor injuries, Wade started Game 1 off a little rusty. But as the game went on, his confidence started to grow. He scored 11 of his 19 points in the second half and didn't want to leave the floor in the fourth quarter even with the Heat up 30 points. Coach Erik Spoelstra finally called a timeout to get him to the bench.
"I was just getting back into the flow. I've been out and I needed to get my timing back," Wade said. "I started to see some things and some places where I could get some shots in and I didn't want to come out."
Expect that to carry over to Game 2, where the Knicks will have to have a new game plan and personnel changes. Baron Davis and Tyson Chandler are game-time decisions, and J.R. Smith may be pressed into some more point guard duty. Landry Fields is expected to start in Shumpert's place.
Knicks coach Mike Woodson said he feels his team has the depth to cover for Shumpert. But it will be tough to play his preferred style and give Wade some advantage. Several times in Game 1, the less-than-spry Steve Novak ended up guarding Wade because Woodson prefers switching on pick-and-rolls defensively.
This is a terrible mismatch that the Heat weren't able to take advantage of. When asked about it, Wade just made a joke about his college days when he and Novak were both at Marquette. But if it happens again, look for the Heat and Wade to exploit it.
Wade, in general, expects to be more involved as the series goes on. During the regular season, he averaged 26 points and shot 53 percent in the three games against the Knicks. They have a hard time dealing with him even when they're at full strength.
Now they're not, and Wade's main defender is out.
"I'm sure Woody's going to make a few adjustments, but we have to react when we see what they do," Wade said. "I felt pretty good. I think as the series goes on I'll be able to get a lot more rhythm."