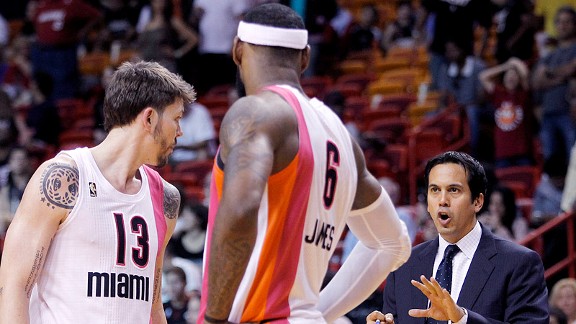 AP Photo/Alan Diaz
Erik Spoelstra dusted off a science textbook to explain why LeBron needs shooters and vice versa.
MIAMI -- It was two years ago when Erik Spoelstra turned a film session into a science lecture.
The head coach wanted to convey to his team the idea that attackers and shooters thrive by playing off one another. As Spoelstra saw it, attackers help shooters by drawing perimeter defenders into the paint and shooters help attackers by stretching the defense thin and opening up driving lanes.
It struck Spoelstra that the Heat's interplay between attackers and shooters represented a "symbiotic relationship," a term pulled straight out of a science textbook glossary to describe when two animals live in a mutually beneficial existence.
And so he decided to use it one day in a film session. In essence, the players were forced to add the word "symbiotic" to their vocabulary list. Naturally, there was some confusion initially.
"The first time I used it," Spoelstra recalled with a grin, "Udonis Haslem raised his hand and said, 'Coach, you have to stop using words like that. I have to write this down in English.'"
Haslem didn't have a pen and paper so he memorized it. Nowadays, you'll often hear the phrase "symbiotic relationship" scattered in Haslem's responses to questions from the media. It's currently a fixture in the Heat's everyday dialogue.
Lesson learned, apparently.
This concept isn't entirely new to basketball, but Spoelstra might be the first draw an analogy that conjures up images of bees gathering pollen on a flower bed. To Spoelstra, the key to the Heat's offense going forward -- and especially in this series against the Knicks -- is attackers and shooters scratching each other's backs.
"We always talk about the symbiotic relationship of the guys helping each other," Spoelstra Monday said after beating the Knicks 100-67 on Saturday. "We have to help our attackers get into the paint, get to the free throw line and get to the rim. At the same time, our attackers have to help our shooters by getting them timely passes when they're open."
In the romp over the Knicks in Game 1, the Heat attempted 21 three-pointers and toed the free throw line 33 times, marking the first time this season that they've matched both those totals in the same game. Obviously, it paid dividends for the Heat.
In shortened time off the bench on Saturday, Mike Miller rifled off nine 3-pointers and Shane Battier fired up six 3-pointers of his own. But to Spoelstra, that is simply not enough. He wants to see more.
"I don't even care about the makes that they have," Spoelstra said. "I just like seeing Mike hunting down for nine 3-point attempts. I really want him to get 10 attempts and I told him before the game that I wanted to see take 10 attempts. He can make zero of them, it doesn't matter. We have absolute confidence that it helps our game."
To some, that might seem like a coach encouraging failure. But Spoelstra sees it differently. Even if the Heat miss a 3-pointer, it helps to decongest the paint for LeBron James and Dwyane Wade to operate later in the game. The threat is just as helpful. The connection isn't obvious to some, but it's absolutely essential in Spoelstra's mind.
"That's the relationship we're talking about everyday," Spoelstra said. "The paint will be open for our attackers to make plays if we get to our spots and trust our shooters to do their job."
Battier enjoys the so-called symbiosis and it's a big reason why he came to Miami as a free agent in the offseason in the first place. He has heard it all during his 11-year playing career, being coached by Hubie Brown, Mike Fratello, Mike Krzyzewski, Sidney Lowe, Rick Adelman, Lionel Hollins, and now Spoelstra. But this season in Miami marked the first time he, has ever heard the term "symbiotic relationship" anywhere near a basketball court.
"It's a first," Battier laughed. "It's not your typical NBA reference, but it's appropriate.
"There is a certain vernacular with this organization," Battier said. "I will give it to Spo. He's pretty creative in trying to hammer home age old lessons so he tries to keep it fresh with different ... [long pause] ... methods."
Spoelstra might seem overly insistent on attackers and shooters playing off each other, but that's because the coach has seen the numbers. According to NBA.com stats tool, the Heat score 108.9 points per 100 possessions with James, Wade and Bosh on the floor. But when Battier joins them, that number rises to 114.9 points. And when Miller plays next to the Big Three? Miami's offensive efficiency skyrockets to a mind-boggling 125.9 points per 100 possessions.
Mutually beneficial, indeed.
The symbiotic relationship remains the foundation of the Heat's offense and Spoelstra hopes to see it emphasized more in Game 2 on Monday. Spoelstra's game plan depends on Battier, Miller, Mario Chalmers and James Jones spacing the floor. If nothing else, the players have bought into it, even thinking of themselves as shrimp-like organisms that help feed whales.
Or at least Battier views himself and his shooting colleagues that way.
"We are the krill of the Heat's ecosystem."