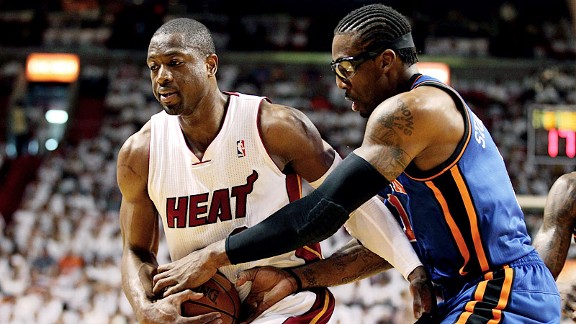 Marc Serota/Getty Images
Dwyane Wade thinks Amare Stoudemire brings out the best in the Heat. And Wade is actually right.
By punching a fire extinguisher case after the Heat's Game 2 victory over the Knicks on Monday, New York star Amare Stoudemire let his emotions get the best of him. He alienated his loyal fan base. He created yet another dramatic twist to the Knicks' rollercoaster season. Most importantly, he might have removed himself from the series.
But contrary to popular belief, Stoudemire's actions also didn't do any favors for the Heat, not that they needed any (Miami leads the first-round series 2-0).
In fact, there's overwhelming evidence that the Knicks received a blessing in disguise. Why? Because the Knicks have been considerably worse with Stoudemire on the floor this season. Having him sidelined might be the best thing for them.
After finding out about Stoudemire's punching incident, Heat players expressed that they never wish injury upon a player, which is the professional and sensitive thing to say. But Dwyane Wade took that sentiment a step further.
"We love when Amare is out there," Wade said following the incident. "He brings out the best in our guys. Hopefully he gets better. We want all their guns on the court."
Though Wade meant that Stoudemire's star power serves as a motivational tool for the Heat, it's also true the Stoudemire tends to bring the best out of every opponent. Between the personal tragedy of his brother passing away and the physical toll his body has taken this season, Stoudemire has been a shell of his former self. He posted his lowest player efficiency rating (PER) since his rookie season and rarely, if ever, discouraged opponents from scoring.
The result was a lot of losing. Here's the scoreboard with Stoudemire on the floor this season:
Knicks 3,052, Opponents 3,099 -- or losing on average by 1.3 points every 48 minutes.
With Stoudemire on the bench?
Knicks 3,406, Opponents 3,153 -- or winning on average by 7.4 points every 48 minutes.
That's nearly a 10-point swing on a full-game level. Yes, the Knicks transformed from a lottery team into an elite team when Stoudemire left the court.
Whether you watch the Knicks or examine the numbers, the evidence is clear: Playing Carmelo Anthony and Stoudemire together was a lost cause. Actually, the Knicks outscored opponents on average by 8.4 points per 48 minutes this season when Anthony played without Stoudemire.
So if the trend continues here in Game 3, don't expect the Knicks to lay down and let Miami walk all over them like they did in the first two games. In all seriousness, Stoudemire's injury finally gave the Knicks an excuse to bench their former star player, something that probably should've happened before the playoffs.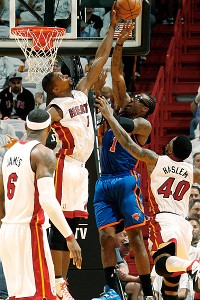 Issac Baldizon/NBAE/Getty Images
Losing Stoudemire means fewer of these plays for Heat.
There are on-court explanations for Stoudemire's ineffectiveness. Since he's not a 3-point shooter, Stoudemire doesn't benefit from Anthony's isolation ball that leads to kickouts on the perimeter. For Stoudemire to be at his best, he needs a pick-and-roll partner who can feed him the ball on the move. The Knicks haven't that player since Lin went down.
But the Knicks do have a stretch 4 capable of igniting a scoring run out of thin air: Steve Novak. Although Erik Spoelstra doesn't name names, when he talks about the Knicks' extremely flammable scoring attack around Anthony, the Miami coach is referring to their 3-point shooters, not Stoudemire. Novak may not be a household name, but he led the league in 3-point shooting (47.2 percent shooting from downtown). He's effective in his role.
Putting glamorous star power aside, pairing Novak with Anthony makes the Knicks much tougher to guard. The Heat cannot rotate as quickly when they're sprinting and retreating to the corner and back. Letting the Knicks rain 3s in front of a desperate crowd in Madison Square Garden is like throwing a barrel full of lighter fluid on a bonfire. That's not a situation the Heat want to find themselves in.
Of course, the Knicks are also without Iman Shumpert, who helps defend perimeter players that Novak and Anthony can't. They also don't have a fully healthy Baron Davis, Jared Jeffries or Tyson Chandler. They're hurting right now, and the Heat are as close to a clean bill of health as they've had all season.
But losing Stoudemire isn't much of a loss at all. Sure, the selfish and emotional act probably deflated the New York locker room and made for an awkward trip back to New York City. But the truth is that Stoudemire has dragged the Knicks down all season long, and the Heat certainly haven't had to struggle to bottle him up in this series.
While it looks dire for the Knicks, removing Stoudemire from the equation doesn't make it moreso. If anything, keeping Stoudemire off the court might give the Knicks a better shot to win games. That has been the case all season long.
Statistical support for this article provided by NBA.com