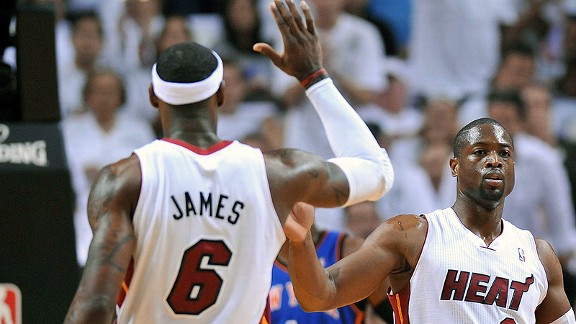 Mike Ehrmann/Getty Images
Even if Chris Bosh misses Game 3, LeBron James and Dwyane Wade are ready for the Garden.
MIAMI -- LeBron James has seen the change.
Opposing arenas that once adored and greeted James with standing ovations and creative recruiting signs when he represented the jackpot of the 2010 free agency crop are now littered with much less than love for him these days.
There's been no better example of that change in reception than Madison Square Garden, where James fully expects to be the focal point of dissent when he leads the Miami Heat into New York on Thursday looking to push the Knicks to the brink of elimination in the first round of the playoffs.
"You tell me. You've been there," James said Wednesday when asked how different the Garden reception is for him now compared to his days on the free-agency recruiting trail. "Every arena has changed. The teams that wanted me before I signed here (have) have changed. I love playing in the Garden. It's always great. But I'm excited about this playoff run we have right now. I'm focused on Game 3."
James sounded no differently than the Heat's other two marquee players – Dwyane Wade and Chris Bosh – when speaking about the nostalgia and exuberant feelings they have about playing their first playoff games in one of the world's most famous sporting venues.
For Bosh, however, that opportunity might have to wait. He left the team overnight to return to Miami after his wife went into labor to deliver the couple's first child Thursday. After spending a few hours with his family in Miami, Bosh reportedly flew back to New York and is considered a game-time decision for Game 3.
But the Heat also made it clear that they wouldn't exactly be tourists when they arrived in New York carrying a 2-0 lead in the best-of-7 series. Instead, it's the epitome of a business trip as Miami tries to pounce on a team reeling from injuries, controversy, self-inflicted wounds and two losses by a combined total of 43 points.
In other words, the Knicks are dysfunctionally desperate. And that stands to make them more dangerous even without forward Amare Stoudemire, who is doubtful for the rest of the series. Stoudemire busted left hand as he punched a fire extinguisher case outside the visiting locker room moments after Monday's 104-94 loss in Game 2.
The Knicks now need to connect with a haymaker Thursday with a victory to get back in this series. With a loss in Game 3, New York would set an NBA record with 13 consecutive postseason losses dating back a decade. But at a time when the Knicks are frantic, the Heat are focused.
"We can't worry about what's going on in their locker room," Wade said. "We have to worry about our adjustments, our team. Obviously, they've played without different people all year and they've made adjustments. I'm sure we'll have to make adjustments as well. We have to come out and take that first blow, not only from the team but from what the crowd is going to bring."
For Wade, that respect for the bright lights and big stage that come with playing in the Garden dates to the stories he heard in his childhood growing up in Chicago. It's possible for players to experience letdowns in Memphis, Milwaukee, Sacramento or Charlotte. But almost everyone opposing player seems to gear up for games in the Garden.
James has scored at least 50 points twice in his career at the Garden, including a 55-point, 11-assist, 10-rebound triple-double during the 2008-09 season. Wade recorded 34 points and a career-high 16 rebounds in New York last season, but coincidentally, the Heat lost that game with Bosh sidelined.
"I don't know. I wish I could describe it," Wade said. "It's just a feel when you're driving up to the Garden, you get those automatic goosebumps and chills going through you. You feel that it's just a special place. I don't know if it was just talked about by everybody from when I was a kid, on. You kind of got everything in one when you go there."
Bosh described he atmosphere in similar fashion.
"The Garden is the Garden. You just have to experience it, to be there," Bosh said before he left the team. "Those who haven't been there just don't know. For one, it's old. Playing in old places with history, it's just something about it. It's New York, right off Broadway. It can be easy to get caught up in what's going on around you because it's the largest market in the world."
The Heat want to continue to build on a successful track record against the constantly changing Knicks. Miami has won all five meetings against New York this season, with each victory coming against a different version of the same team. The Heat won 99-89 in January against a perimeter-oriented Knicks team that hoisted 43 shots from 3-point range. A month later, Miami won by 14 to cool off New York in the midst of its Linsanity phase around point guard and improbable phenom Jeremy Lin.
And last month, the Heat played one if their most complete games of the season on the road to absorb a 42-point effort from Carmelo Anthony in a 93-85 victory. The Knicks are expected to look a lot like the team the Heat faced on April 15, when Stoudemire was out and New York moved Anthony to power forward in a lineup that spread the floor around the prolific scorer with 3-point shooters.
"It changes … but we're concerned with how we're playing and what we're bringing to the game," Heat coach Erik Spoelstra said. "It's not about the surprise. It's not about what they're bringing in this game in our minds. We know that it will be a great challenge, it will be a terrific environment. I know our guys are looking forward to this one on the road. They play extremely well in that building, but we want to make sure we play to our game."
That strategy in the playoffs has included superior ball movement, attacking the paint, getting to the free-throw line and playing swarming defense on the other end. Miami has been outrebounded in both games, but has shot 50.3 percent from the field, scored a combined 74 points in the paint, averaged 22 assists and generated 53 points off 40 New York turnovers through the two games in the series.
"I know we're going to be faced with (more adjustments), but this is exactly what we do," Bosh said. "We have the speed. We have the IQ to chase those guys down. They have great guys spotted up. They have great playmakers. I'm sure they're going to be motivated. It goes both ways."
James had no desire to get caught up in the storylines that surround his latest visit to New York. As he ended his interview session with reporters in Miami on Wednesday, James was asked if he ever thinks about what it would have been like to play a postseason game in the Garden – as the centerpiece of the Knicks.
"No," James flatly shot back. "I'm going to play there (Thursday) night."