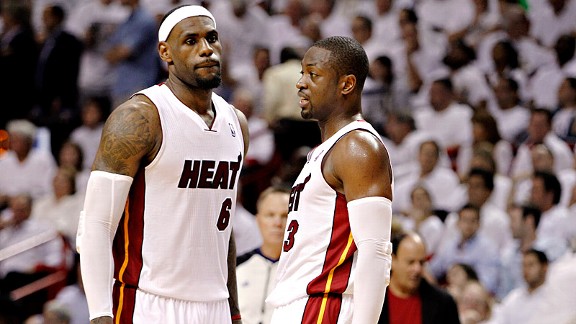 AP Photo/Lynne Sladky
Can the Heat maintain their momentum in New York if Chris Bosh misses Game 3?
In another postseason installment of the Heat Index's 5-on-5 series, our writers give their takes on the storylines before the Heat host the Knicks in Game 3.
1. Fact or Fiction: The Knicks are better off without Amare this series.
Jim Cavan, Knickerblogger: Fact. Melo was playing some of the best ball of his career at the 4 in Amare's back-hobbled stead, so if ever smashing a glass encasing was a blessing in disguise, maybe it's now. At this point, limiting how often LeBron is checking Melo is -- along with the added spacing Amare's absence provides -- the Knicks' last best hope of extending the series a game or two.

Tom Haberstroh: Fact. Consult the scouts or the stats, and both will say the same thing: the Carmelo Anthony and Amare Stoudemire partnership just isn't working. With Stoudemire sitting, Carmelo's Knicks improve by 8.7 points per 48 minutes, which is an enormous turnaround. This isn't #WithoutWade, either; the Heat have performed better with Dwyane Wade on the floor despite the misleading record against soft opponents. Not the case with Stoudemire. He isn't the player he once was, his defense has been irrecoverably poor, and the Knicks have flourished without him. If you think Stoudemire is still a superstar, you must think David Lee is one as well.
Michael Wallace: Fiction. Do the Knicks have any other big on the roster who can rebound, score and get to the free throw line better than Amare when he's healthy and committed? Align the "without Amare" stats and metrics all you want. No playoff team is better sans its second-best player unless there's an adequate replacement. If that's the case, why not sit Wade the rest of the way, considering Miami's .928 winning percentage without him this season?
Brian Windhorst: Fiction. I know that the Knicks played their best ball of the season when Amare was out earlier. I know that playing Steve Novak more might benefit what the Knicks do with Carmelo. But this is a battle of talent, and the Knicks are already at a talent disadvantage in this series. Amare is a player around whom the Heat have to build their game plan. To win four of the next five games, which the Knicks must do, they need a lot of help.
Jared Zwerling, ESPN New York: Fiction. The bottom line is: Going up against the Heat's Big Three, the Knicks need to counter that with scoring, and Amare can provide 15 to 20 points per game. Two things have plagued him from getting going: sharing the court with Melo and not having a solid and healthy point guard to make plays for him off the pick-and-roll. Baron Davis and Mike Bibby are not cutting it. Amare is out for Game 3 and likely Game 4, but when he does return, Knicks coach Mike Woodson should consider playing STAT more with the second unit and have J.R. Smith, who's been a pleasant surprise running some point, setting up the power forward.
---
2. Fact or Fiction: You expect loud boos for Amare at MSG.
Cavan: Fact. It won't be incessant, but it'll certainly be loud -- the Garden boobirds just can't help themselves, and rightly so in this case. Amare's near-untradable contract means he'll likely be around for a few more years, so he'll have ample time to put himself back in Gotham's good graces. But it won't happen Thursday night.
Haberstroh: Fact. As a New York City area native, I've seen firsthand how passionate New York fans can be -- in good times and bad. Just ask former Yankees pitchers A.J. Burnett and Kevin Brown whether New Yorkers showed any sympathy after the starters injured themselves by punching walls. Don't expect Stoudemire to be spared from the boobirds.
Wallace: Fiction. But nothing would surprise me, considering the Garden is capable of having one of the most creatively cruel fan bases. What Amare did was a selfish, childish, boneheaded act that only made it harder for his team at a time when the Knicks are already reeling. If I'm the Knicks' front office, I'd fine him for conduct detrimental to the team. But the crowd should focus on trying to disrupt the Heat, not its own guy.
Windhorst: Fiction. I expect him to be booed if he's showed on the video board, but I'll bet the Knicks won't let that happen. He's not going to be introduced, and if I were Amare, I'd slip into the arena when the lights are out to avoid direct attention.
Zwerling: Fiction. Isolated boos, yes, but I don't expect them to be loud at all. Amare has clarified what happened, saying he didn't mean to hit any fire extinguisher, and he's apologized to the fans and to his own teammates. The Knicks are ready to move on. Amare will be vocal and energetic on the bench, matching his on-the-court style. Knicks fans should be excited about this game and not let any displeasure get in the way. Their focus should be not on the past but on their team winning and not going down 0-3, a hole from which no NBA team has ever come back to win a playoff series. What's done is done.
---
3. Fact or Fiction: If Chris Bosh is out, Knicks should be favored with home court.
Cavan: Fiction: The one glimmer of hope the Amare-less Knicks had for stealing Game 3 -- namely playing Melo at the 4 and forcing the Heat to throw Bosh on him in stretches -- might've flickered out. If I were Heat coach Erik Spoelstra, I'd start a hot-shooting Shane Battier at the 3 and put LeBron on Melo as much as possible. Derp.
Haberstroh: Fiction. Even if Bosh is out, the Heat should be the favorites. The Knicks have a lot going for them. Tyson Chandler is close to 100 percent; the Steve Novak experience will finally be unleashed; they're playing at Madison Square Garden. Still, I expect the Heat to win by a small margin. Playing LeBron at the 4 is only a small downgrade; that's how devastating he can be positioned on the block.
Wallace: Fiction. Favored? No. But perhaps it should be a pick 'em from that perspective. For different reasons, neither Bosh nor Stoudemire has played quite up to expectations in this series despite improved numbers in Game 2. If both are out, which looks likely, it's a wash.
Windhorst: Fiction. The Heat are 5-0 against the Knicks this season. For various reasons, the Knicks' best chance to win a game is Thursday night, but they will not be favored. Losing Bosh hurts the Heat and increases the chance of an upset win. But that's what it would be, an upset. If the Knicks had a better interior, I'd say it would help. I think the biggest advantage is it removes the Heat's best countermeasure when the Knicks double-team LeBron.
Zwerling: Fiction. Even if Bosh doesn't play, the Heat will be favored because of two main reasons: LeBron and Wade are healthy and playing very well in the series. Bosh obviously adds another dimension down low, but the Knicks' biggest worries are James and Wade attacking and Mario Chalmers, Mike Miller, Battier and James Jones spotting up from downtown. The Knicks' perimeter rotations were off in Game 2. With Bosh in the lineup, the Heat have another player, in addition to Udonis Haslem, who can hit the 10-to-15-foot jump shot and score inside.
---
4. Fact or Fiction: Game 3 is when the series really starts.
Cavan: Fiction. Not when 94 percent of teams up 2-0 go on to win the series. Melo & Co.'s confident mantras that the series "doesn't really begin until the home team loses," although technically true, ring just as hollow now as they did one year ago when the Knicks were saying the same thing after falling behind 0-2 to the Celtics after another self-inflicted wound from Amare.
Haberstroh: Fiction. This is Spoelstra's favorite line these days, but the Knicks have to win four games, and the Heat have to win only two. I don't know about you, but that tells me the series has really started.
Wallace: Fiction. I nominate that for the most overused playoff cliché award. The tone has been set in this series, and there's no reason to act as though Games 1 and 2 didn't matter. Can the Knicks turn it around with a win Thursday night? It would be a huge start. But try convincing them that their 0-2 deficit doesn't exist.
Windhorst: Fact. But only if the Knicks win. If they lose, the series is effectively over.
Zwerling, ESPNNewYork: Fiction. Even if the Knicks steal Game 3, the Heat's big two and the Heat's coaching staff, led by Pat Riley disciple Spoelstra, are just too good to lose two in a row to a banged-up Knicks team that relies heavily on Melo. The Heat make not only great in-game adjustments but also great game-to-game adjustments. They know how to maintain their identity while tailoring to the specific schemes that their opponents run. When the Heat lose, they beat themselves, and that can happen in a hostile environment like the Garden. The Knicks tend to not change too much, and that's Woodson's style. Creativity is not his forte; traditional basketball is.
---
5. Fact or Fiction: Miami has been more impressive than New York has been disappointing.
Cavan: Fact. Sure, excuses are like so many body parts, but that doesn't stop us from using them! It's hard to label the Knicks disappointing when their roster has been through more changes and makeovers than Madonna. It's relatively easy, on the other hand, to marvel at the switch currently being flipped by a Miami team on an all-out vengeance quest.
Haberstroh: Fact. It seems as though every Heat player has raised his game in the playoffs. The Knicks? The only thing they've raised is their fan base's collective blood pressure.
Wallace: Fiction. The Heat were the better team from the start. They have been impressive in doing what they were expected to do in the first two games. But the Knicks have transitioned from disappointing to devastated to depressing by the day in this series when you consider the combination of injuries, sporadic play and knuckleheadedness of Stoudemire's actions.
Windhorst: Fact. I thought the Knicks played reasonably well in Game 2. They ran some good offense, rebounded well and limited their turnovers. They followed their game plan as best as they could. They still got beat by 10. This is the best the Heat have looked since the All-Star break.
Zwerling: Fiction. The Knicks have been disappointing by virtue of how they've played and what's happened with the team. The Heat, don't get me wrong, have been impressive, but the Knicks picked the worst time for injuries, from Iman Shumpert to Stoudemire to Chandler, who wasn't 100 percent in Games 1 and 2. He said he's feeling much better today. With Chandler and Shumpert unable to anchor the Knicks' defense from the perimeter to the interior, that opened up holes for the Heat to expose even more. The Heat will continue to play well in Game 3, so the Knicks need to play their best game of the season to win Thursday night.