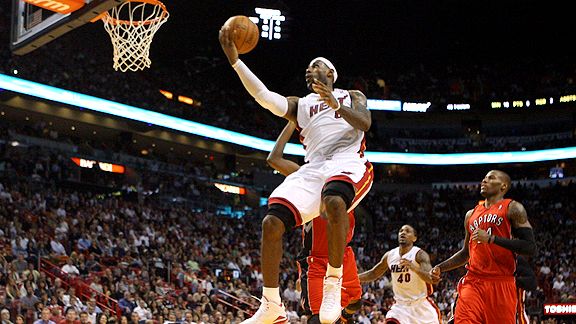 Marc Serota/Getty Images Sports
LeBron James: Scarier in the half court or out on the break?
Kevin Arnovitz: Ever since the season started, we've been debating whether the Heat are, at their very core, the kind of methodical half-court team that should finish in the bottom third of the league in pace. Or whether they should they take advantage of their collective athleticism and make every game a track meet.
Wednesday night against Phoenix, they racked up 99 possessions, which is a pretty zippy tempo. It was Miami's second-fastest game of the year (103 possession vs. Minnesota).
Is it telling, or merely coincidental, that these were also Miami's two most efficient offensive games?
Tom Haberstroh: No, it's not coincidental. This team needs to run, not just because they have the athleticism to pull it off, but more so because underdogs want games to be played at a snail's pace. When David goes against Goliath, David doesn't want 100 rounds -- he wants 10. Every extra possession presents another opportunity for the Heat to capitalize on their edge in talent. Thus, they should stretch the game, not shrink it.
Kevin: I get what you're saying. Favored teams want a seven-game series and not a five or three-game series. A shorter competition leaves more margin for chance. But using this logic, recent championship teams like the Celtics, Pistons and Spurs won titles not because of their deliberate, pick-you-apart style, but in spite of it.
I'd also suggest that the Heat posted their best offensive nights of the season against Minnesota and Phoenix not because those teams play at a breakneck pace and the Heat obliged, but because the Timberwolves and Suns are 27th and 24th respectively in defensive efficiency.
But I think we're ignoring the larger picture here. If I'm a coach with superior talent and skilled players, I want a conventional battle. There's a reason guerrilla warfare is waged by undermanned armies with inferior weaponry and training. They want to turn order into chaos because they can't possibly compete on a level battlefield.
Tom: And for most teams, transition basketball may very well be chaotic. But not this Heat team. You've seen them run in transition. It's controlled chaos. Dwyane Wade and LeBron James can't be stopped in the open floor, especially when they're running in tandem. A few ill-advised PUJITs notwithstanding, LeBron gets to the rim at will when he's greeted by a lone defender.
And another thing -- why are we comparing this Heat team to other championship teams? That presumes they have comparable personnel, which they don't. Those aforementioned champs didn't feature two of the most athletic scorers of our generation in the midst of their prime. This is a special collection of talent that inspires the unconventional.
Kevin: There's nothing inherently unconventional about a coach letting go of the reins, abandoning structure in lieu of improvisation. Doug Moe did it for years. And there are rosters for which it works well. But this isn't one of them. You're correct: This is a special collection of talent. And what makes James, Wade and Chris Bosh unconventional as a unit are the demands they place on defenses in the half court.
But, hey, don't take it from me. I happen to have Dwyane Wade right here. D-Wade, what was that you said at practice on Tuesday a day before the Phoenix game?
Dwyane Wade: Thanks, Kev. I'll repeat it verbatim: We understand that we like to get out in transition some, but we also understand that's not necessarily our game. So you play it for a little while, but also you stick to what you're good at. For us, we have power in the half-court set with myself, LeBron and Chris, three dynamic offensive players. So we have to use our strengths as well and not totally play toward their strengths the whole game. But there will be times it will be a plus for us to get out in transition and open things up.
Tom: OK, Dwyane. Care to explain your other answer you gave after practice on Tuesday? The one about running the '7 Seconds or Less' offense?
Dwyane: Touche, Tom. Here's what I said: No, no, no, I don't want to run that much. I don't want no part of that. I don't even want to think about personnel. I don't want to play that way.
Tom: OK, now Dwyane sings a very different tune than before. Notice his choice of words. He didn't say "We shouldn't run that much." He said "I don't want to run that much." Is it so absurd to suggest that Dwyane doesn't want to run '7 Seconds or Less' for the simple reason that it's exhausting?
No professional athlete wants to publicly admit that they'd rather play in fourth gear than fifth gear. Dwyane doesn't want to sound weak. He doesn't want to sound like a coward. But here he clearly displays a personal antipathy to running like the Suns. He doesn't want any part of that, he says. They're sufficiently good as they are, so why go the extra mile? As we've learned over the years, it's an incredibly difficult to persuade NBA players to run if they don't have to.
Kevin: But that's sort of my point -- they don't have to. Almost every time they step on the court, James, Wade and Bosh each has a matchup edge over his counterpart. If the Heat draw, say, Golden State, they have Wade against Monta Ellis, James against Dorell Wright and Bosh against David Lee (when healthy). Why on Riley's green earth would they forfeit those advantages and give the Warriors the one fighting chance they have against the Heat: NellieBall. That's the one area where the margin of talent between these two teams narrows. Golden State can pull up and shoot the ball in the open court. A free-for-all also absolves a team like the Warriors from having to defend the Heat in the half court -- and also deprives the Heat the chance to put bodies on the Dubs' shooters and make Curry and Co. earn points the hard way.
Tom: You're underestimating how treacherous it is to guard James and Wade when they're leading the break. It's not a "free-for-all," a term that connotes the randomness of a coin flip. It's unpredictable, but not in the bad sense. Their power lies in their their unpredictability.
Teams can prepare for LeBron and Wade in the half court. They can draw up defensive schemes to deaden the blows of LeBron and Wade running isolations and taking their man off the dribble. You can practice that. But good luck trying to emulate their velocity in transition.
Kevin: Our theoretical discussion aside, where do we think Erik Spoelstra falls on this issue? We know it's something he's monitors closely. When we ask him about it, he's able to tell us on the spot precisely where the Heat rank in pace factor. You asked him about this on Tuesday. What did he say again?
Erik Spoelstra: Our team? Yeah, they'd be pretty spectacular offensively. But I wouldn't even know how to coach them. But I'm sure our guys could get up and down in at least seven seconds or less … See I can't even reinvent myself or the Miami Heat philosophy or fabric. That would be a little bit too much of a stretch for me. We spend so much time on our defense and we feel it's important to be a championship contender and to be a championship defense. That takes a lot of time, a lot of sweat and practice time.
Tom: He sounds like a guy who was handed the keys to a Ferrari -- only he can't drive a stick-shift. Are we supposed to commend him for not having the flexibility to conform his coaching style to support the team's strengths? He even acknowledges that they'd be "pretty spectacular" before admitting his limited scope in coaching. I understand that a coach has the authority to implement his own system but with this assembly of talent, it's time to throw out tradition and employ what works best.
Kevin: Do you think it's a faith in tradition that's guiding his offense, or a devotion to the idea that once this team masters its imperatives in the half court, it's going to be unstoppable? Already, they're third in the league in offensive efficiency playing at the sixth-slowest pace. The philosophy he's referring is a basic adherence to the idea that skills require a framework. James and Wade can race up and down the court with impunity. So can Josh Smith and DeMar DeRozan. But if you give James or Wade a systematic structure, they can do things that only a handful of other players can do.
Tom: Neither of us are staking out extremes. I'm not suggesting they run all the time, just like you don't want to set speed limits on the floor. There's a middle ground. And honestly, I think they'll be just fine either way.
Kevin: That's one of the things that makes the Heat so interesting. We're arguing degrees of success. With most teams, we're not even having this debate. The blueprint is obvious. But the Heat have incredible elasticity. They could probably run any number of systems and still win.