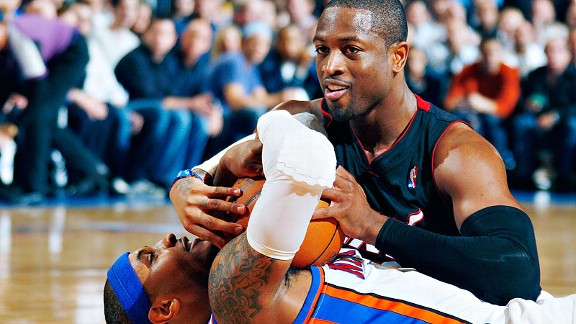 Issac Baldizon/Getty Images
If Dwyane Wade and the Heat put the Knicks on their backs again, should New York shake things up?
In another installment of the Heat Index's 3-on-3 series, our writers give their takes on the storylines before the Heat try to sweep the Knicks in Game 4.
1. Fact or Fiction: LeBron is right; there shouldn't be a champ asterisk.
Tom Haberstroh: Fact. When every other season has an unusual disruption, then it's no longer unusual. It's the status quo.

Michael Wallace: Fact. And beyond that, the NBA champ this season should get even more credit for surviving and winning in one of the most difficult and demanding seasons we've ever seen in any sport.
Brian Windhorst: Fact. There's a reason why championships are so valued, it takes so much to win one. You need luck, you need to avoid injuries, you need your opponents to have troubles. Injuries, bad luck and general insanity happens in every season, the team standing at the end is the champ not matter how it got there. If anything, winning this season should carry a little extra significance because it is so hard and abnormal.
---
2. Fact or Fiction: The Heat have the three best players in the series.
Haberstroh: Fiction. As admirable as Chris Bosh has been as a third option for the Heat, I can't peg him ahead of Mike Bibby. Wait, did I say Mike Bibby? I meant Carmelo Anthony. Honestly, Bosh and Carmelo are probably neck-and-neck in value. Bosh plays both ends of the floor and doesn't mind making sacrifices for the good of the team. Carmelo's shot-creation ability is immensely valuable, even if he lacks in the efficiency department. Still, Carmelo's reputation far outpaces his actual on-court contributions.
Wallace: Fiction. Let's be real here for a second. Carmelo Anthony is a tad better and a more elite player than Chris Bosh. But there's no shame in the Heat claiming three of the best four players in this series.
Windhorst: Fiction. Carmelo Anthony is the third-best player in the series and from the 2003 draft. Been the case for years. Even if he's not really playing like it.
---
3. Fact or Fiction: If Heat sweep, Knicks should break up the core.
Haberstroh: Fact. Should happen regardless. Sure, Stoudemire's contract isn't easily moved, but there's no such thing as an unmovable contract in the NBA (see: Rashard Lewis and Gilbert Arenas). Trading Carmelo and building around Jeremy Lin, Stoudemire and Tyson Chandler would be the move that makes the most out of they're fragmented pieces. But alas, I can't imagine the Knicks front office trading their biggest star even if it means they don't compromise Lin and Stoudemire.
Wallace: Fiction. If New York can get a taker for Amare Stoudemire's contract, then by all means move him. But good luck with that. More than anything, these Knicks need stability and good health - elements this team has lacked for most of two seasons now.
Windhorst: Fact. Even if the Heat don't sweep. Seeing this Knicks team play vastly different when they are all together and when one or two pieces are missing obviously has been telling. The problem is they are not very flexible. They have used their cap space, used their amnesty and traded away young assets and draft picks. They have a chronically injured former All-Star with an uninsured contract that has three years left on it as the guy they want to trade the most. They can try, but it's not going to be easy.