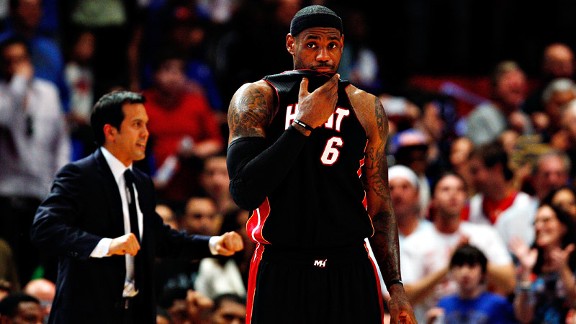 Jeff Zelevansky/Getty Images
Why wasn't LeBron James more involved in the final plays? That's the way Erik Spoelstra drew it up.
NEW YORK -- Out of all the interviews and speeches Dallas Mavericks owner Mark Cuban gave on his championship tour last year, the sharpest blow came when he said his Mavericks knew they were going to win the NBA Finals when his coaching staff noticed the Miami Heat weren't making adjustments.
Maybe it was needling, maybe it was simple piling on, perhaps it was retribution after there was a belief that Pat Riley had outdueled the Mavs' Avery Johnson back in the 2006. But it was a direct shot at Heat coach Erik Spoelstra and his performance under pressure.
Spoelstra's overall record is strong and league executives see him as having a long career as a head coach whether it's in Miami or elsewhere. But Cuban's comments were also a sign that Spoelstra hasn't earned complete respect yet. Some of his decisions on Sunday in the Heat's Game 4 loss to the New York Knicks that extended the series will not help.
In an odd maneuver he declined to fully explain, Spoelstra went away from the strategy that had been working and given his team the overwhelming advantage. And it very likely cost the Heat a chance to win the series in the minimum.
It wasn't the decision everyone wanted to talk about. The Spoelstra choice that drew the most eyes was what he did on the final play when the Heat trailed by two points. This is always a delicious subject, and with a playoff game in the balance, it was certainly a rather large choice.
There Spoelstra selected Dwyane Wade as the first option, Chris Bosh as the second and LeBron James as the third. It's easy to attack that strategy, because it didn't work. You could state and defend any number of opinions and present a strong case.
Being fair, though, Spoelstra called a considered, even if not well-designed, play. It just didn't work. Selecting Wade, who has made three game-winners this season, wasn't wrong. He had scored 11 points in the fourth quarter and was brilliant in going to the basket when Tyson Chandler (who had fouled out by then) wasn't there to stop him. He properly guessed how the Knicks were going to defend the play and got exactly what he wanted: Wade going at defensive liability Amare Stoudemire.
You can bicker about whether James should've been the first or at the least the second option -- Bosh set a screen for Wade and appeared to be the backup choice in a classic pick-and-pop set -- when he had just made two big offensive plays. But ultimately, going with Wade certainly can't be called an indefensible mistake.
The Knicks' defended the play decently, Stoudemire moved as quickly as he could, and Wade fumbled the ball and the play fell apart.
"I actually had a good shot," Wade said. "I lost the ball and didn't get the chance."
We'll never know for sure.
For his part, James said: "For me, personally, I would love to have the ball. As a team, we all win games together and we all lose games together. That is all that matters."
So James wanted it, which is easy to say when he didn't have to deal with missing it, and Wade bobbled the ball instead. If you want to point fingers, go ahead and debate, but there will never be a definitive answer.
That play, however, was not at the root of why the Heat lost the game.
The Heat lost because they allowed Carmelo Anthony to score 41 points on just 29 shots. Instead of making him the volume scorer they did for the rest of the series, Anthony was able to get the ball where he wanted it, let him get to the line 14 times, and let him get on an offensive roll.
In other words, the only thing that could beat the Heat happened.
Anthony did the bulk of it against Shane Battier, including for the entire fourth quarter. For the first three games of the series, and even for the last game of the regular season between the teams on April 15 that served as a playoff warmup, Spoelstra went with James on Anthony for the stretch run.
Yet this time Battier was left on him as Anthony took the green light to attack him and shoot over him while James guarded Chandler. Anthony scored 12 points on 4-of-7 shooting in the fourth, picking apart the Heat's sudden change of heart.
Anthony is one of the best scorers in the league. Perhaps he would've made tough shots over James. Perhaps he was due to break out of a slump; he was shooting just 34 percent over the first three games. Perhaps this is just second-guessing.
But the last three fourth quarters Anthony has played where James has taken over -- not including Game 1 when the starters were benched with the game out of hand -- Anthony averaged seven points on 42 percent shooting. Had that happened again Sunday, the Heat would be celebrating a sweep.
At one point, the Heat called for a double team on Anthony, something that usually isn't required when James was on him, and it created a rotation that led to an open Mike Bibby hitting a 3-pointer.
"LeBron was guarding Chandler to create some other things to do defensively but we still had enough opportunities to win this game regardless of who was guarding Anthony," Spoelstra said. "You have to give them credit and move on."
The numbers, which Spoelstra is a devotee of, crush him here. In the series, Anthony has shot 12-of-41 (29 percent) with James guarding him and scored 31 points including free throws. With Battier on Anthony, the Knicks star is 20-of-38 (53 percent) and has scored 56 points.
Heading into Game 4, by the way, Anthony was shooting 14-of-26 on Battier (54 percent). These numbers were compiled by ESPN Stats & Info but Spoelstra no doubt had them, too. But it makes the choice all the harder to defend.
Not every game is the same and coaches change up game plans all the time. Some of Spoelstra's constant changing is because his bench has shown him little consistency. Not using his best defender on the Knicks' best scorer when it had a flawless record is hard to justify.
But it does seem like Spoelstra might have outsmarted himself on Sunday by making changes that were hard to understand or defend. And there's a chance that it cost the Heat a winnable game.