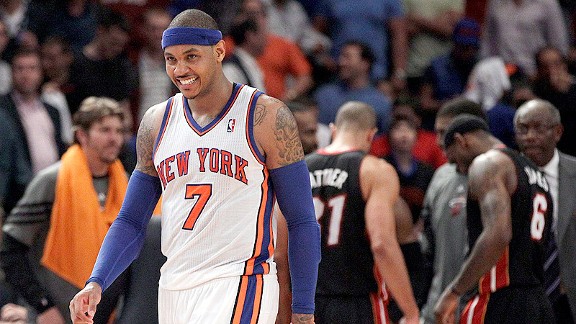 AP Photo/Frank Franklin II
Erik Spoelstra has refused to switch Shane Battier off Carmelo Anthony, but there are alternatives.
Shane Battier signed with the Miami Heat for moments like the one that came in Game 4.
When Battier announced his free agency choice in December, he outlined the deciding factor:
"I've played out every scenario in my head over and over," Battier wrote on Twitter. "It always came back to one thing for me: a winning role."
On Sunday, he got his wish.
Down by two points with 40 seconds left in a playoff game inside Madison Square Garden and his team desperate for a stop, Heat coach Erik Spoelstra trusted Battier -- not LeBron James -- to contain Carmelo Anthony on the play. It was a controversial move since Anthony mostly had his way with Battier throughout the series -- not to mention that the Heat have a perfectly viable alternative in James, perhaps the only defender in the league who can match Anthony's strength and quickness on the perimeter.
Nonetheless, Battier was the guy. Out on the floor in a critical possession, Battier was given the prized role he wanted back in December. Could he fulfill the "winning" end of the bargain?
As it turns out, the heady veteran got whistled for grazing Anthony's elbow on the follow-through of a pull-up 3-pointer. This is the cardinal sin for a defender, which visibly irked Battier as he shook his head on the floor in disbelief.
Whether Battier fouled him or not, this much is clear: Battier hasn't had much luck guarding Anthony. Anthony is now shooting 53 percent from the floor with Battier guarding him in the series, compared to the 29 percent Anthony shoots against James, according to ESPN Stats & Info tracking.
When Battier tried to muscle up Anthony, the Knicks star batted him away. When Battier tried to close off Anthony's driving lanes, the Knicks star easily maneuvered around him.
This is Spoelstra's big dilemma. The Heat thrive when James, Dwyane Wade and Chris Bosh are surrounded with 3-point sharpshooters like Battier, but they leave money on the table defensively every time James isn't guarding Anthony.
Can Spoelstra keep playing Battier if Anthony continues to dominate that matchup?
That's a tough question to answer made tougher by Battier's reputation as a defensive stalwart and his known desire to play in crunchtime. Battier didn't just want to sign with a winning team; he wanted to have a hand in it, too. In this series however, Battier's defensive weapons simply haven't put a dent in Anthony's armor.
So what then?
Spoelstra has alternatives, and Baron Davis' injury will make it easier to go in another direction. Udonis Haslem is one of the league's better defensive rebounders and can take care of keeping Tyson Chandler off the offensive glass, which was one of Spoelstra's cited reasons for sticking James on Chandler instead of Anthony.
Such a move would allow the Heat to play their "Big Five" lineup with Haslem and Mike Miller, all part of the same free agent haul in the summer of 2010. Miller is a superior 3-point shooter to Battier and won't have any trouble staying in front of Mike Bibby, who at this stage in his career has the mobility of a stop sign. That lineup, by the way, has outscored opponents 149 to 103 over the last two seasons.
It also has been used as Miami's closing lineup, but of course, Haslem fouled out in Game 4 and has surprisingly only been a nominal starter in this series (he has only played just 17.8 minutes per game). As far as we know, Haslem is healthy enough to log major minutes, but playing Haslem means that Spoelstra must forgo his favored "symbiotic relationship" lineup that calls for two sharpshooters bookending the Big Three. Inserting Miller allows Spoelstra to preserve some of his 3-point shooting attack while also locking down Anthony and Chandler.
Another option? If Spoelstra must play Battier, it's worth seeing what Battier could do against Stoudemire, whose hand injury has made him more predictable. Battier has guarded power forwards in the past and what Battier lacks in size, he gains in preparation. A one-handed Stoudemire against Battier is a stripped-ball waiting to happen. The question becomes whether the gains of LeBron on Carmelo outweigh the losses of putting Battier on Stoudemire. Worth a try.
Spoelstra's game plan has included a heavy dose of Battier and in the grand scheme of things, it's working. So far, the Heat are up 3-1 in the series and James has been rested. Spoelstra is insistent that the Knicks will not dictate the Heat's rotation. As he has said repeatedly, the Knicks have to prepare for the Heat's personnel, not just the other way around. In the closing minutes of Sunday's game, Spoelstra made it clear that he would not budge even after Battier absorbed a barrage of body blows from Anthony and then a final knockout punch on Sunday.
We might have reached the breaking point after Game 4. With a potential Game 6 swinging back to New York, there's no more time to experiment with Battier on Anthony. Battier might still have a winning role on the team, but his time should wait until Anthony is in the rear-view mirror.