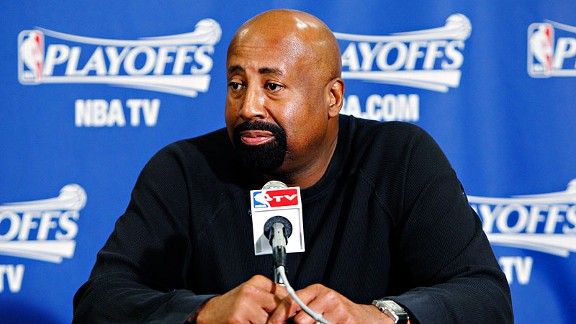 Debby Wong/US Presswire
The Knicks have their backs against the wall, but Mike Woodson doesn't sound desperate at all.
MIAMI – If coach Mike Woodson has a desperation Jeremy Lin curveball to throw into their playoff series against the Miami Heat, he's determined not to tip his pitch as the New York Knicks try to stave off elimination.
Then again, it's not like Woodson gave any indication in advance that forward Amar'e Stoudemire would come back from that gruesome hand injury and help the Knicks avoid being swept with Sunday's victory in Game 4 in New York.
So the lesson here is simple: When it comes to playoff adjustments and personnel developments, you're better off believing the exact opposite of what you hear.
But there's no denying the fact that the Knicks will return to Miami for Game 5 on Wednesday buoyed by their first playoff victory in a decade and with a sense that this series has been played a lot closer than the 3-1 deficit indicates.
"Now, if we can go down there and take Game 5, it really puts the pressure on them to come back up here to New York," Woodson said of the prospect of beating the Heat on Wednesday and forcing a Game 6 on Friday back at Madison Square Garden. "It would be great. (Sunday) night was big. But it's just one game."
It would require a historical run for the Knicks to rally their way back into making this series against the Heat anything more than a forgone conclusion. No team in NBA history has overcome a 3-0 deficit to win a playoff series. Fewer than a handful have even come back to force a Game 7.
But New York has already made history from one perspective in this series. Sunday's win against the Heat snapped a league-record string of 13 consecutive playoff losses. The breakthrough victory was also the culmination of what Woodson believes has been a stretch of play over the past three games in which New York has mostly gone toe-to-toe with Miami from a competitive standpoint.
The Heat have won their three games by a combined 60 points, but since that 100-67 blowout in Game 1, the Knicks were in striking distance for stages of the fourth quarter in each of the past three games. There's been enough evidence to at least leave the Knicks with a bit of hope that they can continue to slow down Miami. In Games 3 and 4, the Heat scored 87 points both times and shot a combined 41.9 percent from the field.
With the Knicks now in full desperation mode, having lost guards Iman Shumpert and Baron Davis to devastating knee injuries and the uncertainty of Lin's return from minor knee surgery, Woodson has no choice except to accentuate the positives.
"We've been in every game," Woodson said, with the 33-point loss in the series opener being the exception. "In Game 2, it was a fight until the end, and they made the plays they had to make in being at home. When we came home for Game 3, I thought we were ready to play. We got down early, called a timeout to kind of gather ourselves. Our bench played great … outplayed their bench in Game 3. We let it slip away on two or three bad offensive possessions and not getting back in transition. And (Mario) Chalmers hits the two big threes that broke the game open."
Now the Knicks return to the scene of their greatest frustration in the series, with a roster further depleted by injuries and one loss from the abrupt end to their season.
Nevertheless, Woodson remains in adjustment mode. Critically short on point guards, Woodson strongly suggested – again, if you choose to believe what you hear – that he would be forced to switch Carmelo Anthony and J.R. Smith to point guard for extended shifts. That would particularly be the case, Woodson said, when the Heat plays their "big" lineup with either LeBron James or Dwyane Wade at the point alongside Shane Battier, Mike Miller and Chris Bosh.
Despite Lin participating in scrimmage work Monday and seemingly close to making a decision to return, Woodson spent more time addressing the virtues of veteran Mike Bibby and the possibility of playing emergency backup Toney Douglas.
"I'm struggling with when they go with the big lineup of Battier, Miller, LeBron and Bosh and another big," Woodson said. "Now, I come in with Bibby. And Mike is now asked to guard Miller or he has to guard Battier. And that's going to be the same situation with Toney. He's a little bit smaller than Bibby and Baron. And to me, that's a bad matchup. That's why I might go big. They're playing big and that's why I might go J.R. and Melo at (point guard) and see if I can get by a few minutes like that."
Either way, Woodson's strategy is to survive the Heat's early onslaught and keep the game close going into the fourth – which is something the Knicks have been able to do each of the past three games.
The Knicks stopped short of suggesting they have any momentum in the series after just one win. But Anthony is starting to regain some rhythm after that 3-of-15 shooting effort in Game 1, and Stoudemire is coming off his best game in the series. He had 20 points and 10 rebounds on Sunday after he missed Game 3 with a badly cut left hand, an injury he sustained following the Game 2 loss in Miami when he banged his hand out of frustration into a fire extinguisher case near the Knicks' locker room.
"I live for games like that as a coach, just to see who is going to make plays when it's close like that. And I thought our guys stepped up and matched every play they made down the stretch," Woodson said of Sunday's win before shifting his focus once again to the daunting task ahead. "We feel good about ourselves, but we do understand that we're going back to South Beach to play in a hostile environment."