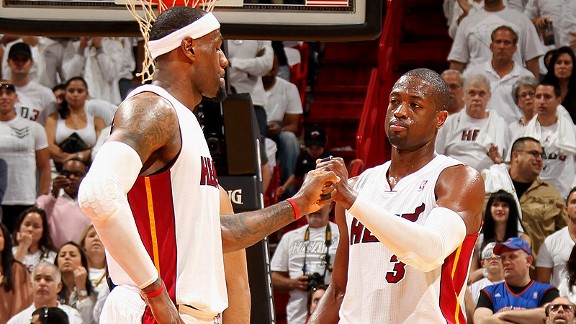 Nathaniel S. Butler/NBAE/Getty Images
LeBron James and Dwyane Wade heard all the noise after Game 4 but say they're on the same page now.
MIAMI -- Disturbed was the wrong word.
No, Dwyane Wade wasn't disturbed by his late-game failure in the hours after he curiously dribbled out the final seconds before missing a potential game-winning shot Sunday in New York, preventing the Heat from completing a four-game sweep of the Knicks.
With the series headed to Game 5 on Wednesday, Wade's meltdown at the end of Game 4 seemed to make him hungrier for the next opportunity. In a way, Wade sought nourishment the past two days.
That's one way to describe the scene that unfolded at the end of the Heat's practice session Tuesday, when Wade and LeBron James stood face to face near the top of the key and quietly sorted through options on the court.
James spoke.
Wade mostly listened.
Wade then pointed and gestured.
James followed by walking to potential open spots against make-believe defenders as Heat assistant coach Dave Fizdale stood near them to offer suggestions.
"If we get put back in that situation," Wade said later, "we'll be a little bit more comfortable in our package."
It was as private a moment as two of the league's most explosive players could share under the circumstances, with dozens of cameras and reporters waiting as the Heat regrouped for another shot to finish off the Knicks, this time at AmericanAirlines Arena.
Yes, two seasons into their relationship as teammates -- and four games into their first-round series against the Knicks -- Wade and James still have moments when they must set egos, talent and their strong wills aside and sort through kinks. That's particularly the case in moments like the one Sunday at Madison Square Garden, when Wade was exclusively involved in the final play. James might as well have been in Queens, considering how far he was out of the picture -- let alone the decisive play.
One thing James and Wade don't get enough credit for amid all the praise and criticism is how they can put aside their differences and hold one another accountable in a constructive way. Usually, it's Wade who gets into James' ear. Rarely is it the other way round. Publicly, at least.
But Tuesday was one of those occasions. Wade had the option to dismiss the breakdowns that led to his desperation 3-pointer that banged off the rim in Game 4. But instead of dismissing it, he chose to dissect those final moments -- a scenario that's likely to present itself again at some point during Miami's potential path to a championship.
Wade said the Heat learned from that lack of execution at the end of Game 4 and will apply lessons moving forward.
"A little confusion from us," Wade said. "I thought we did a good job of coming in and working on our late-game situations. Like I said, I felt that I had a good opportunity. I got a step on Amare (Stoudemire), which I wanted. I just lost the ball a little bit. But I had the shot I wanted, had the step I wanted at that time. But I'd do it all over again."
So while the Knicks spent the past two days working on ways to extend their season, the Heat used the time to work on their cohesion. Because Wade's shot missed and James never appeared to be involved in the action, the Heat's late-game execution again came under scrutiny.
Who should take the last shot? Who should have the ball to initiate a potential game-winning play on the final possession? Are the Heat better off with Wade attacking or James facilitating?
Coach Erik Spoelstra answers those inquiries by maintaining that the Heat have multiple packages in his playbook that feature both Wade and James being involved in what he refers to as "actions."
Some plays are initiated by Wade and others by James. But all have multiple triggers and options that require the ball to be moved from one side of the court to the other should the primary options break down. The Heat spent Monday and Tuesday reviewing film to examine areas where Sunday's game got away from them. They looked beyond the last possession, when the Heat had 13 seconds to tie or win the game but were scrambling when Wade temporarily lost control of the ball before hoisting the 3-pointer.
There were also 11 missed free throws by the Heat, a combined 11 turnovers from James, Wade and Chris Bosh, and struggles to slow Stoudemire and Carmelo Anthony, who have found a bit of rhythm after earlier struggles.
But those miscues didn't break the Heat.
Instead, they may have further bonded them.
"We've been through everything," James said of regrouping from frustrating finishes. "It doesn't matter. We don't need a teaching tool from a loss. We've seen it all in just two years. You carry it with you 24 hours, you go over what needs to be done, correct it and you get rid of it. It's not saying you don't care about it, but you've got to move on to the next game. You can't let it linger too much and carry it into Game 5. That game (Sunday) for us is over."
What looms ahead is an opportunity to end the series and get a few days to rest and prepare for a potential second-round matchup with the Indiana Pacers, who eliminated the Orlando Magic in five games with Tuesday's clinching win.
The Heat don't view the finish of their current series as a foregone conclusion. Not when there's still work to do and questions to answer at the conclusion of games.
"We did review all the film. We had to," Spoelstra said. "We had to own it. There were three opportunities in the game when we had double-digit leads and a chance to create more separation. We're concentrating on us and making sure we have our best performance of the series Wednesday."
There are missed opportunities. And then there are simply misses. Miami struggled with both in recent games. It's not just the final possession that needed to be addressed. Another priority was figuring out a way to jumpstart an offense that scored 87 points in each of the past two games and shot a combined 41.9 percent from the field.
"Give some credit to their defense," Bosh said of the Knicks. "But we settled some, too. We turned the ball over. We just have to be more aggressive, really. It's not really about being concerned about the offense or anything like that. We're missing a lot of easy shots. I know I missed a lot of easy shots. We have to stay mentally tough and move on to the next play."
Moving on to that next play a step or two quicker might be part of the solution for the Heat, who want to create more opportunities to run and execute in the open court. Spoelstra pointed out that the Knicks are shooting just 40 percent from the field in the series, which means there are plenty of rebounds available as well as opportunities to generate transition offense for the Heat.
"There are openings there for relief points," Spoelstra said. "We need to capitalize."
James is confident the Heat can capitalize on the opportunity that lies ahead and emerge from their recent rut. He also endorsed Spoelstra's ability to make adjustments and handle adversity on and off the court -- from the first possession of the game to the final one.
"Spo is a great coach," James said. "He puts us in position to win games every night. He has us prepared every single night. As players we try to do that. We're never blindsided by anything on the floor."