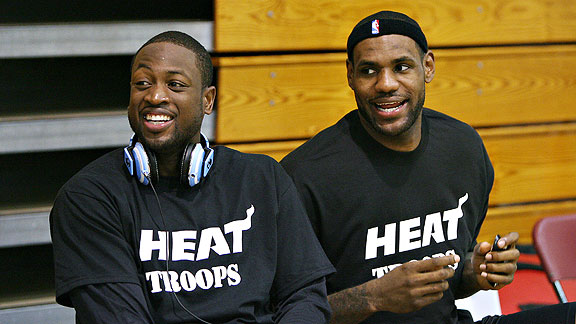 Issac Baldizon/NBAE via Getty Images
Dwyane Wade and LeBron James will face NBA competition together for the first time Tuesday.Yes, it's a preseason game. Yes, a lot will change between now and when the regular season officially tips off on Oct. 26.
That said, the much-anticipated debut of the Miami Heat is finally here. And even if Tuesday's exhibition matchup against the Detroit Pistons offers merely a glimpse of what's to come, there's a veil of mystery surrounding LeBron James, Dwyane Wade, Chris Bosh and company. And it's about to be lifted.
Here are five questions we will finally begin to answer Tuesday night.
1. How involved will Mike Miller be in the offense?
In an interview with ESPN reporter Rachel Nichols last week, veteran sharpshooter Mike Miller spoke about the effect the star power will have on his game. "It's a lot different than it's been in the past," Miller said. "Last 10 years, I haven't had that many open shots. In practice, that's all I'm getting."
Say what you want about preseason games but they certainly carry more weight than intrasquad scrimmages with dank rec pinnies. We're about to find out how many wide-open shots he receives against real competition (all Pistons jokes aside).
You may hear a lot about how Miller functions as the Heat's decoy on the perimeter but that would suggest he's an empty threat. He's not. Cue up the Synergy Sports Technology engine and we find that Miller is just about automatic when it comes to open jumpers. A grand total of 180 players took at least 50 unguarded jumpers last season and take a wild guess who had the highest drill rate? Yes, Miller. The Florida product nailed 41 of his 67 open jumpers for an average of an absurdly high 1.69 points per attempt, ranking him the highest in the NBA in such situations.
Despite his deadly shooting prowess, the veteran has curiously phased out his shooting game over the past couple of seasons. Sixty-seven open jumpers in 54 games doesn't seem a lot for someone of his talent, but let's remember he did play for a depleted Wizards squad with little in the way of offensive firepower. Don't be surprised if he triples that output in Miami this season.
2. Will the center dictate the playing style?
Count me in the chorus of criticism thrown toward the five-year deal handed to Joel Anthony, he of 2.7 points per game in 2009-10. But the Heat are onto something here, something that has the potential to be very effective for this versatile super team. With Anthony and Zydrunas Ilgauskas on the roster, the Heat have collected two centers who have polar opposite offensive arsenals.
It really comes down to this: Ilgauskas can spread the floor while Anthony can spread his wings and fly.
There's no question that the Heat will smoothly shift into fifth gear regardless of who's playing the 5, but Anthony's insertion into the lineup will add some extra horsepower that Ilgauskas' legs can't provide. But what Ilgauskas offers is the ability to spread the floor in a pick-and-pop on the perimeter, or perhaps more importantly, his outside threat can vacate the basket area for his teammates to flourish in the half-court set.
Rest assured, while the big man may cue the tempo for the opponents, it doesn't mean the Heat will be any easier to stop.
3. Will head coach Erik Spoelstra stagger the substitutions or will he prefer fleets?
No matter what we see in Tuesday's preseason action, substitution patterns and strategies will naturally evolve as the season progresses. Injuries, chemistry dynamics and the scoreboard will alter how Spoelstra plans to deploy his line of weapons, but will he have the confidence in his bench depth to remove the entire trinity from the lineup at once?
Remember, the Heat won 47 games last season with just Wade. No LeBron. No Bosh. Bosh's presence alone would, in all likelihood, boost them past the 50-win threshold. So if Spoelstra wants to stagger the substitutions by benching either LeBron -- or Wade for that matter -- on an individual basis, the team should have little problem staying afloat without all three in the game.
But can they survive for an extended period should Bosh pick up a few quick ones early on? Will Spoelstra feel obligated to keep Wade and LeBron on the floor when Bosh exits the game? The effectiveness of a starless second unit should help answer those questions. And this preseason, we'll get a good look at the already-dubious bench.
4. Who receives the outlet pass?
Even though point guard Mario Chalmers played alongside LeBron for the "red" team in Friday's intrasquad scrimmage, the big men were looking for the reigning MVP to initiate the fast break.
And that was without Wade in the picture. We'll learn a lot about Spoelstra's philosophy the moment a big man pulls off a quick board and pivots toward the open court. There's a good chance that three ball handlers will instinctively gravitate toward the big man off the rebound, but such a scenario would stunt the fast break. Will Spoelstra appoint a primary break leader or will he risk the inevitable stutter igniting into transition?
5. How creative can the Heat get with the pick-and-roll?
Here's a nightmare about to become a reality: LeBron setting a ball screen for Wade with three knock-down shooters manning the perimeter. That'll make defenders honest.
Never mind that Bosh is one of the most efficient big men coming out of the pick-and-roll (third among qualified bigs last season, according to Synergy data). The real test for opponents will be how they react when LeBron, who has a larger frame than Udonis Haslem, looks to pick off Wade's defender on the wing. Synergy tells us that LeBron was the roll man only 22 times last season in Cleveland but Wade's game warrants peaking behind that curtain.
Miami will have a virtually limitless array of combinations in the pick-and-roll at their disposal. The preseason will be their laboratory.