MIAMI -- The Pacers and the Heat are spending an extraordinary amount of time studying each other this week. Here's a look at what their scouting reports will look like, provided by league advance scouts' notes on both teams: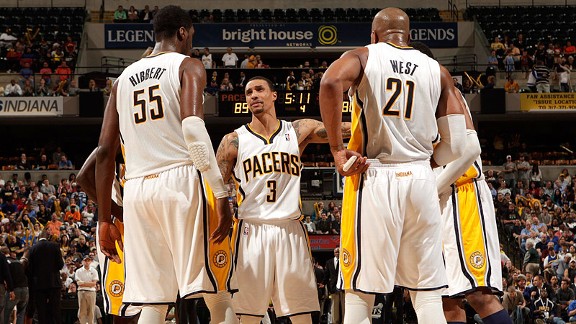 Ron Hoskins/NBAE via Getty
PACERS STRENGTHS
Getting to the line. One of the biggest changes Frank Vogel has implemented with the Pacers is turning them from a team that shoots a high volume of 3-pointers to a team that focuses on dribble penetration. As a result, they get a significant portion of their offense from getting to the foul line. They have several perimeter players who specialize in it, from Danny Granger, Darren Collison, Paul George and George Hill. They are also a disciplined 3-point-shooting team. They don't take many of them but they make them, shooting at a good percentage.

Zoom. The Pacers will go to "zoom" several times a half. This is where they quickly turn from their preferred tempered approach to playing up-tempo. This is often triggered by dribble handoffs. They use the element of surprise.

Bigs. The Pacers have four quality big men and two energy bigs off the bench in Tyler Hansbrough and Lou Amundson. They also have good general length. As a result they are a good rebounding team, top-10 in the league, and an elite team when it comes to second-chance points. They are not a dynamic offensive team, but with second-chance points and free throws, they get by.

Wing versatility. The Pacers can play with excellent size on the perimeter. They can switch on pick-and-rolls because players like Granger and George can defend point guards. Most of the time they are solid in rotations.
PACERS WEAKNESSES
Low assist team. The Pacers have a handful of players who can create their own shots but they do not execute plays very well. They were one of the lowest assist teams in the league. They try to set up a lot their offense out of the post, but overall their ball movement is not strong. Their guards also are prone to turnovers, though they have improved from last year when they ran former coach Jim O'Brien's "quick" system.

Average in transition. The Pacers won 90 percent of their games when they outscored their opponents in transition, but they only did that about a third of the time. They don't look to run often and aren't very proficient at it.

Hibbert in the pick-and-roll. He has excellent size but Roy Hibbert has poor lateral quickness on defense. Teams should involve him in as much pick-and-roll action as possible.

Foul-prone. The Pacers have a gritty team that works hard on defense but they often get over-aggressive. They committed the third-most fouls in the league. Getting big men in foul trouble can be accomplished and should be a priority.
WHAT THE PACERS NEED TO DO TO WIN
Keep LeBron James and Dwyane Wade off the foul line. They are great scorers anyway; they will make baskets against good defense. But they are at their best when they are able to earn trips to the line.

Dominate the boards and get second-chance points. The Heat have one of the better defensive teams in the league but have some of the worst size. Getting extra possessions is the best way to balance out the talent differential.

Manage turnovers. The Heat can win without getting in transition, but that's usually how they blow you out. If you can limit letting them get free baskets with live-ball turnovers, you will have a better chance of managing the score.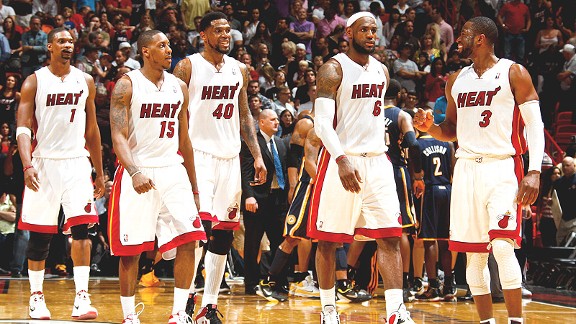 Issac Baldizon/Getty
HEAT STRENGTHS
Transition. The Heat are one of the best teams in transition in the last two decades. James and Wade look to run and work well together in transition. They are so quick and can change directions so effectively that even fouling doesn't always help, because they can usually shake the contact and turn it into a three-point play.

Defensive speed. The Heat have excellent defensive versatility because James, Wade, Shane Battier and Mike Miller can guard multiple positions. It is hard to predict what lineups/matchups they will create because they have numerous wing options. They will attack pick-and-rolls, even with their big men, to reduce dribble penetration and have the athleticism to get out to shooters and challenge shots. They are able to create steals with their length, which is a major goal of their system.

Drivers. James and Wade are two of the most effective drivers in the league. Also, Chris Bosh will look to put the ball on the floor after pump-faking. As a result, it is not unusual for these three to rack up 30-plus free throw attempts a game combined.
HEAT WEAKNESSES
Size. The Heat often do not play a true center and their big men are all generally undersized. Bosh, Udonis Haslem and Joel Anthony all regularly guard players bigger than them. Their fourth big man is often James, who plays parts of most games at power forward. They have problems with teams that have good post scorers and weakside rebounders. These are just about the only area of the game they can be dominated in. They have some bigger bodies on the bench but Erik Spoelstra prefers not to use them.

Defensive over-aggression. The Heat try to get in transition as much as possible and they apply a lot of pressure on defense, often trapping ballhandlers when they come off screens. As a result they gamble and will often give up position. They believe so much in their rotations that they will sometimes lose their floor balance. Also, their general defensive principles call for them to collapse on the ball when it goes to the middle. So you can often pass through their rotations to find an open man, and they will give up open 3-pointers if you can work inside out. You just have to be careful with those passes.

Turnovers. The Heat will give the ball away in part because they look to push the ball in transition a great deal and in part because they are not always an effective half-court offensive team. James will often attempt passes that are high-risk, and Wade is susceptible to steals when he's driving the ball. Both handle the ball a great deal and both have periods when they are loose with it, allowing vital transition chances for the opposition.
WHAT THE HEAT NEED TO DO TO WIN
Control Indy's bigs. The Heat will have a hard time winning the rebound battle; just playing even would be a victory. The Pacers rely on second-chance points as a significant portion of their offense. Hibbert is not a dominant player but has the ability to take over games at times with interior scoring. The Heat will have to attempt to limit his and David West's effectiveness.

Contain dribble penetration. Weakside defense is important when playing Indiana; you have to have help defenders ready because the Pacers prefer to attempt to drive from the perimeter. This is how they are able to get to the line, forcing fouls off the dribble. They need free throws and second-chance points because they don't have great individual scorers. Staying out of the bonus is important.

Apply pressure. The Pacers have a tendency to lose their focus and their patience. They can give up big runs and have their spirit broken. They are not a veteran team and most of their players have not played deep into the playoffs. The Heat have the ability to throw haymakers because of their talent and their athleticism. The Pacers have shown they can be shaky under pressure.
SCOUTS' PICK: Heat in five.