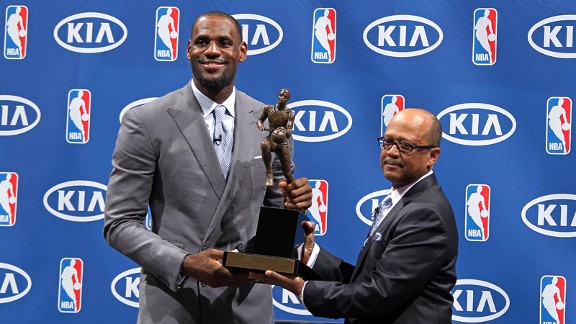 Nathaniel S. Butler/NBAE/Getty Images
LeBron James' third MVP award would be a lot sweeter if he had an O'Brien trophy to go with it.
MIAMI -- LeBron James' teammates gathered before Saturday's practice and prepared to congratulate the Miami Heat catalyst for becoming only the eighth player in NBA history to win a third MVP award.
But James beat them to the punch.
"He really didn't come in like, 'Yeah! I won,'" Dwyane Wade said. "He's not that kind of guy. He came in this morning and congratulated everybody on our team. Obviously, he knew this is something he couldn't do without everybody. He's humbled by it."
James spent Saturday's news conference to announce his latest MVP award making sure everyone within earshot knew just how much he believed the game's ultimate individual honor was a byproduct of his team's success.
Starting Sunday, the Heat's supporting cast can continue the process of setting James up with essentially the only accolade that has evaded him through his first eight seasons: a championship. The Heat take the next step toward that goal when they open their conference semifinal series against the Indiana Pacers in Game 1 on Sunday (3:30 p.m. ET, ABC).
James was equal parts stoic and emotional as he accepted his third Maurice Podoloff trophy in four seasons on a stage set up at midcourt in AmericanAirlines Arena on Saturday. But James was also 100 percent adamant he no longer has much use for that specific award. He was determined to get back on that same court the next day in his quest for the Larry O'Brien trophy in the NBA Finals.
Of the eight players who have won at least three MVP awards -- Bird, Magic, Kareem, Wilt, Moses, Jordan and Russell -- LeBron is the only one without a championship. Only three non-active MVP winners have left the game without a title: Karl Malone, Charles Barkley and Allen Iverson.
It's those types of statistics that motivate James more than maintaining the 27.1 points, 7.9 rebounds and 6.2 assists per game in one of the most efficient seasons any player has ever had. It was also why James was in such a giving mood as his teammates, coaches, relatives and friends surrounded him.
James not only donated the Kia sports utility vehicle that comes with the MVP award to one his youth charities, he was also willing to give away the heavy trophy he hoisted.
"It didn't take another MVP trophy for me to want an NBA championship," James said when asked if winning a third MVP only increases the pressure to win a title this season. "I'd give all three of them back for an NBA championship. I'm all about team. That's all I care about. That's all I know. This game is all about team. And the ultimate team goal and the ultimate team trophy is the gold ball we see at the end of June every year. I'm humbled to be in this class, to have these trophies and to receive it this year. But I'll give them all back for an NBA championship."
Now Wade, Chris Bosh and the Heat's supporting cast must prove how valuable they can be this season. James put this team on his shoulders much of the season and carried them to the second-best record in the Eastern Conference despite injuries to Wade and the least productive seasons from many of the Heat's other players.
James got this team through the first round of the playoffs with MVP-like numbers in a five-game series win over the Knicks. But the test, obviously, only gets tougher from here. They'll start with a feisty Pacers team, which could be followed by the resurgent Celtics before a potential showdown with any number of problematic teams out West.
So much of James' first season with the Heat was defined by his controversial decision to leave Cleveland for Miami. The Heat no longer talk about the disappointment from last season. They entered this season and these playoffs with a championship-or-bust mindset.
"We want to win it for us, for the organization and we definitely want to win it for him," Udonis Haslem said. "He's done everything he can as an individual to put himself in position to win a ring. And for whatever reason, it hasn't been his time. As a unit, we definitely want to come together and add [a title] to his collection."
Heat assistant coach Bob McAdoo, one of the league's most prolific scorers early in his career and was a perennial All-Star who won the MVP in 1975, knows the quest James is on.
"All of that was great along the way," McAdoo said Saturday. "But the question eventually for me was, 'When am I going to get somewhere where I have enough talent around me to help win a championship?' It wasn't until I got to the Lakers [1982] and played with Magic and Kareem and those guys when I finally won one. That makes all the difference in the world, to win one."
McAdoo believes James has the pieces around him -- and the will within him -- to overcome any past shortcomings.
"Everybody feels that we all have a responsibility," Heat coach Erik Spoelstra said. "We're all in this together and everybody has got to pull and take their part of the rope. We're all honored and feel very grateful and fortunate that we're in this boat together."
Perhaps no one on the Heat's current roster is better equipped than Wade to break down the distinction between being the best player in the regular season and one who guides his team to a championship. Steve Nash was the league's MVP during the 2005-06 season, but few would debate that anyone was better that year than Wade, who went on a historic postseason tear, led the Heat to a title and was named MVP of the Finals.
Wade was jokingly asked about comparing his Finals MVP to the three regular-season awards James owns. He said there essentially is no comparison.
"I don't give him any flak about it at all," Wade said. "I think that he's honored to have all three of them. But no question, a lot of players who ever got regular-season MVP and have never been able to get that Finals, that championship, they'll trade it for that. He's still got a lot of years left, so I'm not sure he'd trade [them] in just yet. But I would."