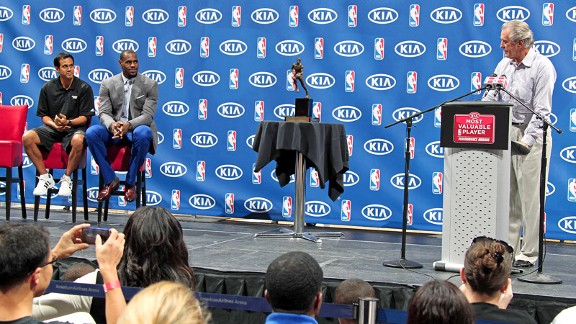 Nathaniel S. Butler/NBAE/Getty Images
Heat president Pat Riley sees LeBron James facing challenges other three-time MVPs didn't.
MIAMI – It's hard to put in perspective what LeBron James has done at such a young age, but Pat Riley might offer the best insight.
When James put his hands on his third MVP award on Saturday afternoon at AmericanAirlines Arena, he stood on the stage taking photos with the trophy and his 7-year-old son, LeBron Jr. He looked distinguished on the stage, speaking like a polished politician and reflecting on his decorated NBA career as if he retired decades ago.
As hard as it is to believe, James is still just 27 years old. His career might not be even halfway through.
When the announcement came that James would win his third MVP, his name was immediately aligned with the all-time greats who have also won three MVPs in their career. Michael Jordan. Kareem Abdul-Jabbar. Bill Russell. Wilt Chamberlain. Larry Bird. Magic Johnson. Moses Malone. And now James.
But before we can fully appreciate the historical value of James' accomplishments and his company, critics will bring up the elephant in the room: James is the only one without a championship to his name.
For many, that James hasn't won a championship yet matters matter than his accomplishments. To some, what James hasn't done is more important than what he has done.
And that's a shame to Riley, the 67-year-old Heat president who made it known at Saturday's news conference that he has been a teammate, coach (for or against) or executive with all eight players on the exclusive list of triple MVP winners. Riley has won seven championships over his NBA career and has worn every hat from player to coach to broadcaster. But he's never seen anything -- the incessant doubt, criticism and scrutiny -- like what James has gone through despite his successes.
"It's maddening," Riley said. "It has to be maddening for a lot of these guys that are at his level to be judged like that. He's part of this culture, this information revolution and all the toxic data that he has to deal with that's out there."
Riley fondly remembers the days when every action wasn't scrutinized and picked apart in front of the world. Perspective is hard to come by in this day in age with social media, 24/7 news cycles and legacies being rewritten faster than you can say "Twitter."
"We never had to deal with that," Riley said of the constant coverage. "We would give [the media] a story, give the interview to a writer and read it in the paper the next day. And it was great. Now it's just unbelievable."
Riley remembers another superstar who was prematurely written off early in his career and faced similar scrutiny, if not to the same volume.
His name? Michael Jordan. As the story goes, when Jordan was James' age at 27, the Bulls star wept in the back of the Chicago's team bus wondering if he'd ever win a championship. Jordan, who had already won an MVP at the point, had just lost to his arch-rival Detroit Pistons for a third time in the playoffs. At 27, the championships hadn't come yet for Jordan. The parallel to James might not be obvious to some, but Jordan also fought the label of being a postseason failure.
As a Lakers coach in the 1980s, Riley faced Jordan during his more trying years before he became known as the greatest basketball player and winner who ever lived.
"I remember [Jordan] winning it," Riley said referring to Jordan's first championship. "And the first words that came out of his mouth was that this was the most difficult thing that he ever accomplished. The storyline was that he finally became a team player. That's what the storyline was. All those years he averaged 28, 30, 35 a game but he could never win anything. And then, all of sudden, he won."
And then, as Riley tends to do when telling stories, he drew an analogy.
"It's like when you fill a bathtub up with water and you forget about it, you walk out of the room," Riley said. "What happens? It overflows. And he overflowed for the next six, seven years. He won six out of seven titles. By being a team player? Nah. He did it by being Michael Jordan."
Riley expects James to experience a similar overflow and the script will change.
"I think he'll get his championship," Riley said of James. "There might be a lot more, too. He's 27 years old and he's got 10 more years, at least, ahead of him at a very high level. That's what I want to see for him. That's what I'll be cheering for."
No matter what James does in his career, it seems his lack of a championship ring will always stick out amongst those players with three MVPs. But that isn't entirely fair. Comparing the championship count of someone who hasn't even entered his prime to a retired Hall of Famer is no different than comparing the Rolling Stones to the Beatles, but using only the Rolling Stones' first decade for discussion.
A more nuanced way to frame James' career thus far is to point out that only Abdul-Jabbar had won three MVPs at a younger age. Chamberlain and Malone both won three MVPs before ever winning a title. Furthermore, Jordan, Chamberlain and Malone hadn't won a title at James' current age.
Dwyane Wade, 30, could only shake his head when talking about James' achievements.
"It's amazing he's now about to hit his prime," Wade said. "It's amazing what he's been able to accomplish thus far, and I know he has so much more that he wants to accomplish. There's no secret about that."
Shane Battier, who may be the only more knowledgeable NBA historian than James, believes that James has faced unjustified scrutiny.
"There's never an athlete like him," Battier said at Saturday's practice. "He is the first megastar of the information age. All perspective on his accomplishments and overall greatness was lost by the time he left St. Vincent-St. Mary's. It's tough to describe him and really grasp what he's done and his third MVP. That's unfortunate, but it's a byproduct of having all of this information and living in this digital age."
James has taken part of the digital age with his Twitter account and creating a digital TV show in the past. But more recently, you can catch him pregame in the locker room reading "West By West," the autobiography of Lakers legend and NBA logo Jerry West. Of course, the connection isn't lost on anybody. West lost in the Finals six times before finally winning it all in 1972. Riley, of course, was his teammate at the time.
James will always fight the perception that he can't win the big one, until he actually clutches the Larry O'Brien trophy. For now, he owns a fleet of individual accolades, including his third MVP trophy, but those mean very little at the moment. James has taken a hard road to get where he as, the same road that Jordan and West traveled. The road ahead in 2011-12 might finally lead to his ultimate destination as a world champion. And maybe then, the bathtub will overflow.
"I'd give all three of them back to win an NBA championship," James said of his MVP awards. "It's all I care about. It's all I know.