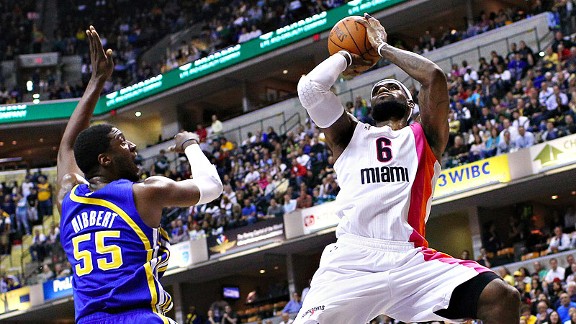 Michael Hickey/US Presswire
Which will prevail in the series? Roy Hibbert's height or LeBron James' versatility? Pacers or Heat?
In another installment of the Heat Index's 3-on-3 series, our writers give their takes on the storylines before the Heat host the Pacers in Game 1 of the Eastern Conference semifinals.
1. Fact or Fiction: Frank Vogel should regret his flop comments.
Tom Haberstroh: Fiction. I applaud him sticking to his guns and reiterating his sentiment the following day. The Heat were going to attack Roy Hibbert a hundred different ways regardless of what Vogel said and I don't see a few words changing their mentality. Although I disagree with Vogel's opinion that the comments were harmless. The $15,000 fine did some harm to his bank account, I'm guessing.

Michael Wallace: Fiction. Frank's a grown man. He said what he meant, and meant what he said. Now, his only hope is that his team plays as tough as he talked. If so, it was well worth that $15,000 he was fined by the league for speaking his mind.
Brian Windhorst: Fiction. Why? Maybe because his wife was angry when he told her he got fined 15K for it. Otherwise, it's just gamesmanship. This is Vogel's style. He's been brash since he got the job. His players seem to respond to it.
---
2. Fact or Fiction: Miami can successfully combat Indy's size advantage by going small.
Haberstroh: Fact. Hibbert is huge, don't get me wrong. But I wouldn't be surprised if he got in foul trouble early and often in this series, considering his inability to consistently stay with ball handlers in the pick-and-roll or control his body around the rim. Erik Spoelstra insists that the Pacers have to deal with the Heat's personnel and not the other way around. I think he's right on the money.
Wallace: Fact. Only because the Heat are the better and more experienced team. No matter what lineup they use, however, it will be small by comparison to Indiana's lineup with 7-foot-2 center Roy Hibbert. The Heat must rebound regardless.
Windhorst: Fact. I think so, at least. I think the Pacers will get their licks in and probably win the rebounding battle overall. But at this point in his career, Roy Hibbert has not proved he can dominate games regularly with his size. He's improved but he rarely just takes over, which is sorta what the Pacers need him to do here. What has been proved is that athleticism can give him and David West some problems.
---
3. Fact or Fiction: the Heat will win in six games.
Haberstroh: Fiction. I have the Heat in five. I'm not convinced that Hibbert and David West will pose as many problems as some do. This will be a fascinating game of chess between two young coaches. I see the Heat calling checkmate in five games on their home floor.
Wallace: Fact. I really don't prefer to make playoff predictions, so I'll let the facts speak for themselves. No team in the East has won more than one playoff game against Miami in the Big 3 era. The Pacers are capable of bucking that trend and winning two.
Windhorst: Fiction. I'll say five. I have some history on my side: The Heat have done it four times in a row versus East teams in the playoffs.