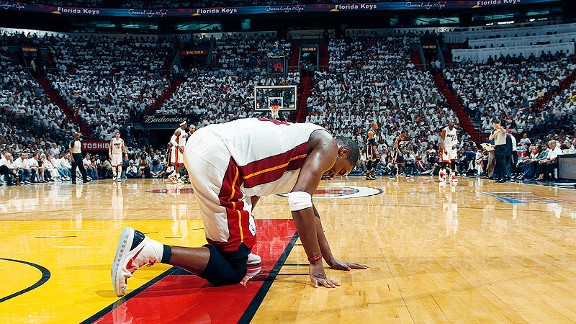 Issac Baldizon/NBAE/Getty Images
Miami needs a pick-me-up if Chris Bosh is out for significant time. Can they pull it off against Indiana?
Heat coach Erik Spoelstra often says that Chris Bosh is the most irreplaceable player on the Heat. Not best, but most critical.
With Bosh leaving Sunday's game with a lower abdominal strain, we'll find out how vital he is to the Heat. To be clear, abdominal strains are one of the trickiest injuries in basketball. Sometimes they knock out a player for a day (like what happened Jazz big man Al Jefferson this season). Sometimes they knock out a player for three weeks or more (like what happened to Kevin Garnett in 2008).
Depending on the severity of the strain revealed on Bosh's MRI, he could be out anywhere from a day to a whole month. A month on the sideline would likely mean he's done for the season. The best guess at the moment is that this abdominal strain will probably keep him out for the rest of the Pacers series, but we'll know more about it after the Heat's practice on Monday afternoon.
So if Bosh is out for the rest of the series, what does that mean for the Heat?
They still have LeBron James and Dwyane Wade
This is pretty obvious, but James and Wade are pretty good at basketball. Any time you can have two perennial MVP candidates wearing the same jersey, that team's chances are pretty good regardless of how much overlap they bear in playing style.
This notion was solidified on Sunday, when the James and Wade outscored the Pacers by themselves in the second half. Yes, James and Wade combined for 42 points after halftime while the entire Pacers team scored just 38 points. Riding the dynamic duo, the Heat absorbed Bosh's injury and squeaked out a win over the fifth-winningest team in the NBA this season.
Is that success sustainable? It actually might be. Looking at the regular season, we find something interesting: the Heat blew out teams with James and Wade on the floor and Bosh sidelined. When the Big Three was reduced to the Big Two for 235 minutes on the court this season, the Heat scored 120.8 points per 100 possessions while giving up only 99.8 points per 100 possessions according to basketballvalue.com. Said another way, the Heat beat opponents by 17.8 points every 48 minutes when James and Wade played without Bosh. Looks like addition by subtraction, no?
Well, we have to be careful here. The James-Wade tandem preyed on opponents partly because they played against second units. The Heat obviously want the Big Three on the floor as much as possible against the opposing teams' best lineups, so the Bosh-less units usually came against bench players in the regular season.
For this reason, there's no sense in thinking that the Heat can continue that torrid pace here in the playoffs against the cream of the crop. And the sample size isn't huge (for reference, it's about one-tenth the size of our sample looking at Carmelo playing without Amare). But 17.8 points every 48 minutes is a strong indication that James and Wade can hold their own.
OK, so what does it mean for this series?
Now that we're done with the overview stuff, let's talk details. Bosh was particularly valuable in this series because of his ability to hit a jump shot and pull gentle giant Roy Hibbert outside the paint. With Bosh out, they're forced to rely on Udonis Haslem, Ronny Turiaf and Joel Anthony to set picks and hope that the defense doesn't double-team the ball-handler (which would typically be James and Wade).
We saw a lot of this in Game 1 on Sunday. With no reason to follow Turiaf or Anthony at 18 feet, Hibbert just camped out in the paint and waited for James to approach. Couper Moorhead of Heat.com did a fantastic job of breaking this play down with video. When Hibbert gave James space, the MVP took advantage by pulling up for clean looks in the midrange. That's not a shot Spoelstra wants every time, but giving James space is never a bankable plan.
The Heat won't find someone to replace everything that Bosh does, but Haslem was supposed to be a serviceable understudy. As a gifted midrange shooter and tenacious rebounder, Haslem fit the role as a solid backup power forward who could offer some floor-spacing with his jump shot. But Haslem's shot has been broken for some time now; he's shooting just 3-for-12 (25 percent) on midrange jumpers in the playoffs (via Hoopdata.com). Bosh he is not.
But Turiaf and Anthony should see a big boost in minutes. When the task is to catch-ball-dunk-ball, Turiaf and Anthony can be useful (Anthony has been playing as if his hands had been recently dipped in glue). Asking them to do anything outside the immediate basket area is a fool's errand, although Turiaf can dish it out to shooters. If they can catch James' and Wade's dump passes when Hibbert and David West collapse onto the ball-handler, that could go a long way to decongesting the offense.
James at power forward: power outage concerns?
James isn't a known as a power forward by trade, but he has the strength and size to be the league's most effective 4 if he wants. Don't believe me? James has a 29.1 player efficiency rating (PER) as a small forward this season according to 82games website. At power forward? James' PER soars to 37.1, which is simply off-the-charts good.
With the size of Karl Malone, James can be a monster on the block when he wants to be, thanks to his improved postgame footwork and ability to pass out of double-teams. We saw James at the 4 for 20 minutes in Game 1 on Sunday and the Heat outscored the Pacers by 15 points. The Pacers tried to stick Danny Granger on James and assign West to take Shane Battier on the perimeter, but removing a big body like West from the paint area is just asking for a Wade or James basket attack.
Rest assured, the Pacers will make adjustments in Game 2. While the Heat could start James at the 4 spot in Game 2, the Heat must be careful about James' stamina. They do not want him burning all his energy trying to body up West on the block, then expecting him to shift into higher gear on offense with Bosh out.
With Battier in the fold, the Heat's No. 1 priority this season was making sure they found relief for James and keeping his minutes down in the playoffs. Asking James to battle West for 45 minutes isn't part of that plan, but Spoelstra might not have any choice. They'll be glad now that they were extra careful about James' minutes in the Knicks series.
At the end of the day, this is Spoelstra' great dilemma: Can the Heat survive and prevent James from burning out in the Finals again? That's the big question. The Heat might have enough to get by the Pacers, because James at the power forward slot might be their best option in the first place, but at what cost?
Getting past the Pacers without Bosh is the Heat's current priority, but it's not the only one. They have enough talent to prevail in this round, but the bigger question might be whether they'd be running on empty thereafter.