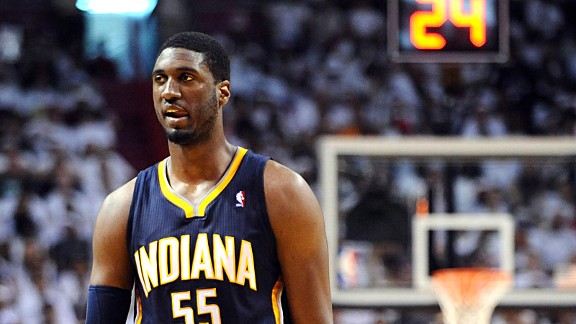 Steve Mitchell/US Presswire
For Roy Hibbert, Game 2 against the depleted Heat is more than just a game. It could be his big break.
MIAMI -- Indiana Pacers center Roy Hibbert is in the middle of a group of players who will be free agents this summer who have a hard-to-determine value.
He's in the same class as fellow big men like Ersan Ilyasova, Ryan Anderson, Brook Lopez and JaVale McGee. All have somewhat accomplished resumes but it's hard to judge where each is in their development and just how much their rare size is worth in a market where no less than a dozen teams acould have $10 million or more in salay-cap space. Those are going to be some interesting negotiations.
Hibbert, though, has a chance none of his peers do. What he does over the next two weeks could put him at the head of that class and add millions to his next deal. He has a chance to elevate his team and do it against players that should not be in his league. It's a green light to show that he can be a difference-maker in a playoff series.
With Miami Heat big man Chris Bosh likely sidelined for the rest of the series with an abdominal strain, Hibbert will not have a peer on the floor to battle him. The Heat will be probably deploying a mixture of Ronny Turiaf, Joel Anthony and/or Udonis Haslem. If Hibbert is truly an All-Star and a player worth an eight-figure per year salary, he should be become a force and perhaps tilt the series.
In Sunday's Game 1, Hibbert fought foul trouble and only played 28 minutes, getting just 12 shots. He scored just seven points in the second half, when the Heat played without Bosh. He still had 17 points and 11 rebounds. With no Bosh, there's little reason that shouldn't be his low watermark in the series. There's enormous room for more production.
Pacers' coach Frank Vogel got some consideration for Coach of the Year after he had his team play a well-rounded style that led to the fifth-best record in the league. But you don't have to be John Wooden to know that increasing Hibbert's touches and attacking the Heat's weakness at center would be at the top of the game plan starting Tuesday night.
Unless the Heat dust off Dexter Pittman, a little-used and under-experienced center, or Eddy Curry, a project the team seemed to abandon months ago, Hibbert is going to have a massive size advantage on his competition. Also, without Bosh to defend in pick-and-rolls, there's no reason for Hibbert to respect the offensive game of Turiaf, Anthony or Haslem and it should keep him from getting out of position as much as when he had to be active in dealing with Bosh. That's his biggest weakness and why he's often in foul trouble.
The Heat did not double team Hibbert much in Game 1, doing so upsets their floor balance and leaves them vulnerable on the perimeter. Hibbert said Monday he doesn't expect routine double teams anyway, the Heat usually just front him and try to deny entry passes.
But with the size advantage, none of this should really matter. Hibbert may never get another chance like this to prove his value. A guy who was a project when he came into the league who just hoped to hang on to a job, he's put in a great deal of work to alter his body and become both stronger and more nimble. He's worked on his post moves, he can now score with both hands around the rim. It's been an impressive transformation, getting the All-Star nod this year was a vindication of his potential.
But it's all been building to this, working and getting better and learning to use his 7-foot-2 inch body and figuring out how succeed in a game with players more talented than him. This is the biggest moment of his career thus far.
Marc Gasol's payday last offseason could demonstrate what could be at stake for Hibbert. Last year, Gasol had a breakout postseason for the Memphis Grizzlies, increasing his scoring average from the regular season and showing that he was no longer an overweight project but a bona fide franchise center in the Grizzlies' surprising playoff run. Two months later, Gasol signed a four-year contract worth $58 million. A year before, it would've been hard to believe. When the deal was announced, though, most felt it was a smart move.
Gasol had a 24-point game and two 17-rebound games against the San Antonio Spurs to help pull the upset in the first round. Then he had two 20-point, 10-rebound games in a seven-game series with the Oklahoma City Thunder including a 20-point, 20-rebound night.
These are the kinds of performances the Pacers need from Hibbert to have a chance to pull their own upset in this series. He's hinted before that he's capable, his chance is now. And unlike Gasol, he won't have to do it against a front line that includes a defender with size like Tim Duncan or Kendrick Perkins. Unless the Heat change their strategy and start bringing aggressive double teams, Hibbert is going to have the edge.
The Pacers are going to need help. They'll need something more than 1-of-10 shooting from Danny Granger. They need more than two points in the fourth quarter from David West. They need Paul George to stay out of foul trouble, too.
But the key to this series from the Pacers' standpoint is clear. Hibbert has a chance to shine or make suitors wonder if he's got what it takes.