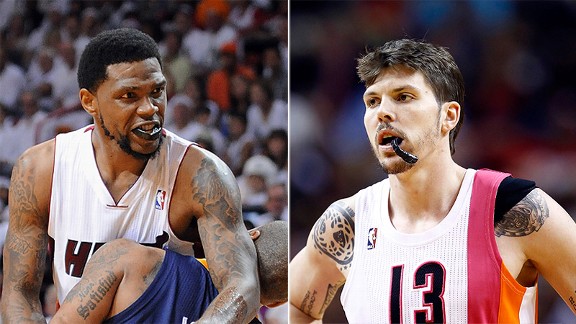 Getty Images, US Presswire
Once part of a historic free-agent haul, Udonis Haslem and Mike Miller haven't been themselves lately.
MIAMI -- The Heat weren't supposed to be this top-heavy.
The loss of Chris Bosh has ripped a gauze pad off Miami's hidden wound, exposing the Heat's thin depth behind the Big Three. In the Heat's first full playoff game without Bosh, the team's third-highest scorer tallied a putrid five points. According to STATS LLC, that's the first time in Heat franchise history that only two players scored more than five points in a game. According to our friends at ESPN Stats & Info, a team has never won a postseason game with that type of scoring distribution.
Use any statistic you please, what's clear is that the Heat have a pressing issue on their hands. It's just one game, but Game 2's lopsided scoring distribution reinforces the fact that the Heat are desperate for any help from their supporting cast.
It wasn't supposed to be this way.
In the summer of 2010, Udonis Haslem and Mike Miller were signed to five-year contracts worth a total of $45 million to act as relief and support for the Big Three. They were hired to be cushions for the Big Three, there to protect them with shooting and balance. We're in just Year 2 of those deals, and whispers of the dreaded "washed up" label can't be too far away for Haslem and Miller, who are 31 and 32 years old, respectively.
Haslem's 5.8 PER is the worst rating among the dozens of big men with at least 125 minutes logged in the playoffs. Miller has scored more than four points just once over his last five games and is shooting 33 percent from the floor in the playoffs.
So what happened? We'll take it one struggling ballplayer at a time.
Udonis Haslem
Haslem maintains he is 100 percent. After he chatted with Pat Riley on the sideline at Wednesday's practice, I asked him whether there's anything physically limiting him on the court, and he responded sternly.
"I'm fine, I'm fine," he said. "Nothing's wrong with me. I'm fine."
In this case, actions might speak louder than words. What his actions on the floor suggest is that something is keeping him grounded. Literally. Haslem, who was once one of the league's more efficient big men, has seen his field goal percentage plummet this season to 42.3 percent. In the playoffs, his conversion has sunk even lower; he's shooting 33.3 percent in what Erik Spoelstra likes to call "the second season."
What should concern the Heat is that the opposing team always seems to throw a block party when Haslem gets the ball underneath. And it's not just because 7-foot-2 Roy Hibbert has anchored Indiana's front line. This has been a season-long trend. When we pull up NBA.com's stats tool, we find out that a whopping 20 percent of Haslem's shots in the paint have been blocked this season, which is the third-highest rate among qualified big men in the league. (Only Brandon Bass and Ivan Johnson were swatted more). That's one out of every five shots. That's also double the rate we saw before he was injured last season (10.3 percent). In his last full season in 2009-10, that number stood at 12.5 percent.
As a result of all the blocked shots, his field goal percentage on shots in the paint has dwindled to a mere 46 percent, which is far below the 54.5 percent average among bigs. More and more we see Haslem retrieving an offensive rebound (often off his own misses) and passing it out to the perimeter instead of going back up with it. While that might be the smarter move, it's also one that might not have happened a couple of years ago.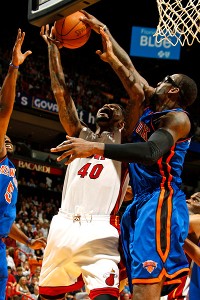 Issac Baldizon/NBAE/Getty Images
Udonis Haslem has been blocked more than ever this season.
Then we get to that jumper. The herky-jerky shooting motion has never been a thing of beauty, but it always seemed to get results. Not so much lately. So far in the postseason, he's shooting a putrid 27.3 percent on jumpers, according to Synergy Sports, which is down from his rate of 36.2 percent in the regular season. Before going down with a foot injury, Haslem nailed 50.9 percent of his jumpers, making him one of the best knockdown midrange shooters in the league.
What's the cause of his jumper's demise? It could be a matter of balance and follow-through as his former trainer and current ESPN Insider David Thorpe observed in January. Although Haslem started hitting shots soon after that article was posted, his proficiency has hit rock bottom yet again.
This is not the Haslem the Heat thought they were getting when they signed him to a contract that extends to 2015. The fire, heart and leadership that earned Haslem a co-captain designation? That's still there. That should never be doubted with Haslem, the team's hard-nosed leader and rock of the franchise. The production, though? That's been missing for some time now. The 12 minutes he received in Game 2 spoke wonders about where he fits into the Heat's current plans.
So what happened to Haslem? It's hard to say. Again, Haslem insists that he's healthy, but that foot injury required several surgeries over the past year or so. The increase in blocked shots suggest that he doesn't have the same burst that he used to. His strong rebounding numbers might tell us that he's not hurting at all, but Haslem's rebounding has always been a product of expert positioning and effort, not bounce.
The Heat need Haslem's shooting more than ever now that Bosh is sidelined. He's giving no reason for Hibbert and David West to follow him after a pick-and-roll. As is, the Pacers bigs are more than happy to throw an extra body in the way of LeBron James and Dwyane Wade, rather than stick to Haslem in the midrange. The Pacers are making it clear that they don't feel he's a threat from there anymore. And it's hurting the Heat's attack.
Mike Miller
Miller and Haslem find themselves in the same boat, which is appropriate since they were college roommates at Florida. After receiving a multiyear deal to flank the Big Three, Miller has barely played a healthy minute on the floor. In Game 2, he grimaced as he trotted up and down the floor with a noticeable limp, perhaps due to a lingering soreness from his left ankle injury that forced him to miss 14 games in March and April.
Miller, like Haslem, maintains that he is healthy. The hobbling in Game 2 suggests otherwise, and there's little doubt that it's sapping his game. The Heat recruited Miller because of his shooting stroke and ballhandling ability. Upon his signing in July 2010, Riley gushed about Miller's skill set, calling him the finest perimeter shooter in the NBA and the signing as "a match made in heaven."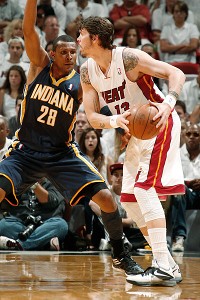 Issac Baldizon/NBAE/Getty Images
Mike Miller hasn't been the dynamic ball handler he once was.
"He is a multifaceted player who can rebound, handle the ball and make plays," Riley said that summer. "We expect big things from him."
The shooting stroke is still there -- he's shooting 36.7 percent from downtown in the playoffs and 45.3 percent in the regular season, but the ballhandling and playmaking skills that the Heat were sold on? We've haven't seen that in months.
If you have any doubt that Miller's ankle is bothering him, chew on the following information. In Game 2, Miller played 17 minutes. In those 17 minutes, guess how many times he dribbled in the half court?
Four.
And he lost the ball on three of those dribbles, causing two turnovers.
Think about that. Four dribbles in 17 minutes.
Miller, who used to play de facto point guard during his days in Memphis, played 17 minutes in Game 2 and successfully put the ball on the deck once in the half court. (I say half court because he caught an outlet pass and dribbled twice on one occasion before passing the ball past half court). As has been true for a while, Miller's role on the team has been reduced to a corner 3-point shooter, camped out and waiting for the kickout from James or Wade.
This is a significant problem for the Heat, because once Bosh went down, they have had no one who can create their own shot besides James and Wade. It's gotten so bad that the team is forced to rely on rookie Norris Cole, who shot 34 percent after the All-Star break, for buckets off the bench. Sure, Cole can create his own shot, but making the shot has been a different story -- although it should be mentioned that he made both of his attempts in Game 2.
When the Heat signed Miller and Haslem, there was no way of knowing that they were going to battle injuries for almost all of their first two seasons in uniform. Between the foot, ankle and shoulder injuries and the concussions, there's a ton of bad luck involved. But you always run that risk when you sign veterans on the wrong side of 30 to five-year deals. Thanks to injuries and age, the multidimensional players they thought they were getting have become increasingly limited as basketball players.
What the Heat need now is Miller and Haslem to step up if they hope to escape out of the Eastern Conference semifinals. There's still time to get healthy and reverse the trends.
But the more they limp up the floor and get swatted underneath the basket, the more it appears that time might be running out.