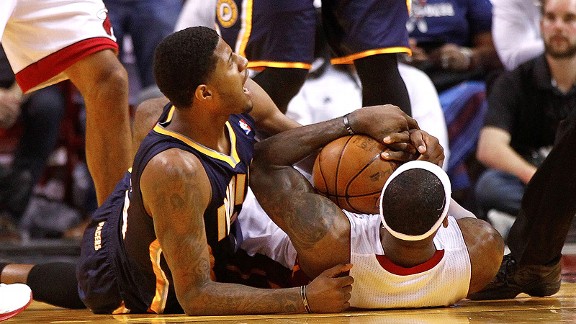 Mike Ehrmann/Getty Images
As we approach Game 3 between Miami and Indiana, is this series a jump-ball at this point?
In another installment of the Heat Index's 3-on-3 series, our writers give their takes on the storylines before the Heat visit the Pacers for Game 3 of the Eastern Conference semifinals.
1. Fact or Fiction: Dwyane Wade should have been suspended.
Tom Haberstroh: Fiction. Although, I've gone both ways on this one. Darren Collison decelerated slightly for the pass, so I'm not sure it was all Wade's fault for the sheer velocity of impact. But I can't shake the feeling that this wasn't a fully objective ruling. I keep asking myself the following three "What Ifs": What if Collison and Wade switched places? What if Chris Bosh wasn't out indefinitely? What if the Heat were up 2-0 instead of split in the series? We'll never know.

Michael Wallace: Fiction. I thought a Flagrant 1 was adequate punishment to fit the crime. As it turned out, that extra possession Indiana got as a result of Wade's message-sending cheap shot ended up costing the Heat in a 3-point loss. I will say this: Had Wade or LeBron been hit from behind like that, my guess is the call would have been more harsh under the same circumstances.
Brian Windhorst: Fiction. It was a cheap shot hit and was properly called a flagrant foul. It would've been interesting had it been called a flagrant-2 foul and they had to review it and decide whether Wade should've stayed in the game. Joey Crawford was all over the play, made the call and the league stood by him. It was proper.
---
2. Fact or Fiction: Heat need Haslem to step up more than Miller
Haberstroh: Fact. Haslem has played worse than just about anybody left in the playoffs and the Heat don't have anyone who can score underneath. If they can just get Haslem to provide 10 points with some mid-range jumpers and put-backs, it would open up so much in LeBron James and Wade's games, especially in the pick-and-roll.
Wallace: Fact. Only because Shane Battier, Mario Chalmers or James Jones are capable of giving Miami the shooting Mike Miller is supposed to provide. With Chris Bosh out, Miami doesn't have any other bigs who as effective as Haslem could be in the pick-and-roll game with Wade and LeBron. Who else is going to grab 10 rebounds if needed? Haslem must first give Erik Spoelstra a reason to play him more than the 12 minutes he got in Game 2.
Windhorst: Fact. Well, the Heat need somebody to step up, anyone. But Haslem would be a bigger boost because if he was able to get his jumper going he would be a threat in the pick-and-roll game. With Bosh gone, the Heat's favorite play has been gutted because the Pacers do not respect whoever is in the play unless it is Wade and LeBron.
---
3. Fact or Fiction: This series is a 50/50 toss-up at this point.
Haberstroh: Fact. I would say that a breakout game of the Heat's supporting cast is just around the corner, but I look at Haslem and Miller limping up and down the floor and I can't help but wonder if there's something more that's plaguing this team. The Pacers are healthy, hungry and home for the next two games. This is a toss-up, to me.
Wallace: Fiction. I'd go 55/45 still in favor of the Heat. Miami still has the league MVP in James and a top-5 player in Wade on the roster. Two more baskets from anyone else on the roster the other night would've put the Heat ahead 2-0 right now. You could also look at it another way and say that if the refs didn't hold back Indy in Game 1, the Pacers could also be up 2-0. So in essence, that does mean this thing is essentially anyone's series to win.
Windhorst: Fiction. The Heat have the two-best players and overall more experience. They still have the edge but it is much closer, there's a much smaller margin for error with Bosh out.