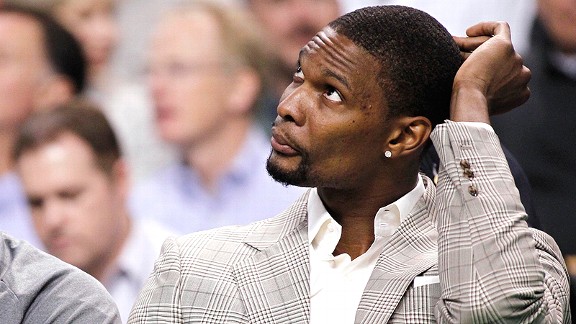 Greg M. Cooper/US Presswire
After two straight Miami losses, we're seeing how valuable Chris Bosh is to the Heat.
The only person who might feel more validated than the members of the Indiana Pacers after Thursday night is none other than a player from the losing side: Chris Bosh.
Since joining the Miami Heat in the summer of 2010, the power forward has absorbed all sorts of harsh criticism from seemingly every corner of the basketball world.
He's soft! He's riding the coattails of LeBron James and Dwyane Wade! He isn't qualified to be in the Big Three!
And yet, what's abundantly clear now is that the Heat might not go anywhere unless Bosh rescues them from this series. Since losing Bosh during Game 1, the Heat have been outscored by 22 points in Games 2 and 3 with Bosh missing in action. The Heat's offense is in disarray and the team turmoil came to a boiling point when Wade, the face of the franchise, had to be restrained from coach Erik Spoelstra on the bench on national television. All with Bosh out of the picture, nursing an abdominal strain that could keep him out for weeks.
Who's riding whose coattails?
Unfortunately for the Heat, Bosh's potential rescue isn't likely to happen anytime soon, and there's a chance he might not return in these playoffs. What Wade's meltdown and the Heat's 19-point loss Thursday underlined was the fact that the Heat desperately miss what Bosh brings to the table.
As a smooth-shooting power forward, Bosh functioned as the team's stabilizer and, perhaps more importantly, the scoring buffer between Wade and James. Spoelstra has insisted over the last two seasons that Bosh, not Wade or James, is the most vital player on the Heat roster. But each time the coach made that statement, the declaration was usually met with an air of mocking skepticism.
Bosh, the most valuable Heat player? The guy who averaged 18.0 points and 7.9 rebounds this season after averaging 24.0 and 10.8 in 2009-10? The guy who scored over 30 points just twice this season? The guy who promised in the preseason to average 10 rebounds a game this season and couldn't even average eight?
Yes, that guy.
Though often a punch line and target of ridicule, Bosh thrives in the most important play in professional basketball, the pick-and-roll. When Bosh went down, the Heat also lost one of their greatest weapons in the halfcourt: a simple screen for James or Wade to give them space to work their magic. Bosh has been replaced by non-scorers in Udonis Haslem, Joel Anthony and Ronny Turiaf, and the Heat offense has never looked so clogged.
Bosh is often labeled as soft because of a finesse game that includes a consistently effective mid-range jumper. Among the dozens of players with at least 100 shots from 10-15 feet this season, no one shot better than Bosh's 49.5 percent conversion rate, according to Hoopdata.com. Not Dirk Nowitzki. Not Kobe Bryant. Not Kevin Durant. No one.
For this reason, Bosh creates a dilemma for defenders in the pick-and-roll. Leave Bosh to wall off James' or Wade's penetration? Or shade toward Bosh and make sure the league's most sure-handed mid-range shooter doesn't get an open look?
Watch how Roy Hibbert and David West "guard" the Heat's big men. Or better yet, watch how they sag into the paint and ignore the Heat's big men. Watch how Wade and James settle for pull-up jumpers -- the least potent weapon in their arsenals next to heaving halfcourt shots -- because multiple bodies are anchored in their way.
Or just listen to Hibbert.
"Without [Bosh] in the game, I can wander a little bit more and make the paint look a little more crowded and block more shots," Hibbert said after Thursday's rout. "When he's there, I have to respect his ability."
To see the Bosh effect, look no further than Wade's whopping total of two shots derived from the pick-and-roll in Game 3. According to SynergySports, Wade missed both shots after a screen and they were both as a result of Hibbert's noted lack of respect for big men in red. Wade clanked a running floater over Hibbert in the third quarter because the 7-foot-2 All-Star shifted over to Wade, ignoring Turiaf. On another possession, Wade got blocked by Hibbert after the screen because Anthony was never deemed a threat as a roll man.
The pick-and-roll used to be Wade's bread and butter, the vehicle he road to a title in 2006. Without Bosh, it's almost useless. The Pacers can throw two on the ball and lure Wade into rolling the dice on a jump shot. The result? Wade has shot a putrid 16 percent (4-for-25) on jumpers since Pacers coach Frank Vogel had a day to game-plan for the Heat's post-Bosh offense before Game 2.
James has enjoyed more success than Wade in the pick-and-roll game without Bosh, but he certainly feels the effects of Bosh's absence. Because the Heat can ill-afford to play two big men without any semblance of scoring ability, James often is forced to play power forward and exhaust himself defensively on big men. James ran around like a man possessed defensively in the first half Thursday and then, predictably, trailed off after halftime.
There's little evidence that Bosh's skill-set has diminished since he came to Miami, only his role. Bosh has proved that he can be the scorer we knew in Toronto if he gets the touches. Consider that in Wade's nine-game absence in January this season, Bosh averaged 26 points on 59 percent shooting. He sacrificed touches when he came to Miami and did it for the goal of winning a title.
Spoelstra maintains that the Heat "have enough" to replace Bosh's presence. Now, Bosh can only watch while the Heat struggle to survive without him. As we're seeing now in the case of Bosh, sometimes you don't know what you have until it's gone.