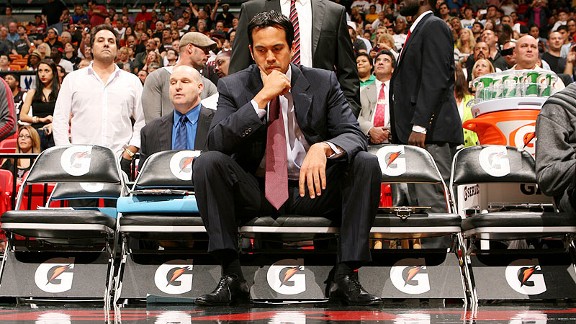 Issac Baldizon/NBAE via Getty Images
With injuries abound and an uphill road to climb, Erik Spoelstra faces his toughest task yet.
INDIANAPOLIS – Dwyane Wade can't get his age-25 explosion back, he can't magically heal Chris Bosh's abdominal muscle and he can't take back the angry words he said to his coach on national television. But there are things that Wade and Miami Heat coach Erik Spoelstra can do to attempt to change the tide in their series with the Indiana Pacers.
Spoelstra goes to extreme and sometimes paranoid lengths to conceal his true thoughts and strategy. The team's various non-answers about Wade's health are just a recent example. But one thing that did come through in their preparation for Sunday's Game 4 is some planned changes for the struggling and perhaps hurting Wade.
Without Bosh as a pick-and-roll partner in addition to giving up 7 inches to primary defender Paul George, Wade's had trouble getting to the basket in this series. It's forced him to rely more on jumpers than his preferred attacks. And his jump shot, whether it's a slump or because his lift is being affected by some leg issues, has been in a deep freeze.
Spoelstra, seeing these realities, apparently intends to make some adjustments to try to find Wade some relief.
"Big part of that is my responsibility to make sure he get to place where he's comfortable and confident and where he can be aggressive," Spoelstra said. "That's where we've been focusing our energies the last couple of days. I anticipate we'll do a better job of it this game."
Just what wrinkles Spoelstra has in mind and whether it might make a difference is to be determined. But this bit of in-between-game coaching is some of the most vital coaching Spoelstra has had to execute all year.
His moves so far in the series have come off as erratic, including a bizarre first quarter in Game 3, when he started a player who hadn't been seen for weeks, Dexter Pittman. Then he shuffled in no less than 11 different players in the game's first 12 minutes like it was some sort of preseason scrimmage.
Already dealing with a fragile offense, the Heat's rhythm has been obliterated over the last two games. After averaging 98 points a game in the regular season and 96 in the first round against the New York Knicks, the Heat haven't cracked 75 points since Bosh's injury. In an effort to find a mixture that works in light of Bosh's absence, Spoelstra's decisions have been all over the place.
Udonis Haslem, one of the steadiest players on the team, has seen his playing time slashed and his mood darken noticeably on the bench and in the locker room. Rookie Norris Cole has gone from in the rotation to deep on the bench to one of the first subs in. Shane Battier went from backup wing to starting power forward. And then there's Pittman, whose three minutes in Game 3 could kindly be called unsuccessful. Spoelstra must've agreed because Pittman never saw the floor again.
The whole thing resembled an out-of-control garden hose. Not exactly the feeling you want in a pivotal playoff game.
"When you have injuries, especially to key guys, roles change," Battier said. "You just have to roll with it."
With all that going on, figuring out how to ease Wade's struggles -- he shot 10-of-35 over the past two games and has just 12 free throw attempts after he got 14 in Game 1 alone -- is Spoelstra's greatest challenge.
If Spoelstra can tweak his game plan and find a way to re-engage his second-leading scorer, it could help turn the series around. And perhaps restore some confidence after a coaching performance that so far could be termed as shaky.
It is possible the Heat could look to post Wade up more often, a mainstay of his game during the season that has disappeared over the past several games. Spoelstra may attempt to free up Wade away from the ball so he doesn't have to beat his man plus a secondary defender, most often the free-roaming Roy Hibbert, to get to the rim. It's possible Spoelstra could go to Wade pick-and-rolls with LeBron James, which might force the Pacers to change the passive style they've enjoyed without having to worry about Bosh setting those usually valuable screens.
What is known is that Spoelstra had a meeting with Wade on Friday at the team hotel before Wade drove to see his old college coach, Tom Crean, at Indiana University. Then the Heat had a long film session on Saturday before going over new strategy for Game 4.
When it was over, Wade was downplaying health concerns and making references to how a game plan change may be beneficial.
"A lot of [the struggles] is not your lift or your explosion, sometimes it's the game plan," Wade said. "I'm sure tomorrow will be a different game than any other game in the series from how and where my attacks come."
Wade, Spoelstra and the rest of the Heat hope it's sure. They have not had any answers to the Pacers' defense since Game 1. It may not be as simple as changing the strategy, if Wade is limited by an injury, there is only so much than can be done against an Indiana team that has been thoroughly enjoying itself on defense.
But Spoelstra seems ready to try something new, again. He's running out of chances to find something that works.
"We have to vary our menu," Spoelstra said. "We have to use everything we have."